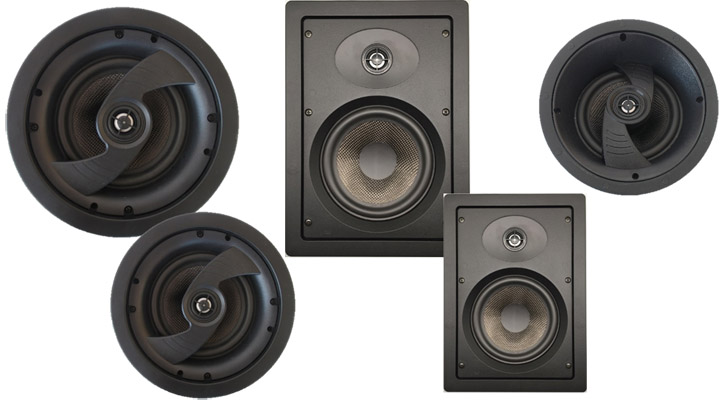 Conveniently proportioned for space challenged applications, the KIN IC Slim architectural speakers defy their lean proportions with Totem's classic enormous sound.  The Kin IC Slim series consists of 3 in-ceiling models and two in-wall models, designed to provide the audio solutions that real world conditions require.
The KIN IC Slim series is almost 25% shallower than the extremely popular KIN IC series and is equipped with attributes unique to the series.
All models possess ceramic dome tweeters and carbon fiber woofers that react like they were specifically customized for each other. And they were. Carbon Fiber woofers have an extremely high strength to weight ratio which results in powerful, musical bass output. The remarkable damping characteristics of ceramic tweeters place resonances beyond our hearing ability so high frequencies are natural, tuneful, and distortion-free.
The AIC6 in-ceiling speaker allows an acoustic attack from a different angle, literally. When potential obstructions prohibit perfect placement within a ceiling, the AIC 6 Slim provides a solution. Its angled baffle directs the sound towards the listening area so no matter how imperfect its location, the performance is flawless.
The KIN IW6 Slim and IW8 Slim In-Wall speakers feature have the same drivers as in-ceilings yet are even slimmer to fit into the continuously shrinking depth of interior walls.

All Kin IC Slim speakers disperse at 75 degrees and possess our characteristic phase linearity, simplifying placement and ensuring consistent performance throughout the room.  They also seamlessly intermesh with traditional and architectural Totem speakers for numerous omni-present multichannel system configurations.

"The KIN IC Slim series ensures Totem can provide an architectural solution for every challenging application," says Lucy Lentini, Vice President of Sales and Marketing.  "Working closely with our partners rewards us with timely information on developing trends not only in audio but in architecture and construction as well.  Learning that slighter materials are sporadically being implemented in new construction, like 2 x 3 ½" studs instead of standard 2 x4, prompted the development of KIN IC Slim, our shallowest CI speaker series."

Preconstruction kits are available for all models, and square grille kits expressly for in-ceiling speakers. The new Kin IC Slim architectural speaker series are available now. Canadian pricing is as follows:
In-Ceiling Models:
KIN IC8 Slim: 8"Carbon Fiber Woofer and 1" Ceramic dome tweeter, $750/pair
KIN IC6Slim: 6"Carbon Fiber Woofer and 3/4" Ceramic dome tweeter, $500/pair
KIN AIC6 Slim: Angled Design, 6" Carbon Fiber Woofer and 3/4" Ceramic dome tweeter, $625/pair
In-Wall Models:
KIN IW8 Slim: 8" Carbon Fiber Woofer and 1" Ceramic dome tweeter, $875/each
KIN IW6 Slim: 6" Carbon Fiber Woofer and 3/4" Ceramic dome tweeter, $625/each
Pre-Construction Brackets
KINIC PCK8:  8" Color coded Pre-Construction Bracket for IC8Slim, $30/each
KINIC PCK6: 6"Color coded Pre-Construction Bracket for IC6 Slim, $30/each
KINIW PCB 8: 8" Pre-Construction Bracket for IW8Slim,$70/pair
KINIW PCB6: 6" Pre-Construction Bracket for IW6Slim, $70/pair
Square Grille Kits
KINIC SGK8: Square Grille Kit for IC8 Slim, $40/each
KINIC SGK6: Square Grille Kit for IC6Slim,$36/each
For more info, please visit www.totemacoustic.com