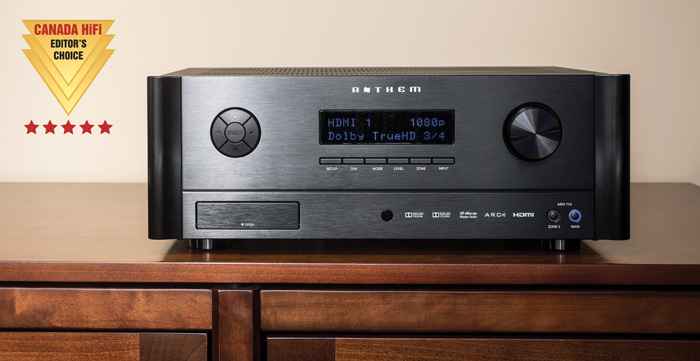 For a while now, the marketplace has been a battleground for AV receivers boasting the latest and greatest features.  Most of today's AV receivers pack a mind boggling set of features, with each new generation attempting to top the previous.  But does everyone really need all these features?  Most people I know use their AV receivers to watch movies and listen to music, and often don't use most of the fancy features.  Somewhere during this AV receiver battle however, it seems that audio performance has taken a back seat.  Luckily for the real music and movie fans, there is one company that puts performance ahead of features – that manufacturer is no other than Anthem.  For many years Anthem has offered legendary sounding processors and amplifiers but due to hefty price tags they were attainable only to those with deep pockets.  All that changed however about three years ago when the company entered the AV receiver market with the introduction of three models – the MRX 300, the MRX 500 and the MRX 700.  Finally enthusiasts with smaller budgets could get a taste of the Anthem sound – hurray!  All three models were extremely well received among reviewers and won all sorts of awards from AV magazines and websites.  The midrange MRX 500 model was awarded CANADA HiFi Editor's Choice.  Fast forward to today and Anthem now offers its second generation of AV receivers which includes the MRX 310 ($1,319), the MRX 510 ($1,759) and the MRX 710 ($2,199).
So what's new in the second generation?  Anthem upgraded and refined the new AV receivers in a number of key areas.  The most important of these is further improved sound quality thanks to the amplifier section now equipped with Anthem's Advanced Load Monitoring which constantly monitors the output.  Equally significant is the ARC 1M, an enhanced version of the highly regarded Anthem Room Correction system found in the previous generation models.  The ARC 1M system enables speakers to achieve their full potential in less-than-ideal room environments – in other words, rooms like mine and yours.  The MRX 510 and MRX 710 models offer 7 channels of power, while the MRX 310 offers 5 channels.  The other primary difference between the three models is the power rating (8 ohms, 20 Hz to 20 kHz, 0.1% THD) – the MRX 310 starts with 60 watts/channel (with 5 channels driven), the MRX 510 steps up the power to 75 watts/channel (with 5 channels driven) and the MRX 710 tops out at 90 watts/channel (with 5 channels driven).  Be careful when comparing these power ratings with AV receivers from other brands, as most other manufacturers state their power ratings with only one channel driven, which makes them seem more powerful, but is misleading.  The MRX 510, under review here, for example puts out 100 watts/channel when driving just 2 channels.
But the enhancements of the second MRX generation don't stop there.  All three models are equipped with more HDMI inputs than ever before (version 1.4), a very welcome upgrade – the MRX 510 and MRX 710 have 7 rear inputs (plus 1 on the front panel), while the MRX 310 has 7 rear inputs.  Perhaps an even bigger news item is the inclusion of dual HDMI outputs across the whole model range.  4K up-scaling and pass-through of video sources is also a necessary upgrade, as is the HDMI Audio Return Channel.  Topping out the video features, Anthem promises faster HDMI source switching.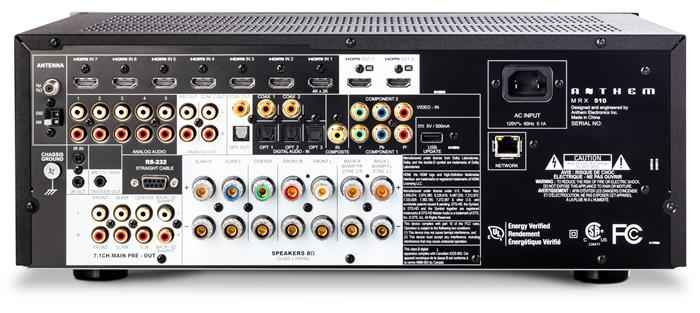 Other notable improvements of these second generation include software upgrades via the USB port, better integration with home automation systems, larger, easier to read on-screen menu system, dual speaker configuration, finer speaker crossover adjustment steps, bi-amp ability (in MRX 510 and MRX 710 models) and a low standby power consumption of less than 0.3 watts.  Anthem is also working on a iOS and Android control app, which will be available soon.
Features that carry over from the previous MRX generation, include conversion/up-scaling of all connected video sources to HDMI, a 1080p24 mode, Dolby Volume, 3D support and an AM/FM tuner.  The receivers decoded all of the latest audio formats including Dolby TrueHD and DTS-HD Master Audio.  There is also a nice selection of listening modes such as AnthemLogic, Dolby Pro Logic IIx, DTS Neo:6 and all speaker stereo.  In addition to the 8 HDMI inputs, there are also 2 component and 1 composite video inputs allowing for the connection of all legacy video sources.  The audio inputs offers 2 coaxial, 3 optical and 5 analog RCA.
Technically, the MRX 510 has a frequency response (rated at full power output) from 10 Hz to 30 kHz (+0, -0.5 dB), a THD+N (1W output) rated at less than 0.04% (20 Hz to 20 kHz), and a signal-to-noise ratio of 101 dB at full power output.
Although this generation of MRX receivers is well equipped, it cannot be considered as full-featured by today's standards.  The most notable items missing from its feature list, are network and Bluetooth streaming, so you won't be able to stream music from your home network or smartphone.  This MRX series lack of HDMI 2.0 support also means that they won't accept 4K video at 60 fps.
Externally, this new generation of Anthem AV receivers looks cleaner and smarter.  The new trio of receivers sport much few buttons on the front panels, compared to the previous generation that was a little cluttered with buttons.  An updated circular button cluster, and an updated the large volume dial, flanked the display which remains the same from the last generation.  A flap door in the bottom left neatly conceals an HDMI input and 1/4" headphone jack.  Aesthetically, the new MRX receivers present themselves very well.  The remote control has also received an update, offering a taller, thinner body.  Its most important feature is a backlight behind every button, which is very useful when watching movies in a dark room.
I absolutely loved the superb sound performance of the previous generation MRX 500 AV receiver, so could the new generation MRX 510 really sound any better?  Only one way to find out – let my ears be the judge.
Setting up any new AV receiver begins with the speaker/room correction system, in this case the ARC 1M, short for Anthem Room Correction 1M.  What exactly does the ARC do?  I'm glad you asked.  What many movie and music fans don't realize is just how dramatic of an impact the room itself has on sound quality.  Room dimensions, archways and even furniture all have an impact on the sound in your room.  The ARC is an industry leading system which analyzes each speaker's in-room response and then sets output levels, crossover frequencies and correction parameters for each channel.  In other words, it flattens out the frequency response of each speaker to produce the most natural, accurate sound possible in your specific space.
The ARC 1M system consists of a microphone, a microphone stand, a USB cable, an Ethernet cable and the ARC computer software.  Unlike the room correction systems from other manufacturers, the ARC 1M requires a laptop computer to run the calibration because it requires more computing power than other similar systems.  Anthem's first generation required the use of a serial cable for this process which complicated things slightly because modern laptops are not equipped with a serial port.  Hence you also needed to use a USB to serial port adapter.  The great news however, is that the new MRX receivers simplify this process greatly by using an Ethernet cable instead.   Here's how it works – you install the software on your laptop, connect the microphone to your laptop via the USB cable, and connect the MRX receiver to your home network with the Ethernet cable.  Then you run the software, which plays test tones and uses the microphone to analyze each speaker's in-room response (plus your subwoofer), as you move the microphone to different listening positions in your room.  A minimum of five positions must be measured, even if you don't have that many seats, and up to 10 can be measured in large rooms.  Once the measurements are taken, the software shows you a graph for each channel which contains four pieces of information: the uncorrected in-room response, the uncorrected response with bass management, the target response and the corrected response with bass management.  For home theatre enthusiasts this is amazing information to have access to, something that you don't get from any of the AV receiver manufacturers.  Once the measurements are completed, the software uses your laptop's power to make its calculations and uploads them to the AV receiver.
With the ARC setup completed, it was time to have some fun.  Paradigm's Reference MilleniaOne 5.1 speaker system has greatly enhanced the movie watching experience in my living room for the last few years.  I fell in love with them the day I set them up for evaluation back in 2011, and purchased them after completing the review.  The MilleniaOne speakers have compact, lifestyle enclosures perfectly suited for smaller living rooms, and more importantly offer a sound that blows most listeners away – even audio reviewers.  I started my listening sessions with the MilleniaOne speakers connected to the MRX 510 AV receiver and watched a variety of TV programming, Blu-ray movies, listened to music and even played some games on my PS4.
I started my listening session by spinning up Toronto's own Ray Montford and his well-recorded album "A Fragile Balance", through my Cambridge Audio Azur 751BD universal Blu-ray player.  With the MRX 510 set to a 2-channel (plus subwoofer) stereo mode, it laid a vast soundstage in front of me that stretched far to the sides of the small Paradigm speakers and deep behind my TV screen.  It was impossible not to get completely lost in the music thanks to the near perfect tonal balance and palpable perspective.
For something with a little more oomph, I jumped to a long time favourite, Dire Straits' Brothers In Arms 20th Anniversary Edition SACD.  Listening to the 2-channel tracks, this livelier disc got me doing a dance on my couch in no time. The fluidity of the presentation combined with the lush, uncoloured midrange brought amazing listening pleasure to my ears.  The MRX 510 offered a highly detailed and perfectly textured sound.  I cranked the volume and listened to the whole disc.  The sonic characteristics that I was presented with are those I would normally associate with a 2-channel music system rather than an AV receiver, the sound was really that good.  When I switched my Cambridge Audio player to play the surround mix of the album, my enjoyment heightened exponentially.  I raised the volume even louder, and while it got a little loud for my dogs and they demanded to go to the backyard, my ears never got tired.  Similarly, Pink Floyd's Wish You Were Here SACD sounded incredibly immersive and engaging.
I've always been somewhat of a space buff and while reviewing the MRX 510, I had the pleasure of watching several episodes of Carl Sagan's reboot of the 1980 TV series called Cosmos: A Spacetime Odyssey.  The 2014 series, hosted by astrophysicist Neil deGrasse Tyson, is so well filmed that it presents a rare chance to transport the viewer into a different world, whether it's on an atomic or cosmic scale.  The well composed surround track of course has a great deal to do with this.  The MRX 510 allowed me to hear all the delicate details of the soundtrack in the front and surround channels.  It presented Tyson's soothing voice delicately through the centre channel.  Thanks to the detailed, immersive sonic experience, I lost myself completely while watching each episode.
About half way through my listening tests, I decided to move the MRX 510 to my basement home theatre equipped with a high performance 5.1-channel Monitor Audio Gold GX speaker system.  After another run of the ARC system, the audio benefits of these larger, incredible sounding speakers were immediately clear.  What I gained here when listening to music was a greater level of musical detail, a larger and better resolved soundstage, and increased dynamics.  When watching movies on the other hand, I was presented with deeper, greater bass resolution and an unmatched soundtrack immersion. These Monitor Audio speakers allowed for the MRX 510 to show its true sonic might.
I was enjoying myself so much during the review sessions, I caught myself listening to many different concert Blu-ray discs, far too many to mention in this review.  One of them was the Legends of Jazz with Ramsey Lewis.  Here the MRX 510 demonstrated how well it could construct a three dimensional soundstage, with surround material.  The size of the sonic landscape defied the dimensions of my living room, with ample amounts of air between the performers.  The ARC system integrated the bass perfectly smoothly with the satellite speakers. The piano sounded rich and played with amazing fluidity.  The cymbal strikes, ranging from a gentle tap to a violent strike, had a natural texture and realistic sustain.  The highs were never tizzy or edgy.  The midrange of the MRX 510 appeared to be spot on, without any signs of colouration.  Performer voices, both male and female, sounded sweet and perfectly natural.  The bass was also superbly executed by the MRX 510, with great articulation and texture definition – the excellent Monitor Audio GXW15 subwoofer of course had much to do with this as well.  The great dynamics of the MRX 510 made the music come to life in ways that only a high quality amplifier is capable of.  Macro dynamics, like the slam of a bass drum or an orchestral crescendo, had proper impact and power.  Equally as important, micro dynamics, like the strike of a triangle, played with speed and agility.
The MRX 510 also had a pleasant surprise on the video side.  Unlike most AV receivers, it passed the video processing tests from the Spears & Munsil High Definition Benchmark Blu-ray with flying colours.  This means that you'll get excellent video quality if you choose for the MRX 510 to deinterlace 480i or 1080i discs, like the concert discs I enjoyed.   Lower resolution video up-scaled by the MRX 510 also looked better than I would expect from an AV receiver.  Although this AV receiver offers 4K by-pass, I didn't get a chance to test it as I'm not equipped with a 4K TV set just yet.
But video test patterns on the screen aren't exactly interesting, so I quickly moved on to watching a few movies.  The 2012 version of Total Recall may not be a highly rated movie but it has a soundtrack that can stretch an AV receiver's capability to the limits.  The fast paced electronic soundtrack and its pounding bass do a great job of setting the atmosphere for the dark future of the Colony.  Regardless of how congested or loud the scenes were, the dialogue was always clean and anchored to the centre channel.  The smooth, sweet midrange of the MRX 510, combined with its soundstaging capability, resulted in an immersive, cinema-like experience.
Staying with the sci-fi theme, I spun up was Star Trek: Into the Darkness on Blu-ray.  Much like my previous selection, the opening scene of this film offers up a highly dynamic but this time orchestral soundtrack.  With the volume at a high level, the MRX 510 created a truly cinematic experience, without ever showing any strain.  Once again, thanks to the power of the ARC system, the integration between the satellite speakers and the subwoofer was right on the money.  Dialogue and sound effects transitioned seamlessly between the channels.  Just as significant was the MRX 510's low level volume performance because we don't always need movie theatre loudness.  With the volume turned down, I could still clearly hear everything going on in the soundtrack – the dialogue was clear, as were the sound effects and the background music.
The Anthem MRX 510 AV receiver does not offer an extensive list of features like some of the other AV receivers out there today.  Instead what it offers is a musical soul that is unlike any other, which can give you goose bumps while listening to music and total immersion when watching movies.  When researching AV receivers, do yourself a great favour, and make sure to listen to one of these new Anthem MRX models.  Once you discover their sound performance, you'll almost certainly want to bring one home.  Remember there are three models to choose from, for all room and pocket sizes.  The MRX 510 gets my highest level of recommendation which goes hand in hand with the CANADA HiFi Editor's Choice award.
Anthem
www.anthemav.com
(905) 564-1994
Anthem MRX 510 AV Receiver
Price: $1,759 CAD
Comments are closed.