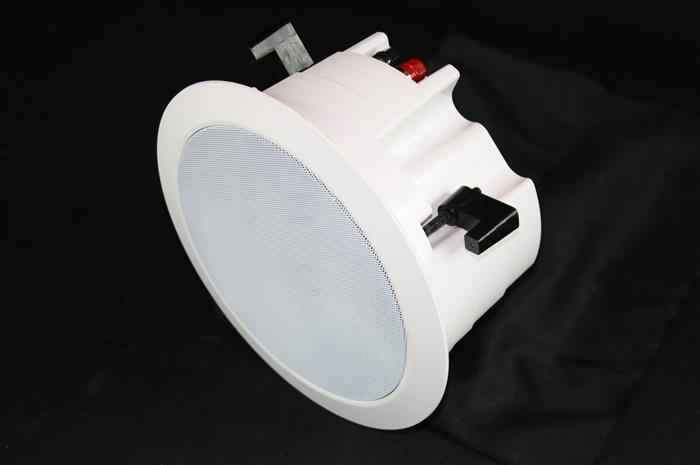 Bryston's brand new CIW speaker is designed for full audio reproduction without the need of a subwoofer. It is ideal for use with a Dolby Atmos receiver which requires ceiling speakers or for audio playback in those rooms where a full sized speaker or an in-wall speaker is just not going to fit the décor.
The CIW speaker has the same woofer and tweeter dome as used in other Bryston speakers but the tweeter motor utilizes a neodymium magnet – a small powerful magnet to save size and maintain the desired Bl (magnetic power) in the gap.
The Bryston CIW In-ceiling is a fully enclosed system and, like the Model T TIW In-wall, features the company's unique anti-standing wave rear chamber.
Bryston CIW Speaker Highlights:
Enclosure: Acoustic Suspension
Max Amp Power: 175 Watts, Min Amp Power: 10 Watts
Freq Resp +/-3dB: 70 – 22 kHz, +3dB- 9dB: 50 – 22 kHz
Impedance 8 Ohms
SPL in Room1w/1m: 92 dB, Anechoic 1w/1m: 88 dB
Crossover 2.2 kHz
Tweeter: Single 1″ titanium
Woofer: Single 6.5″ aluminum
Tech Specifications:
• On-ceiling Dimensions (inches) – 9 5⁄8″ diameter x 3⁄8″
• In-ceiling (Cut out) Dimensions (inches) – 8 1⁄4″ diameter x 4 9⁄16″
• On-ceiling Dimensions (mm) – 244 diameter x 9
• In-ceiling (Cut out) Dimensions (mm) – 210 diameter x 116
• Weight (lbs) each 12.7 lbs – Weight (kg) each 5.761 kg
For  more info, please visit www.bryston.ca