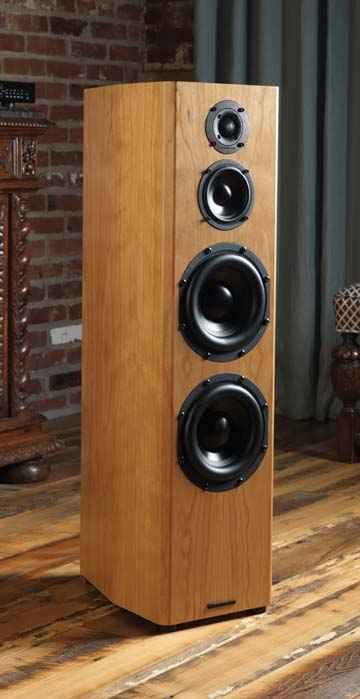 If you aren't already proud to know, Canada produces some of the finest audio components on the planet. Bryston is one such Canadian company who sold their first amp to a studio over 40 years ago, and has since built their reputation by creating excellent sounding gear with bulletproof reliability and a 20 year warranty. And yes, the 20 year warranty applies to their speakers too.
Bryston made their debut into the speaker world in 2013. As a company that previously only made electronic components, their first speaker was obviously met with a bit of skepticism, and a lot of curiosity. Bryston is well respected partly because of a guy named James Tanner – a face of Bryston and their VP. For fun, he decided to build himself a speaker a little while back. This speaker was to be used in his home to assess Bryston's electronic components. It wasn't intended to be a new direction for the company, but as James let people listen to them, they asked, "How much?"
James sought out the help of Axiom Audio to turn his acoustic vision into reality. As a fellow Canadian company, and basically local to James, he was able to access a wealth of knowledge from Axiom's speaker designers, and their expansive testing facility including an anechoic chamber. The original creation was not intended to be for sale, and would have been too expensive if it had. So again, Bryston teamed up with Axiom to produce a consumer line of speakers. This is intended to be a completely transparent relationship. I see it as a win for both companies: Axiom gets to build more speakers, and Bryston is able to offer a speaker that's in line with their sonic character and value proposition.
The flagship Model T's technology has trickled down into a full range of speakers – 15 in total. Only one step down from the top, the Middle T has taken a simpler approach. Compared to the Model T's many drivers, the Middle T's have a more traditional 3-range design. At the rear there are two fluted ports, and bi-wire connecting posts.
All of the speakers in the Model T range have a 1 ½" thick MDF front baffle for maximum rigidity, and strategically placed bracing for sonic neutrality. The speaker cabinet is mostly comprised of ¾" thick MDF which helps in keeping the price down. There is a finishing wrap of vinyl ($4,700), real wood ($5,300), Rosewood ($6,200), or custom finishes. From un-boxing to finally resting on their optional extra-wide spiked feet called "outriggers" ($600), I was impressed with their quality feel and finish.
In terms of aesthetics, I think the Middle T is a good looking speaker, especially in the wood finishes – mine came in a Natural Cherry. The cabinet itself narrows as you move backwards from the faceplate, diffusing the sound waves within the speaker. I am primarily interested in a speakers drivers, and I wouldn't spend extra money on a fancy cabinet unless it was stunningly gorgeous. I think Bryston has hit the cabinet price versus performance versus beauty ratio right on the head.
The Middle T's came with modular magnetic speaker covers with opposing magnets underneath the finishing layer, so there's no unsightly holes when not in use. The grills were never a consideration for me because I think these speakers look sexy naked.
The Middle T sports a three-way design, in a ported enclosure, which houses one 1" titanium dome tweeter, one 5.25" polypropylene midrange and two 8" polypropylene woofers. It has a frequency response rated from 33 Hz – 22 kHz (+/- 3 dB), a nominal impedance of 4 Ohms, and a sensitivity of 88 dB. It is crossed-over at 160 Hz and 2.3 kHz. Bryston recommends pairing it with amplifiers rated at 10 watts to 250 watts RMS. The Middle T has dimensions of 39.5" H x 10.5" W x 16.5" D, and tips the scale at 81 pounds/each.
I connected the Middle T's to my Simaudio Moon i-5 integrated amplifier and used my PC as the music source.
In typical Bryston fashion, the Middle T's play any kind of music well, and were very revealing while remaining neutral. The Middle T's are relaxed and forgiving of recording flaws, which made them fun and easy to listen to. The bass from the Middle T's was particularly hilarious – I'm not ashamed to admit that some heavy bass lines made me giggle.
One of the more surprising things the Middle T's were able to do is present both a very forward, and very laid back soundstage, depending on the recording. On Mumford and Sons "I gave you all", Marcus Mumford starts out singing seemingly very close to the front, then recedes back into the band as the song builds.
The overall coherence of the Middle T's is impressive. The crossover points for the speaker are at 160 Hz, and 2.3 kHz, and the crossovers and drivers seamlessly integrate with each other giving a relaxed tonal balance. The best part is that they did it at all volumes. Partial credit has to be given to the control of my Simaudio Moon i-5 integrated amplifier, but nonetheless these speakers possess the delicacy to quietly express opera, and could easily host a dance party.
I was surprised at the size of the soundstage the Middle T's cast. Closing my eyes, locating the band just using my ears gave a sense of the original recording space, and sometimes gave the illusion my room was larger than it actually is, which is always a neat and slightly bizarre experience. On good recordings, the soundstage extended noticeably beyond my front walls in depth and width, and a couple feet above the top of the speakers. On a few very good recordings, I felt immersed in the soundstage. I have only heard much more expensive speakers do this.
Happily, my review pair of Middle T's came with the new version of the tweeter. I found the highs to be very clean without being harsh. The tweeters are still a 1" titanium design, but compared to the old tweeter, there is a new housing, and new slightly horn shaped aluminum faceplate, which makes the sweet-spot larger. I can attest to the sweet spot being large. The new tweeter is available as an upgrade if you currently own any Bryston speaker.
The highs were a highlight of the Middle T's. I'm a big fan of City and Colour, and on the track "Fragile Bird" I find the cymbals to be a bit glaring, yet I was impressed at how relaxed those symbols sounded through the Middle T's. I'd honestly expected more coldness from Bryston's tweeters, but I find them to be more on the relaxed end of the spectrum. I could wish for more sparkle at lower volumes, but I wouldn't trade it for their overall softness and sweetness.
The midrange driver of the Middle T is a 5-1/4" speaker that sits in an isolated enclosure within the cabinet. Although this small driver looks unassuming next to the beefy bass drivers, its job is very important as our ears are so attuned to the midrange that is has to be correct, and I think the Middle T's midrange is just that. Vocals sounded just as I know they should, and I detected no coloration on any of the artist's voices that I've come to know.
To be critical, I have heard more expressive vocals, and feel that this is the only area that the Middle T's could improve on, but they are relaxed in character and I don't expect more at this price for a full range speaker. I learned that the Middle T's are forgiving of lesser equipment, but certainly reveal better equipment.
While conducting this review, the Canadian-made exaSound e22 DAC (DSD capable) arrived at my place. This gave me a chance to send much higher quality audio from my computer to the Simaudio integrated amplifier, and showed that using a quality source will help the Middle T's really shine. The e22 has so much finesse, it especially helped to open up the midrange, giving vocals a lot more texture. On Nina Simone's "He Needs Me", the low level details were much more palpable as she sings with some light vibrato and soft changes in breath. Look out for an evaluation of the exaSound e22 for the next edition of CANADA HiFi.
It is unwise to judge a speaker by its cover, but one look and you can tell that the Middle T's bass drivers like to party.
For sake of full disclosure, I am a bit of a bass-head. That being said, I am only excited by accurate bass. To put it simply – these bass drivers are the most articulate I've ever heard. It has been revelatory to explore my reference bass songs and hear notes with precisely the weight and speed they were meant to have.
The speed at which bass from the Middle T's can bloom and then disappear is astonishing. This is partly due to the woofers being relatively small, as far as bass drivers go. In designing a speaker, speed is usually balanced with ability to produce the lowest frequencies, yet somehow these 8" drivers hit the lowest octave like they have no sympathy for it. They made me laugh and shake my head in amazement. James Blake's cover of Feist's "Limit To Your Love" is a great example of both the speed and depth of these drivers.
I think Bryston has developed a speaker that aligns with their brand of reliable and transparent audio gear that is long on sound quality and comparatively short on price. I believe that most fans of Bryston electronics will enjoy their speakers, and I suspect their speakers will also attract many new customers.
While doing critical listening, I often got distracted and too lost into the music, which is an important characteristic I look for in audio components. But when I could remain focused on the Middle T's, they impressed me with every song I sent their way.
Bryston Ltd.
www.bryston.com
1-800-632-8217
1-705-742-5325
Bryston Middle T Loudspeakers
Price: $5,300/pair CAD; Black Ash, Natural Cherry, Boston Cherry Wood Veneer, $6,200/pair Rosewood Veneer; $4,700/pair in Vinyl
Comments are closed.