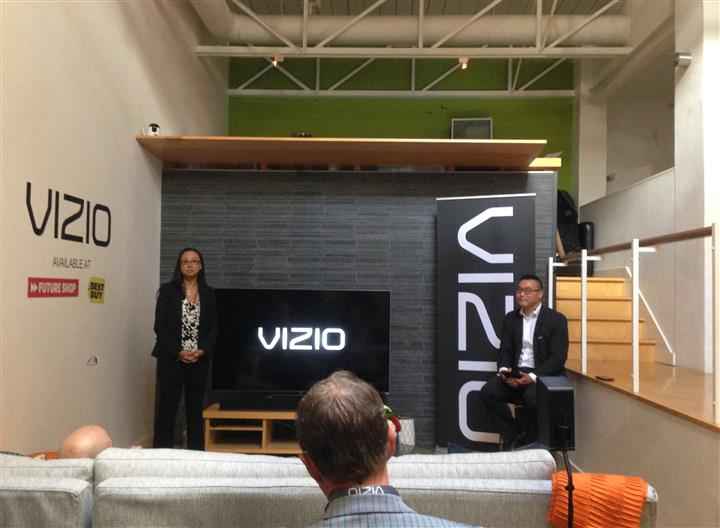 If you are looking to purchase a high quality television set  without spending a good chunk of your disposable income, you might want to take a look at the latest offerings from VIZIO.  In a recent media event, hosted inside an upscale loft in downtown Toronto, Ontario, VIZIO offered a sneak peek at its products now available at Futureshop (www.futureshop.ca) and Best Buy (www.bestbuy.ca) stores across Canada.
VIZIO planted its roots back in 2002 in Irvine, California and a short few years later became the number one selling TV brand in the US.  Today all of the engineering, design, sales, and operations are performed from its headquarters in Irvine, while its products are manufactured Taiwan, Mexico and China.  VIZIO's mission is to bring high quality home entertainment products at attractive prices to the masses.  In addition to several ranges of TVs, the company also offers sound bars and a sound stand designed to enhance viewer experience while watching TV.  VIZIO also prides itself on offering exceptional customer support based in North America.
As you may have read on novo.press earlier this month, VIZIO products became available in Canada on September 12th.  Initially, Canadians will be able to purchase the brand's popular E- and M-Series Full-Array LED Smart TVs and a range of audio solutions, including 2.1 and 5.1-channel sound bar systems and a 2.1-channel sound stand.  Both the E- and M-Series offer a 1080p resolution, and we expect VIZIO to introduce 4K Ultra HD TVs to the Canadian market soon (VIZIO's first 4K Ultra HD TV collection, called the P-Series, was just introduced to the US market last week).
What makes VIZIO stand apart from other affordable TV brands is that it places top priority on picture quality.  In addition to this, unlike other major TV brands, VIZIO TVs don't offer a ton features, many of which consumers will never use.  VIZIO's E-Series is designed for consumers looking for great picture performance, Smart TV connectivity and streaming apps.  A pleasant surprise at the various price points of this series is that the E-Series features Full-Array LED backlighting and advanced local dimming technology, with up to 18 Active LED Zones.  These technologies enable the E-Series to deliver better light uniformity on the screen, deep black levels and a high contrast ratio, thanks to a dynamic adjustment of the LED backlight in each Active LED Zone, based on the content displayed on the screen.  The result is a more vibrant, immersive picture.  So just how affordable is a VIZIO E-Series TV?  The 60-inch E600i-B3 carries a very reasonable MSRP of $949.99.
For consumers who desire even higher picture performance, VIZIO offers up the M-Series Full-Array LED Smart TV collection.  TV models in this series serve up advanced local dimming technology with up to 36 Active LED Zones.  This allows the TVs to achieve a more balanced distribution of backlighting across the entire screen, enhancing deep, accurate black levels and brighter, more vivid details.  In addition to this, a feature called Active Pixel Tuning delivers intelligent pixel level luminance adjustments to further increase contrast and picture detail accuracy.  The M-Series range of TVs comes equipped with a two-sided smart remote control with a backlit QWERTY keyboard.  The 70-inch M702i-B3 is the largest model in the M-Series and retails for $2,199.99.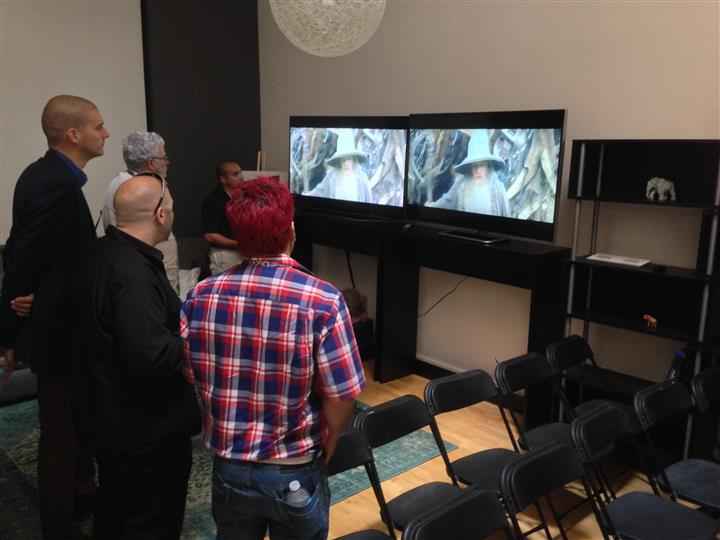 Both the E- and M-Series are outfitted with VIZIO's Internet Apps Plus platform, allowing viewers to enjoy apps such as Netflix, YouTube, Yahoo! News, Flickr, Crackle and more from the comfort of their living room.  When you press the smart TV "V" button on the remote, a smartly designed 'app dock' overlays the bottom of the screen, so that your app of choice can be selected without interrupting the currently playing picture.
But televisions are only a part of the story.  VIZIO is equally excited to offer its range of audio products to Canadian consumers.  Its audio products are designed to complement today's flat-panel TVs, offering an immersive sonic experience in rooms where a full-scale sound system is not possible.  There are three sound bar models (a single 2.1-channel model, and two 5.1-channel models) as well as a 2.1-channel sound stand.  The slim design of the sound bars allow them to be mounted on the wall, below the TV, and each comes with a dedicated wireless subwoofer.  The sound stand on the other hand is a speaker box designed to be sandwiched between a TV stand and the TV itself, and features a built-in subwoofer.
VIZIO's sound bar systems come supplied with a remote that offers an LCD screen, which makes it easy for users to switch inputs, pair Bluetooth devices and change various audio setting.  All of the sound bars allow users to stream music wirelessly from their Bluetooth device (smart phone, tablet, laptop, etc), even when the TV is turned off.
During the media event, we were given a brief demonstration of an M-Series TV set, along with the 5.1-channel sound bar.  Although it's impossible to properly evaluate a product in such a short period of time, I can say that I was rather impressed with what I watched and heard, especially the picture performance of the VIZIO TVs.
As of September 12th, 2014, the following VIZIO products are available in Canada:
E-Series HDTVs
24" Class Razor LED Smart TV (E241i-B1)
28" Class Full-Array LED Smart TV (E280i-B1)
50" Class Full-Array LED Smart TV (E500i-B1)
60" Class Full-Array LED Smart TV (E600i-B3)
70" Class Full-Array LED Smart TV (E700i-B3)
M-Series HDTVs
42" Class Full-Array LED Smart TV (M422i-B1)
50" Class Full-Array LED Smart TV (M502i-B1)
60" Class Full-Array LED Smart TV (M602i-B3)
70" Class Full-Array LED Smart TV (M702i-B3)
Audio Products
42" 2.1 Home Theater Sound Bar w/ Wireless Subwoofer (S4221w-C4)
42" 5.1 Home Theater Sound Bar w/ Wireless Subwoofer and Satellite Speakers (S4251w-B4)
54" 5.1 Home Theater Sound Bar w/ Wireless Subwoofer and Satellite Speakers (S5451w-C2)
21" 2.1 Sound Stand (S2121w-D0)
For more info, please visit www.vizio.ca.
Comments are closed.