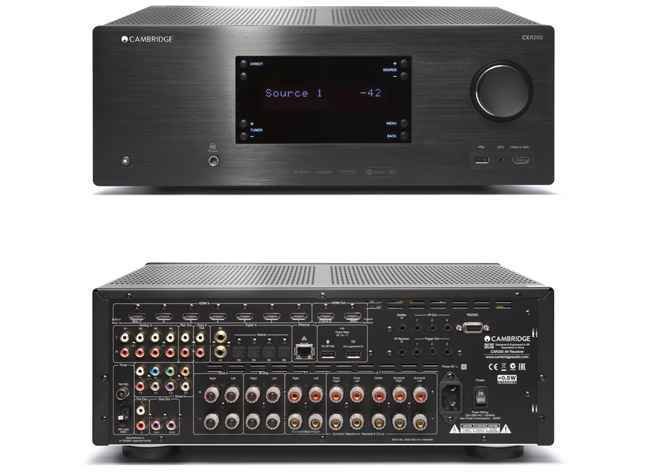 Cambridge Audio revealed six brand new audio products for its CX Series at the CES show currently underway in Las Vegas. There are two new AV receivers, a network music player, a pair of stereo amplifiers and a CD player.
First up are a duo of AV Receivers – the CXR-200 ($2499 US) and the CXR-120 ($1999 US). Both are designed to serve as the central hub of an entertainment system, offering beautiful full colour on-screen displays. The CXR-200 offers up 120 watts x 7 channels (or 200 watts with 2 channels driven), which the CXR-120 has a more modest 60 watts x 7 channels (or 120 watts in stereo mode). Both the new models are designed to drive a 7.2-channel system but will also happily run a 5.2 system with height channels. The CXR-200 serves up 8 HDMI inputs and 2 outputs. Meanwhile the CXR-120 has 7 HDMI input and 2 outputs on-board. Each receiver and front accessible HDMI input with Mobile High Definition Link (MHL) support. Both new receivers will up-scale lower res video to 4K, offer the latest audio format decoders and can stream music wirelessly with the addition of the optional BT100 Bluetooth receiver.
Perhaps even more exciting is the sleek-looking Cambridge Audio CXN Upsampling Network Music Player, a replacement for the Stream Magic 6 V2. The CXN is constructed on a brand new chassis, offers a gorgeous colour touchscreen and a pair of Wolfson WM8740 DACs. It can stream music from your home network, online music services, internet radio as well as smartphones and tablets – and it also supports Apple AirPlay. The CXN Network Audio Player can play pretty well all the latest file formats and can also upsample your music library. It will retail for $999 US when it hits store shelves.
Cambridge Audio will also introduce a duo of stereo amplifiers in 2015 – the 60-watt CXA-60 and the 80-watt CXA-80. Each one sports a new amplifier circuit design, relaying on Class A/B amplification. Both models also separate the heat sinks and use symmetrical and separated circuit paths for the two channels, in order to minimize left/right "crosstalk" and maximize the stereo separation between channels. The CXA-80 even has a dual-mono design, with separate transformer taps for left and right channels, twin rectifiers, and separate PSUs for dual-mono operation of the left- and right-channel power amplifiers. The CXA-60 has nine inputs, which translates into five analog inputs and four digital inputs. The CX-80 adds in another one of each, as well as a 24-bit/192kHz asynchronous USB audio input and a balanced XLR audio input. Both models include a Wolfson WM8740 DAC and the option to add Bluetooth wireless streaming via the aforementioned BT100 USB dongle (sold separately). The CXA-60 will retail for $799 US, with the CXA-80 priced at $999 US.
Finally, Cambridge Audio has also introduced the CXC CD Player at this year's CES. This CD player offers a low-jitter transport mechanism, coaxial and Toslink digital outputs. It will retail for $499 US.
Comments are closed.