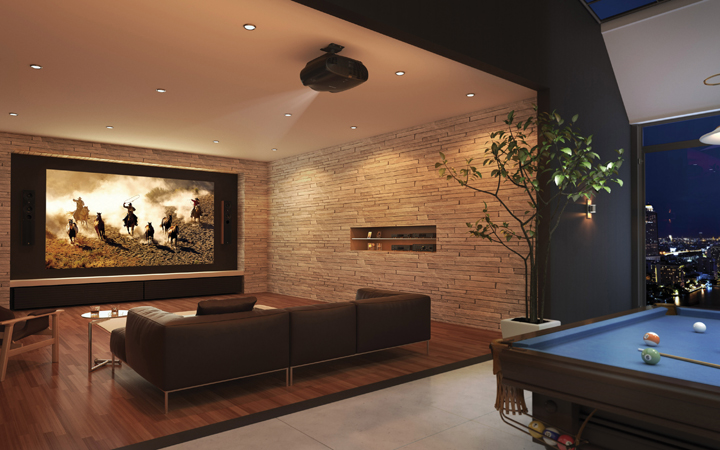 To evaluate the LS10000, I used a Bell 9241 DVR, an Oppo BDP-103 Blu-ray player and a Samsung BD-UP5000 HD-DVD/Blu-ray player. I used a Marantz AV8801 pre/pro for switching between sources. The source material used was a combination of Bell satellite broadcasts, DVDs and of course, Blu-rays.
The fixed frame screen I used was a 108" EluneVision AudioWeave 4K equipped with the three-quarter inch slim frame option. As the name implies, the AudioWeave 4K material is acoustically transparent. This provides more flexibility for mounting speakers as they may be located behind the screen with little acoustical loss. Doing so more closely matches the location of the speaker with the source of the sound on the screen. Look for a full review of EluneVision's new AudioWeave 4K Plus screen in the months to come. The AudioWeave 4K Plus fabric is more tightly woven than its predecessor, making it a better solution for resolutions exceeding 4K or for shorter viewing distances.
My overall impression of the LS10000 – it's simply stunning. Fantastic blacks, rich beautiful colours, razor sharp images and spectacular contrast ratios collaborate to produce an inspired cinematic experience. I have long felt that flat panel TVs, no matter how good or big they are, always feel like a TV. There's no mistaking the LS10000 for a TV. If you want to bring your local Cineplex into your living room, this projector will do it with grace and stunning clarity.
On the Gravity Blu-ray, shortly after the first major collision, Sandra Bullock's character goes spinning out of control into the darkness of space. Even in such dim lighting I was able to see the subtle changes in illumination as the character floated away. And the background was unbelievable. The stars on the black of space were just incredible. The LS10000 also did a great job with motion smoothing. I began by ensuring that it was receiving a 1080P 24fps signal in order to simultaneously engage 4K enhancement and frame interpolation. I never felt that motion blur was an issue. Little hints of it, could be seen on fast moving objects but it was never enough to be distracting. For example, the debris flying past or colliding with the space shuttle showed some signs of blurring, but not enough to bother me.
My jaw just about dropped to the floor 41 minutes and 24 seconds into Skyfall. The nighttime cityscapes of Shanghai were just astonishing. The colourful illuminated buildings in the night were a sight to behold. About 14 minutes later, Bond was headed to a casino in a gondola-like craft. The fireworks overhead and the illuminated dragons were equally stunning. I found myself rewinding these scenes a few times to soak them all in. Skyfall has now become one of my favoured demo discs.
I've been nothing but impressed by the LS10000. ParaNorman, for example, is a movie full of high contrast scenes, rich colours and detailed textures. The final confrontation between Norman and the witch takes place 1 hour and 15 minutes into the film. In this scene, the witch glows brightly and illuminates the wooded area around her. The contrast and details were just wonderful. Other scenes, where characters in a dark forest were illuminated by car headlights, were also very impressive. Throughout the movie, the textures of characters and objects were always spectacularly detailed and razor sharp. The colours were also consistently rich and vibrant. The deep purple from the shop lights in town and those incredible skies were just wonderful to watch.
Black and white movies on the LS10000 performed equality well. I watched both Frankenweenie and Schindler's List.  For both films, the projector didn't show any hint of banding. The transitions from shade to shade were consistently smooth and natural. Not surprisingly, contrast was also wonderful. The lightning strikes in Frankenweenie were always impressive. Textures were also remarkably detailed and rendered with extreme clarity.
I also threw in the 3D version of Titanic – although it wasn't originally shot in 3D, the studio did a great job of converting it and the LS10000 did a great job of screening it. 3D performance on this projector is simply fantastic. I also watched Brave in 3D and in both cases, the performance was flicker-free and had very little crosstalk. I didn't see any 3D motion artifacts either. Of course the typical loss of brightness occurred but the presentation was still more than bright enough to keep most viewers happy.
As one would expect, even the LS10000 can't make DVDs look phenomenal at 108 inches. Sure it does a good job with scaling but no matter how you look at it, there's just not enough resolution to get the wow factor we expect from Blu-rays. Despite these limitations, the LS10000 made DVDs look better than I expected. On the other hand, standard definition TV signals are usually interlaced and have even lower bit rates than DVDs. Things got a little dicey here. I couldn't quite bring myself to call it watchable. Not at 108 inches at least. Fortunately, with all the motorized optics at its disposal, the LS10000 can easily shrink the image down to acceptable quality levels.
The bottom line is that the LS10000 is a stellar performer. It's easily the best non-native 4K projector I've ever come across. Every aspect of its performance is simply first rate. It has a wonderful contrast ratio, beautiful blacks, spectacularly vivid colours, razor sharp images and amazing 3D. It doesn't suffer from hot spots, colour banding or excessive motion blur. The image it projects is big, bright and simply stunning. Such fantastic attributes coupled with a low cost of ownership makes the LS10000 a huge winner. It may not be a true 4K projector, but I'm guessing it would make many people question the need.
Epson
www.epson.ca
1-800-463-7766
Epson PowerLite Pro Cinema LS10000 3LCD Projector
Price: $8,499 CDN