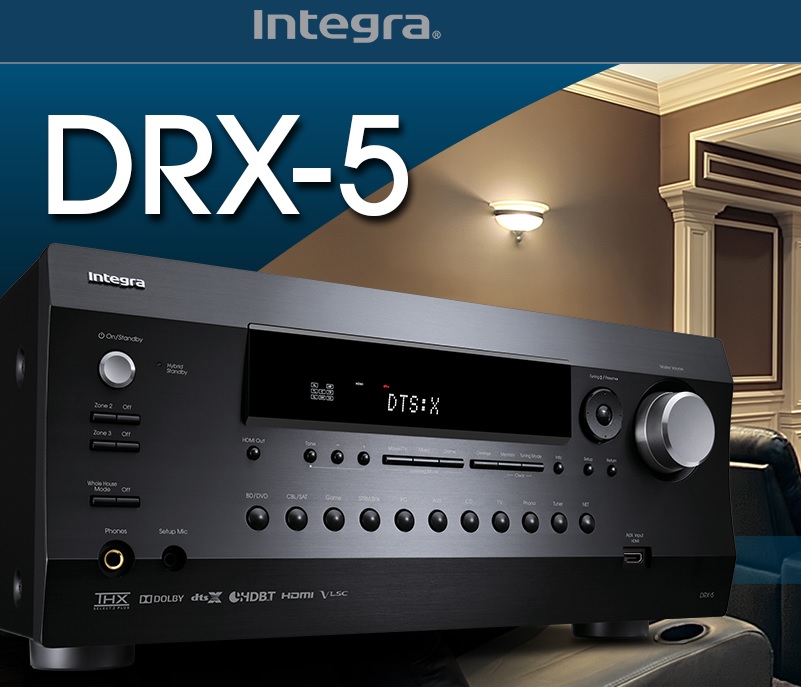 Integra has just begun shipping its new DRX series of 7.2 channel network AV receivers. The new DRX models encompass a new generation feature set, with: Dolby Atmos, DTS-X, MQA decoding, Tidal, Google Cast for audio, 4K scaling, all-new GUI, Vector Linear Shaping Circuitry (VLSC) and the latest generation of AccuEQ featuring AccuReflex Phase Alignment Technology for the clarity in object-based surround-sound formats e.g. Dolby Atmos and DTS:X.
DRX-4 and DRX-5 AV Receivers:
The DRX-4 and DRX-5 are both state-of-the-art 7.2 channel network AV receivers that are designed to raised the experience of music and video playback to a whole new level. The DRX-4 and DRX-5 are both THX Select 2 Plus-certified, feature Zone 2 HDMI and matrix switching, HDBaseT output and are ready to decode Dolby Atmos and DTS:X surround formats for the ultimate in immersive and captivating home theater.
The DRX-5 is the more powerful of the two with 130W/ch (@ 8 ohms) and 40 amps of high-instantaneous current capability (HICC), while the DRX-4 comes in at 110W/ch (@ 8 ohms) and HICC at 35 amps. The DRX-5 features VLSC on all channels and includes Zone 3 audio to go along with Whole House Mode for synchronized, house-wide audio. It features a separate assignable Zone 2 DAC for HDMI Audio, SPDIF (PCM), NET and USB sources while the Zone 3 DAC handles NET and USB sources.
Both units include 4K / 60 Hz-capable HDMI terminals supporting High Dynamic Range (HDR), 4:4:4 Color Space, BT.2020, 4k upscaling from 1080p and HDCP 2.2 for UltraHD Entertainment, and feature eight HDMI inputs (1 front / 7 rear).
DRX-2 and DRX-3:
With next-generation app-based streaming, Wi-Fi, Bluetooth, UltraHD 4K video and object-based audio, the new DRX-3 and DRX-2 are ready for the future. The DRX-3 offers 100W/ch (@8 ohms) and 30 amps of HICC and has 8 HDMI inputs (1 front / 7 rear) and 2 outputs. The DRX-2 has boosted power over its predecessor with 80W/ch (@8 ohms) and 25 amps of HICC, along with the latest spec HDMI connectivity (6 inputs / 1 out).
Both the DRX-3 and DRX-2 feature Bluetooth technology and improved Wi-Fi capability with the addition of wireless LAN IEEE 802.11 "a" standard along with the 5GHz band to lessen interference from other wireless devices.
DRX Series:
Each unit in the DRX series has a variety of streaming capabilities including Google Cast(tm) and AirPlay, as well as Internet radio and subscription services like TuneIn Radio, Pandora, Spotify, and TIDAL. The DRX models also include FireConnect powered by Blackfire wireless multi-room technology that can wirelessly distribute any analog and digital audio signal – from vinyl to Hi-Res Audio – to a compatible wireless speaker throughout the home.
Integra's Zone 2 auto-switching returns across all DRX 7.2 channel models allowing 7.2 channel main zone or 5.1.2 Dolby Atmos and DTS:X set ups to automatically change output to 5.1 channels plus Zone 2 stereo when Zone 2 is turned on.
From turntable connections to hi-res playback, the DRX series excels in music and are ready to decode MQA, the revolutionary new format that captures and delivers master quality audio in a file that's small enough to stream or download. And because MQA is fully authenticated, the listener can be sure they are hearing exactly what the artist recorded and approved in the studio. Similarly, each model supports DSD 11.2 MHz playback.
All four DRX network AV receivers are available now, with the following Canadian MSRP: DRX-5: $2,200; DRX-4: $1,800; DRX-3: $1,300 and DRX-2: $1,000. Look for more information at: http://www.integrahometheater.ca.