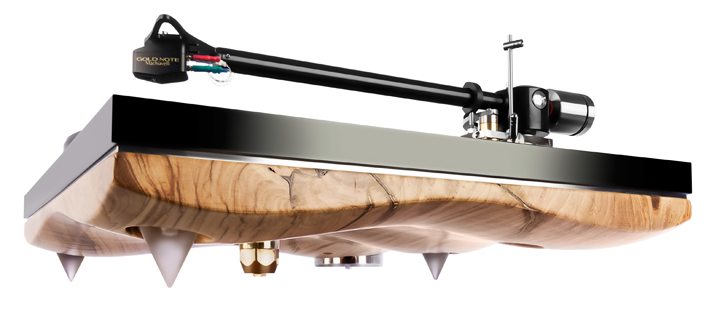 After flipping as many records as I could for a week, I dialed-in the platter speed, VTA, VTF, azimuth, and anti-skating. For perspective, I compared several exotic tube phono stages to Gold Note's solid state PH-7 model.
The B7 arm is terminated with a 4-pin female output plug that's a proprietary design. If your favourite phono interconnect (IC) has the standard 5-pin DIN plug, you won't be able to use it with the B7 arm. I tried several 4-pin to 5-pin adaptors, but kept encountering issues with noisy ground hum. Gold Note needs to seriously re-think this output connector.
With the supplied Gold Note 4-pin phono IC and the 10X5 cartridge, the Giglio produced superb PRaT, precise imaging, and an impressive amount of air and space around instruments. With a wide variety of music, the 'table created an astonishingly natural, cohesive, and non-fatiguing sound across the frequency spectrum.
Exotic turntables must reproduce the dynamics, layers, and timing of recorded music with a far greater scale, timbral accuracy, and immediacy than budget 'tables. They should provide a better sonic picture into the original musical event and make music come to life with a natural (read: unforced) sense of weight and power.
The Giglio vinyl rig does all of this and more. High frequencies were extended and detailed, without any of the distortions which are usually heard from lesser sources. Mid-range presence was haunting and consistently gave me goosebumps. Timbral accuracy was refined and resolute. Mid-bass and low bass instruments were reproduced with a swaggering rhythm and groove.
Examples…? The Giglio rig made Rush's 1980 masterpiece Permanent Waves come to life in a way I've never experienced before. Played off of a 180 gram MFSL pressing, staggeringly technical progressive-rock songs like "The Spirit of Radio", "Freewill", "Jacob's Ladder", "Entre Nous", and "Natural Science" all sounded fuller and more detailed than I've ever heard. The subtle spatial cues, attack and decay, and transient speeds of the guitar, bass, drums, and percussive accents were all more precise and distinct. And yet, at the same time, these sounds were better integrated within the musical framework of the songs.
Listening to treasured records by Marillion, Mahler, Cathedral, Rachmaninov, Goatsnake, Sabbath, Slayer, Patricia Barber, and everything I threw onto its platter, the Giglio vinyl rig brought me countless hours of pure musical bliss.
While I could waffle-on endlessly about all of the records that I listened to, I'll just say this: the Giglio, B7 arm, and DV 10X5 cartridge dramatically impacted my listening habits. Instead of switching in a 50/50 ratio between my vinyl rig and different digital sources, for several months with the Giglio, I've listened to almost nothing but records.
To my ears, source components are the most important links within the audio chain. Much like water, if your audio system's source is hopelessly polluted, no amount of filtration downstream is going to un-pollute it. Would you drink water that was sourced from Chernobyl? Nope… neither would I.
Gold Note's Giglio turntable, with the B7 tonearm, and the Dynavector 10X5 cartridge delivered a deeply layered, immersive, and musical sound. It's a breathtaking example of what happens when an established  company that makes $100K+ vinyl rigs applies cutting-edge designs and advanced engineering knowledge to their more sensibly priced 'tables.
If you own an entry-level record player, have a sizeable vinyl collection, and are looking to climb far higher up the sonic ladder towards reference-calibre sonics, I warmly recommend auditioning the Giglio vinyl rig. It creates a sound quality that very few sources, analog or digital, are capable of producing.
Gold Note Giglio Turntable
Price: $5,200 US, with B5.1 tonearm
Gold Note B7 Tonearm
Price: $1,700 US
Dynavector 10X5 M/C Cartridge
Price: $660 US