Gold Note Giglio Turntable + B7 Tonearm + Dynavector 10X5 M/C Cartridge Review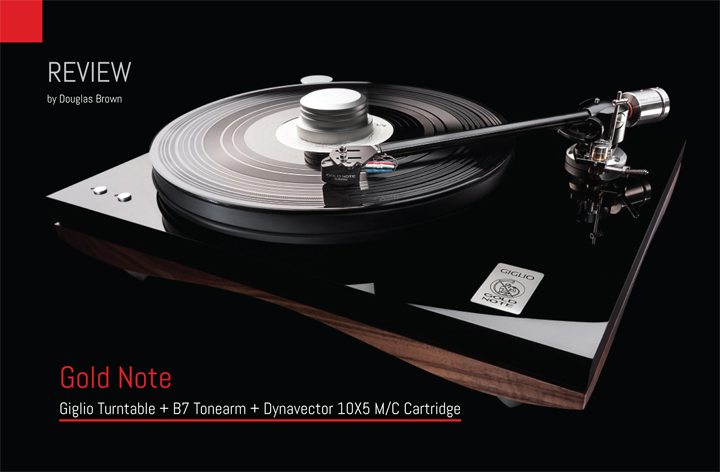 With nearly 25 years of experience in manufacturing 2-channel components, today Gold Note of Florence, Italy makes a range of turntables, cartridges, phono stages, amplifiers, speakers, and other music products.
Having recently reviewed Gold Note's value-packed Valore Plus 425 turntable (now online at novo.press), when the opportunity to audition their higher-end Giglio (pronounced Gee-Leo) 'table arrived, I dove on it like Oprah on a baked ham.
The Giglio turntable ($5,200 US, equipped with the B5.1 tonearm) sits in the middle of Gold Note's turntable range and features a plinth that's comprised of three separate layers: real wood; stainless steel; and acrylic. The Italian walnut or Tuscan olive woods used in the base are aged in hardwood slats for 8 years and then cooked in an autoclave to ensure structural integrity.
Once the wood's cured and hand carved into its unique vibration-deadening shape, it's finished with a natural lacquer. The wood base is attached to a 3mm thick stainless steel middle plate and then bolted via 16 strategic points to a 2cm thick polished black acrylic top plate.
This tri-layer sandwich construction adds noticeable mass and ensures superior resistance to air born and mechanical vibrations. Plinths can also be ordered with a black or white lacquered MDF base. The walnut plinth of my review 'table added a formidable class and sexiness that reminded me of a smouldering 1960's era Gina Lollobrigida. Like the lady, this 'table has curves in all the right places.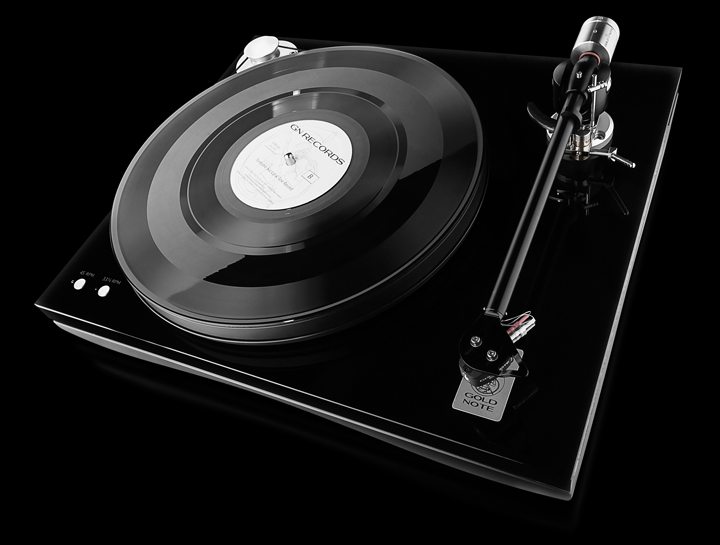 All elements of the drive mechanism are designed to minimize vibration. The Giglio comes standard with a polished bronze bearing and an 8cm long spindle that's made out of carbon-rectified hardened steel. The 2.3cm thick platter is formed out of a PTE polymer-based material called black Sustarin.
The 'table features a 12 volt synchronous motor that converts voltage in an A/C to D/C and then back again to A/C fashion. Users can make precision adjustments to the platter's 33⅓ RPM and 45 RPM rotational speeds via the electronic speed control buttons on the top left side of the plinth.
Manufactured by Gold Note, the B7 is a 9" long pivoting tonearm and retails for $1,700 US.  The B7 is an upgrade to the B5.1 tonearm which comes standard with the Giglio turntable.
To reduce vibration, the B7's arm wand is made out of 6 different diameter titanium sections and uses four custom-fabricated ceramic micro ball bearings: two for the vertical plain and two for the horizontal axis. The counterweight is machined out of aluminum and can handle cartridges up to 20 grams.
The internal wiring is an AWG 36 Hyper Litz shielded 99.9999% Oxygen Free Copper (OFC) cable. The Vertical Tracking Angle (VTA) can be adjusted via 2 set screws on the arm's base and the cartridge's azimuth can also be fine-tuned by a micro-sized screw.
Overall, the B7 is a superbly engineered tonearm with an impressive level of micro adjustability.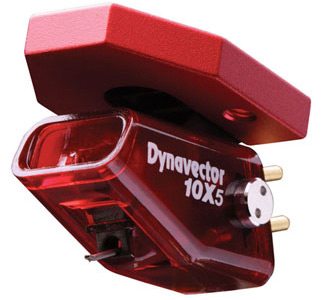 The very first 10X cartridge was released in 1978. The 10X5 is the fifth incarnation and retails for $660 US. It weighs 7.3 grams, has an elliptical stylus, and an aluminum cantilever.
Offering a high output of 2.5mV, this Moving Coil (M/C) cartridge can be used with the 47k Ohm load setting that most Moving Magnet (M/M) phono stages use.
With the Giglio rig, the 10X5 created a beautifully full, warm, and natural sound. The soundstage was deep and wide, and yet also focused and palpable. It never sounded harsh or thin. Germane to its incisive low-level detail retrieval and profound ability at capturing micro dynamic shifts, the 10X5 consistently made music sound coherent, powerful, and involving. Amazingly, this is Dynavector's lowest priced M/C cartridge.
Flaws…? The 10X5 has some extra weight in the lower mid-range and upper bass. To get even better sound, try Dynavector's higher echelon Te Kaitora Rua or DRT XV-1T M/C cartridges. To my ears, a Sumiko Pearwood Celebration Mk2 M/C cartridge created the best sonics.
Overall, if you're looking for a High Output Moving Coil (HOMC) cartridge that makes beautiful music at a reasonable price, Dynavector's 10X5 should be at the top of your list.