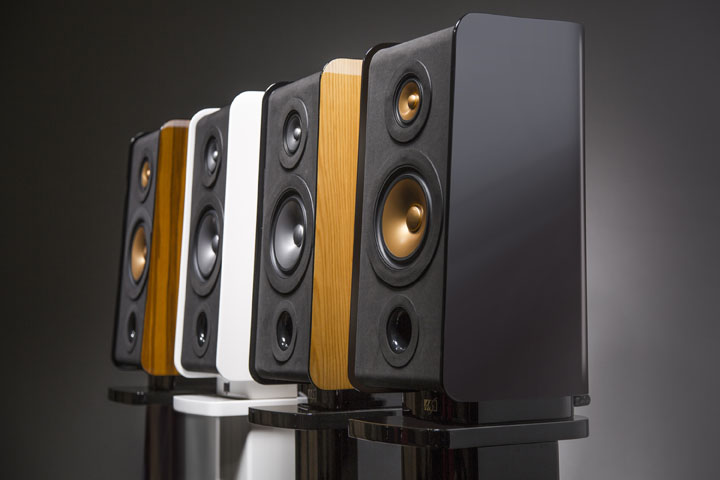 Specifications for the Viotti One include a frequency range from 40 Hz – 25 KHz (anechoic), along with 88.5 dB sensitivity.
The Viotti One was rather easy to place, so I soon landed on an ideal position within my studio.  Unusually, I preferred the sound with speaker grills on, as it delivered a better soundstage, imaging and midrange-to-treble balance.  I expect this may be due to the waveguides integrated in the grills.  Thankfully, the Viotti One actually looks more alluring with its grills in place.
I auditioned the speakers in my system comprised of a Bryston BP26 preamp, Bryston 4B3 amplifier, and a Rega Apollo CD player connected into a MOON by Simaudio 280D DAC.  My analog source was a VPI Scout 1.1 turntable.  Cables were all Nordost Hiemdall 2 and Tyr 2, with the exception of the speaker cables and the DAC power cable, which were the Zavfino Prima PC-OCC 9-guage and Fina, respectively.
Within a short while of listening to the Viotti One, I knew that it possessed some endearing qualities but before I relate its qualities I'd like to start by telling you what the Viotti One is not.  If you yearn for a speaker with a mellifluous, romantic or saturated sound, the likes of classic Sonus faber or Opera, look somewhere else, that's not the Viotti One, despite its Italian name.  As well, if you're looking for concussive dynamic bass – as perhaps a JBL or Legacy Audio speaker might deliver, you won't likely get your fix with the Viotti One.  However, if you seek a refined, quick and nimble, accurate take on music; a speaker skilful at PRAT (pace, rhythm and timing), with a sweet vocal presence and fundamentally neutral in tone, then the Viotti One is a speaker you must hear.
Vinyl was my first port of call with the Viotti One.  The first track on the Sketches of Spain LP, by Miles Davis is "Concierto De Aranjuez".  Listening to this with the Viotti One, details popped from the mix – there was an enticing pungency to the sound of the tambourine castanets and the string plucks possessed dynamic potency and bite in a realistic manner.  I did sense some thinness in the strings, their sound a tad light on inner warmth, yet the overall delivery was exciting, putting me on the edge of my seat in anticipation.  I was impressed with the manner in which the horn section leapt forward – having vibrant fervour, while at the same time the Viotti One produced accurate timbre that communicated the warmth of Miles horn well.  PRAT too was a quality that the Viotti One heartily embraced.
Leonard Cohen's Popular Problems, also on vinyl, caught my attention next.  I played the track, "Almost Like The Blues", just to see how the Viotti One would relate Leonard's inimitable baritone voice.  What I most definitely heard was that the Viotti One is a very capable speaker in the areas of resolution, detail and focus.  There was an impressive degree of texture conveyed in the vocals, revealing the underlying recording.  While detail, presence and clarity were all there in spades, the Viotti One did come across to my ears as just a touch light on the lowest midrange.  This lower midrange is very distinct in Leonard Cohen's voice, somewhere the 100 to 200 Hz frequency region.  Since the Viotti One delivers a wonderful vocal presence, I'm guessing I was hearing a contrast between a slightly raised vocal presence region against a flat or slightly dipped lower midrange.  To the Viotti One's benefit, this will likely prevent it from ever sounding clouded, chesty or slow and also increase the intelligibility of vocals, which perhaps is what MarkAudio-SOTA was aiming for in the design and tuning.
Turning to digital tracks, with Tidal HiFi music streaming, I played The Cranberries latest album.  Released in April 2017, The Cranberries Something Else, includes a wonderful set of reinterpreted acoustic hit singles of the 90's famed band.  On the track "Linger", the Viotti One produced razor-edge imaging and a distinct soundstage.  Treble notes were sharp and quick, with cymbals possessing a beautiful shimmer.  There was also a sugary sweetness to Delores' vocals, adding to my engagement.  The treble quality was akin to what I've heard with ribbon tweeters, while always remaining well integrated with the midrange.
Putting on the track "Son of Thirteen" from Pat Metheny's Day Trip album, via Tidal HiFi, I took note of the solid and tight delivery of the drum roll from the right to the left.  Though, I'd attribute this impression to the Viotti One's transient speed and lack of overhang, rather than to dynamic bass weight.  To my ears, the Viotti plays to 50 Hz solidly and drops off swiftly below 40 Hz.  Regardless, as exemplified with this track, drum play was quick, limber and possessed exhilarating attack, while the juxtaposed cymbals were delicate, refined and extended.
Could I go on saying more about the Viotti One?  For sure, but I think I've said enough to whet your appetite.  The MarkAudio-SOTA Viotti One is a nimble, fun, insightful speaker with luxurious styling and build.  It's a speaker that will surely garner a following given its unique mix of European styling and sonic character.  Amongst the masses of speaker products out there, the Viotti One definitely shines with personality.  Heck, I've had so much fun with them, enough said… let me get back to listening.
MarkAudio-SOTA
www.markaudio-sota.us
844-202-4278
Markaudio-SOTA Viotti One Loudspeakers
Price: $2,495 US / pair