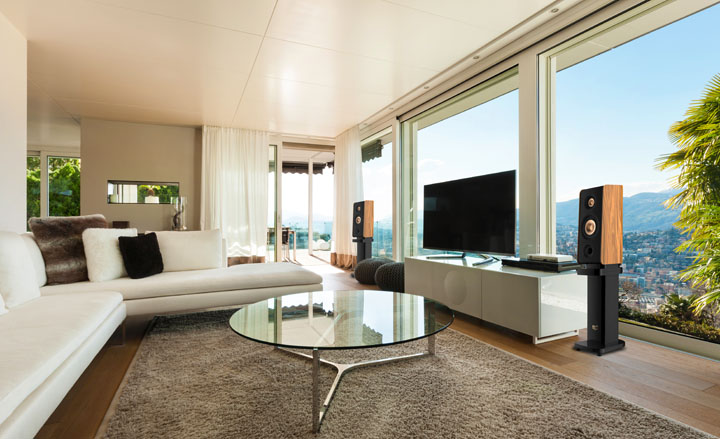 Innovation can be simply defined as introducing something "new", whether an idea, method, technology or product.  A key way to innovate is to pull together talented individuals with broad perspectives and expertise, under a common objective.  Steve Cheng, founder of SOTA Acoustics, branded Markaudio-Sota, set out to accomplish just this.
MarkAudio-SOTA is a collaboration of a number of diverse and most-capable professionals with global perspectives and expertise.  Their team includes the talents of: Mark Fenlon of Markaudio Ltd., a Brit residing in Hong Kong and accomplished manufacturer of loudspeaker drivers; Dr. Scott Lindgren, another Brit, well-known for loudspeaker design; Andre Ponti, an Italian industrial designer and; a number others drawing on experience form Hong Kong and Japan.  Together, under Markaudio-Sota, this team has set their target on producing best-in-class loudspeaker products.
The company's product line includes tower, bookshelf, monitor bookshelf, mini and stand-mount loudspeakers, under three collections – Viotti, Cesti and Tozzi.  Prices range from $445 US / pair up to $3,495 US / pair.  The Viotti One represents the company's flagship stand-mount loudspeaker and retails for  $2,495 US / pair.
The MarkAudio-SOTA Viotti One is distinctive in appearance and exudes a chic European flare; yet, what makes it most unique are its drivers.  At first glance, it seems someone forgot the tweeter; however, that is most definitely not the case here.  Rather, the Viotti One utilizes two wide-range, wide-dispersion, shallow-profile cone drivers of different diameters – no domes or ribbons here.  These wide-range cone drivers are inherently matched in their dispersion and output characteristics, which lends to seamless integration, further enhanced by the use of a simple high-quality low-order 2.4 kHz crossover.  Designed by Mark Fenlon and built by Markaudio, the two drivers of the Viotti One are the Sota 11 (110 mm) for mid-bass and the Sota 5 (50 mm) for treble frequencies.  These drivers are constructed of an aerospace grade mixed aluminum alloy, for an ultra-low mass.  Key objectives of the driver choice were a smooth, natural output with a wide and even dispersion, along with transparency, dynamics and lifelike vocal reproduction.
The Viotti One is a standmount loudspeaker with a tall-ish profile, offering dimensions of 24.6 cm x 33.9 cm x 100.8 cm (WxDxH) with the included stands.  The stands are perfectly matched to the speakers and provide two installation configurations, one retaining the Viotti One speaker base and the other eliminating the base to provide a flush appearance.  Floor cones made of non-ferrous metal, as opposed to spikes, are also provided.
The cabinet of the Viotti One features a dual-core laminate construction for optimal resonance management.  Drive units are acoustically isolated, with the high frequency driver having its own sub-chamber, while the low frequency driver utilizes the ported bass-reflex cabinet.  The front baffle is covered in a black, velvet-like material, for a refined and finely appointed appearance.  Four cabinet finish choices are available: light oak, dark oak, white piano-lacquer and black piano-lacquer.  Magnetically attached grills incorporate waveguides and are covered in a chiffon-like material that lets you gawk, if you so desire, at that pair of golden drivers.
When it comes to fit and finish, the Viotti One is top-notch.  I found the black piano lacquer of the review sample to be impeccable, up there with the best I've come across.  The overall design lines are very stylish, as well.  Certainly, the Viotti One is a specimen that will engender strong pride-of-ownership and perfectly fit in with opulent surroundings.