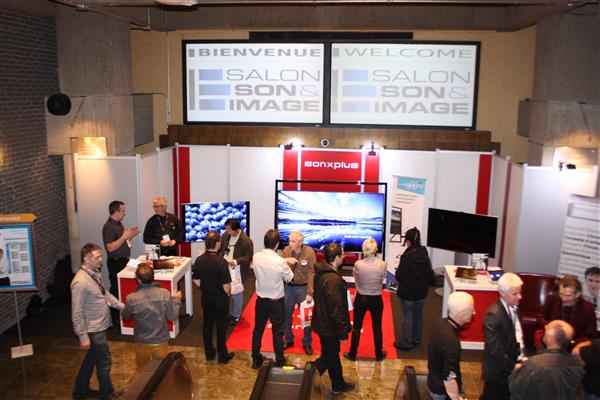 Once again this year, I had the wonderful opportunity of attending the Salon Son & Image show in Montreal – held March 28, 29 and 30th.  Suave Kajko, Editor-In-Chief, CANADA HiFi Magazine and myself headed over to Montreal on the train from Toronto.  During the ride we mused about what changes we might see at the show, given that this would be the first edition under a new owner – the Chester Group.  On arriving at the show, once again hosted at the Hilton Bonaventure Hotel, we soon recognized that SSI 2014 had remained much the same, keeping its same overall look and feel – it was nice to also see familiar faces on staff.  Montreal is always fun – first, there's the trip out of town; then there is the French-Canadian culture and; third, it affords an opportunity to see some manufacturers, dealers and friends that you just don't see Toronto-side.  SSI, or as it is now being alternatively called, the "Montreal Audio Show", has always been worth the journey and this year was no exception.  Here's is some of what I saw and heard at the show.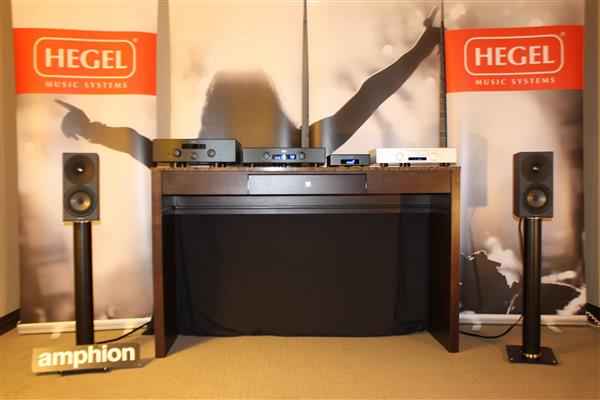 My first stop was a room hosted by VMAX Services, the distributor for such products as Hegel Music Systems, NuForce, Amphion, Triangle and HiFiMan.  The feature system in this room was anchored by a Hegel H80 integrated amplifier ($2,000) that has an output capability of 75 watts-per-channel and an on-board DAC.  Connected to the H80 was a Hegel CDP2A CD player ($2,800), acting only as a transport – which I thought spoke to the confidence of the distributor with the on-board DAC of the H80.  The speakers in play were Amphion Argon 1, which range in price from $1,900 – $2,000, depending on finish.  On static display in this room was Hegel's H300 integrated ($5,700) and their HD25 DAC/preamplifier ($2,500).  Though I only had a short stay, I enjoyed the ease and musicality of the system and its very small non-ostentatious stature.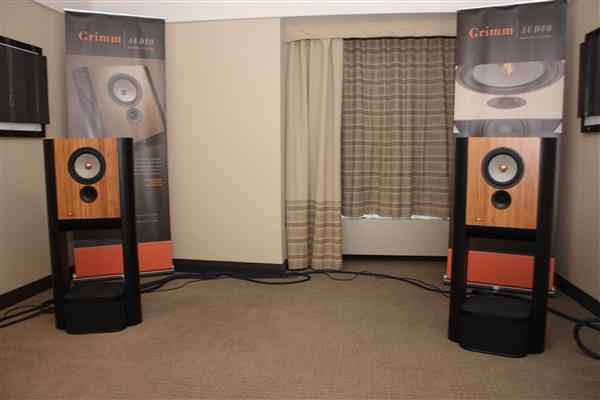 Next up was a room from GTT Audio & Video, a North American distributor for Grimm Audio and the U.S. distributor for Kronos Audio.  GTT was featuring Grimm Audio's LS1i active loudspeaker system ($39,900/pair).  Each of the two loudspeaker enclosures had integrated D-class amps which offered 2 x 120 watts to power the woofer and tweeter combination.  The speakers also have an integrated electronic DSP and a crossover, and accepted a simple CAT5 digital input connection from a Grimm Audio USB box that was connected to a laptop playing digital music files.  For analog junkies, also on tap was a gorgeous Kronos Sparta turntable ($21,500), with a Helena arm by Andre Theriault ($6,500), with an Air Tight PC1 cartridge ($5,000-$6,000).  The phonostage was by Audionet (PAM G2 at $10,100) with an  optional EPC power supply ($6,700).  On the Friday afternoon, the room was attracting a fair audience, which I expect had much to do with the quality of the setup.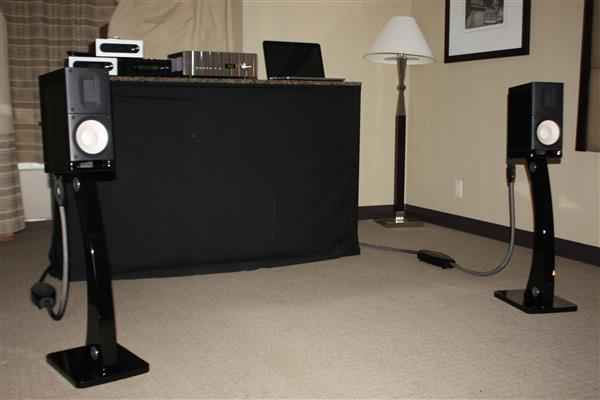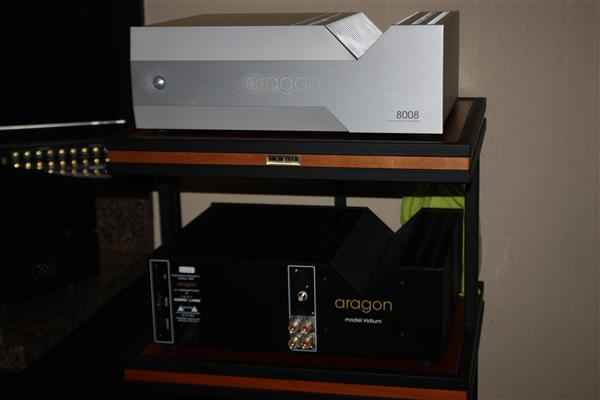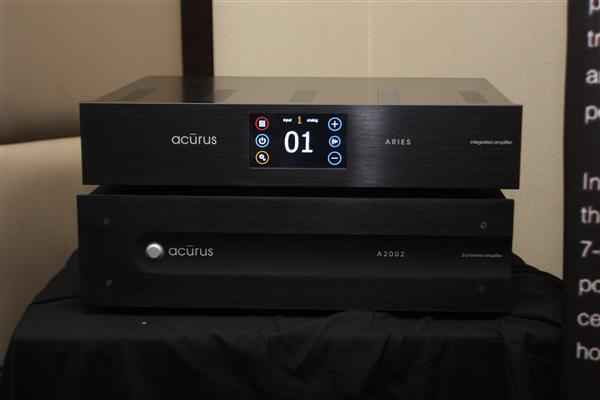 I made my way over to Audiopathways, who hosted two separate rooms at the show.  Audiopathways is a distributor of many fine audio brands including Raidho, Aragon, Acurus, Audio Flight, Jeff Rowland, Bel Canto and many others.  The first room featured a Jeff Rowland Continuum II integrated amplifier ($10,000) with a Bel Canto 2.5 DAC ($2,200), a refLink USB ($2,000) and CD2 CD player ($3,000), driving a pair of Raidho's new X-1 mini-monitors ($8,000/pair) on matching Raidho stands ($1,100/pair).  Cabling was Transparent Audio Reference, very fine and very expensive.  This system sounded anything but small.  The sound was amazingly controlled, detailed and room filling with bass that was unbelievably full and extended given the tiny speaker enclosures.  The system was captivating, to say the least.  Off to the side on static display in this room were a couple of Aragon amplifiers – their 8008 and Iridium, as well as a new Class-D integrated amplifier called the Aries ($3,500), which includes a 4.3? colour touch screen, balanced XLR inputs and four sets of unbalanced RCA inputs.  There is also a line-level 2.1 input and corresponding output.  I would have loved to hear it, as I've come to appreciate the high-quality and high-value that the Aragon brand has become synonymous with.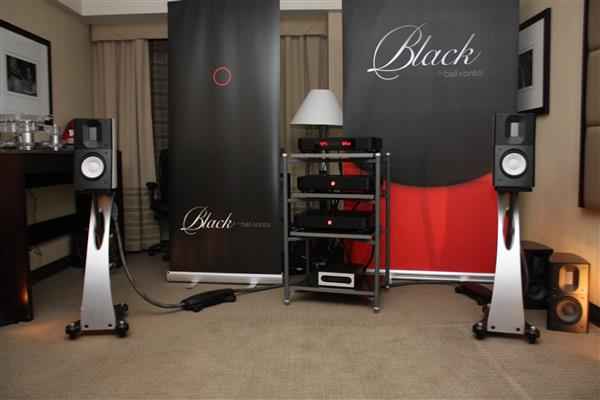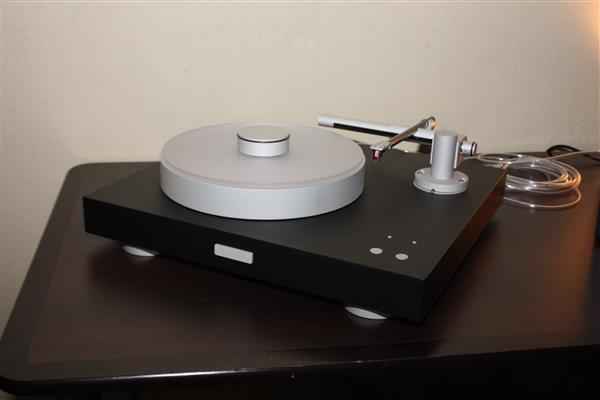 Crossing the hall to the second Audiopathways room, my eyes welcomed the familiar sight of Bel Canto Black components.  I first heard Bel Canto's Black models at the last TAVES, in a room also hosted by Audiopathways, there paired with Vienna Acoustics, The Kiss loudspeakers.  This time, Audiopathways paired the all Black system consisting of the ASC1 preamp/controller and dual MPS1 mono block amps ($58,000 for all 3 components) with Raidho's C1.1 bookshelf speakers ($,18,000/pair) on matching Raidho stands ($3,300).  Cabling was all Tranparent Audio, with the speaker cables being their MM2 series at an approximate price of $12,000.  The Bel Canto Black system is a three box system that is made up of their ASC1 Asynchronous Stream Controller, mated to a pair of MPS1 Monoblock Power Stream amplifiers.  The system utilizes a ULN Master Clock with Asynchronous Interface and proprietary StreamLink ST Fiber Interconnection.  Each Power Stream Monoblock incorporates a Bel Canto nCore Discrete Power Processor stage that can supply 1200 Watts to a connected loudspeaker.  The system sounded velvety smooth with entrancing details and articulate and surprisingly extended bass.  On standby was a pair of Raidho D-1 bookshelf loudspeakers ($28,000), though Angie Lisi mentioned they seemed to be too much for the room, despite their modest size.  Also on static display were a pair of beautiful Bergman turntables – the Magne ($14,000) and the Sindre ($24,000) models.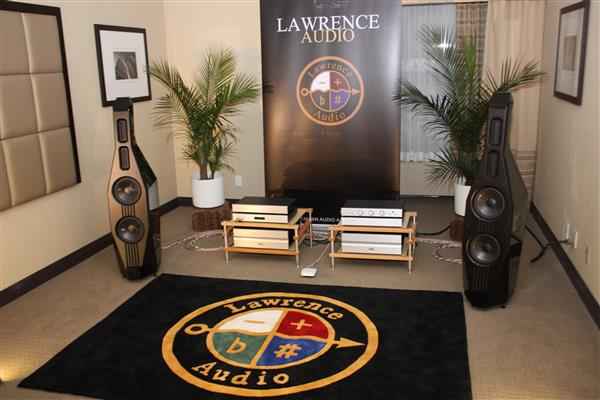 As I continued my way down the hallway I came across a room with an unfamiliar name, that of Lawrence Audio, a manufacturer of fine loudspeakers.  Angela Yang, General Manager, for the company was kind enough to welcome me in and provide me with some literature on their speakers, as well as details on the system in their room.  I was happy to see the system sourced and powered by Bryston equipment, models that I'm very familiar with, which included a pair of Bryston 7B-SST2 amplifiers, controlled by a BP26 preamp and fed digital files via a BDP-2 digital player through a Bryston BDA-2 DAC.  The highlight of the room though, were the Lawrence Audio Cello loudspeakers ($18,000 US/pair).  These speakers were lovely shaped, and beautifully crafted, emulating the lines of the instrument from which they take their name.  The Cello is a 3.5-way speaker, featuring a pair of AMT high-frequency drivers and a pair of 8" woofers, along with a rear facing aluminum ribbon tweeter.  In the short time I had to listen, I was comforted by a smooth, delicate and airy sound.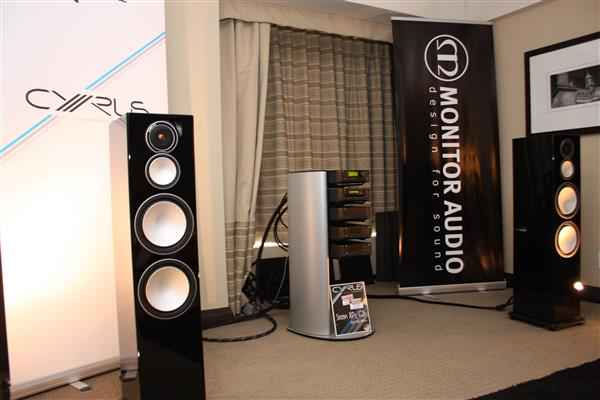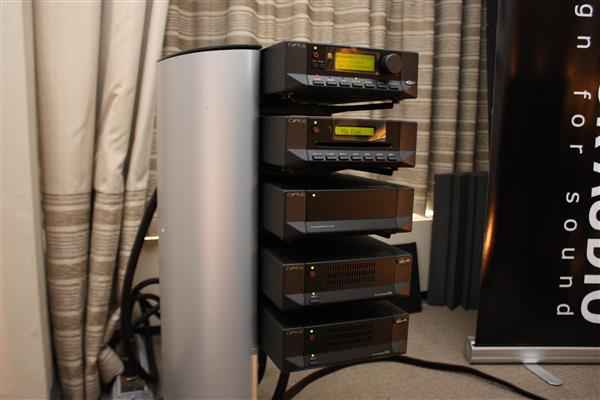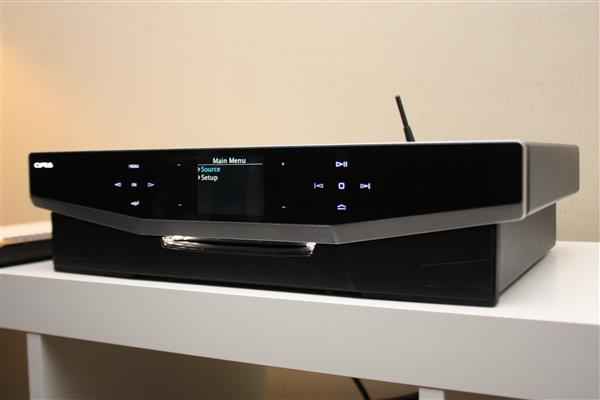 In the Kevro International room, the Union Jack ottoman sitting in the centre of the room, served to hail the heritage of the manufacturers being featured – those being Monitor Audio and Cyrus Audio.  The speakers were the relatively new Monitor Audio Silver 10  towers ($2,800 to $3,000, depending on finish), connected to a full Cyrus Audio stack.  The Cyrus Audio equipment included the Stream XP2Qx preamplifier/streamer/DAC ($3,799), the PSX-R power supply ($999), the CD Transport ($1,499) and two Mono X200 Signature amplifiers ($3,799/each).   Wiring was all Clarus Cable – from their Crimson series, including  6 foot speaker cables ($5,000/pair), analog interconnects ($1,100/1 meter pair), digital coaxial interconnect ($385/1 meter) and 6 foot high-current power cords ($1,650/each).  The system had a zesty, yet controlled sound that was fun and engaging to listen to.  On static display in the room was Cyrus Audio's new Lyric 07 all-in-one source / amplifier system ($6,499), which I first got a glimpse of at TAVES 2013.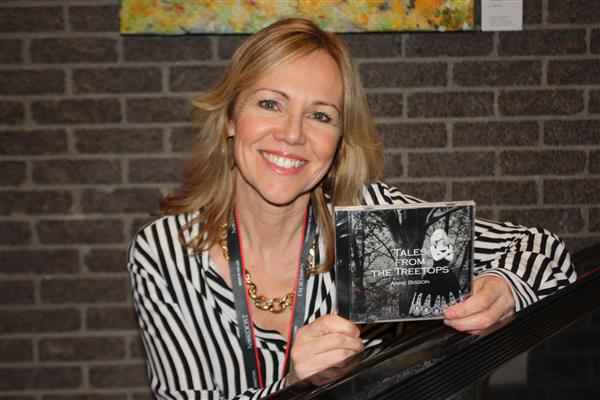 As I was making my way around the floor, I came across Anne Bisson, playing a grand piano.  She was promoting her latest album, Tales From The Treetops.  I've become quite a fan of her music, which is made all the more interesting with the very high quality of her recordings.  I look forward to spending some time acquainting myself with this latest creation of hers and wish her all the best.  You might want to take a look at a YouTube video of one of the songs on this album "Your Smile", as it gives you a backstage glimpse on how the recording was made.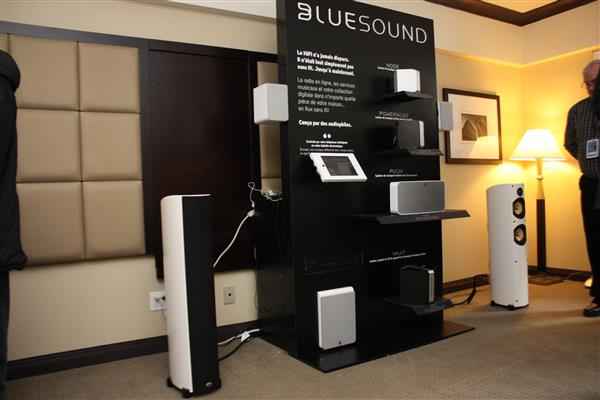 Walking into the Lenbrook room, I encountered a display showing off Lenbrook's latest venture – Bluesound.  Bluesound is a modular, compact lifestyle-oriented range of audio products.  Unlike other competing products in this space, such as Sonos, Bluesound aims at being able to store and playback high-definition / high-resolution audio – up to 24-bit/192kHz without compression.  Bluesound was developed by the engineers at NAD and PSB, two companies that are well known for their high-quality / high-value / high-performance products.  On display was the Node player/streamer ($550), the PowerNode integrated amp/player/streamer ($800), and the Pulse all-in-one player/stereo speaker ($800).  The integrated amplifier utilizes 35-bit/844kHz digital amplifiers, derived from NAD Master Series components.  In addition, there was a Bluesound Vault (digital player/CD ripper/1 TB storage priced at $1,100), which has an Apple / Android interface for control and NAS connection capability.  The Vault caught my attention, as I've been looking for a new storage solution for digital music files in my reference system.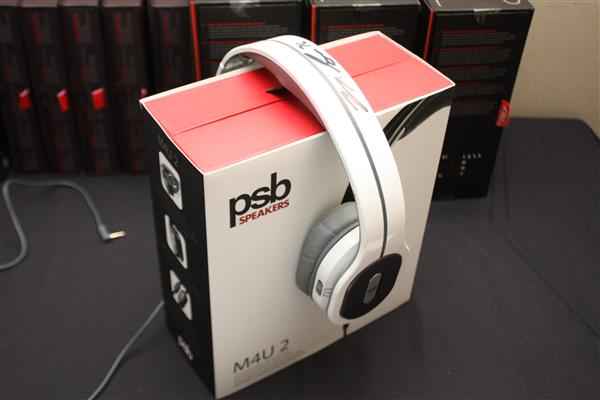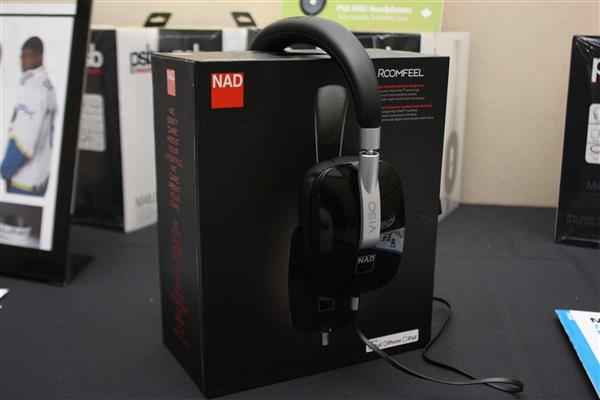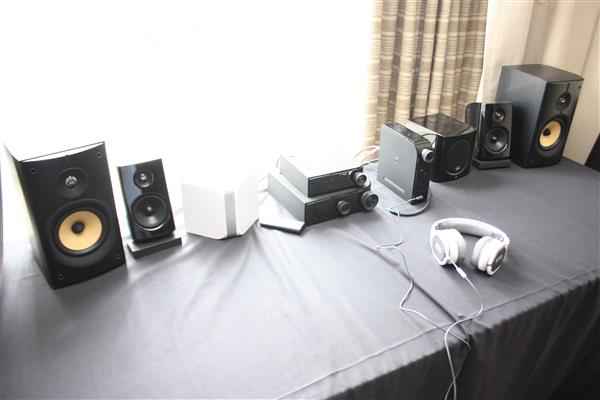 Also in this room were the NAD compact D3020 hybrid analog/digital integrated amplifier/DAC ($549), the D7050 pure digital integrated amplifier with Airplay/Bluetooth ($1,100) and the D1050 DAC ($550).  And, to the other side were four sets of headphones – the PSB M4U2 ($399); the M4U1 ($299) and NAD's HP20 ($199) and HP50 ($299).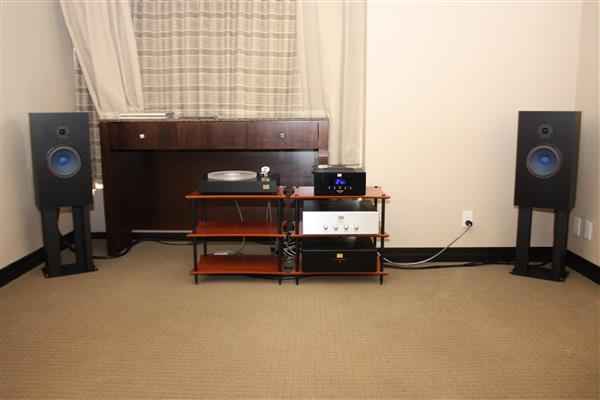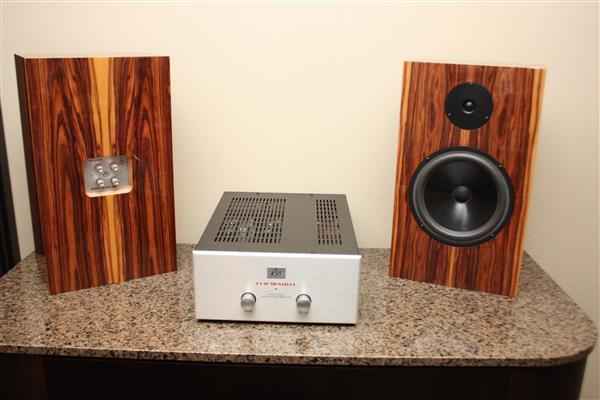 Like I've come to expect from Audio Note (UK), their room was sparse and simple, which allowed for the sound take front-row, so to speak. I noted that the sound of brushes on drum skins and cymbal hits were pristine in their clarity, while maintaining a bounty of harmonic colour.  Bass notes however, were slightly vague, carrying some bloat.  Playing in the room while I was there was the Audio Note (UK) CDT Three/II ($13,200) with the DAC 3.1 x/II ($11,100), an OTO SE Phono Signature integrated Class A amplifier ($7,100), Two Deluxe Turntable ($3,950) with the Arm Three V2 ($2,250) and an IQ3 MM cartridge ($1,100).  The speakers were the Audio Note (J/D $4,150/pr) on matching stands ($720/pr).  The were some components on static display, which included the Audio Note P2 SE Signature power amplifier ($6,750) and the K/SPe two-way loudspeakers ($4,150/pr).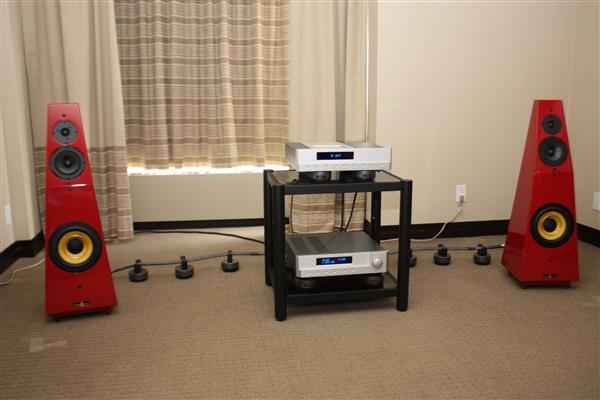 In the Gershman Acoustics room, the featured system included their new Avant Garde R1 loudspeaker priced from $8,000 to $10,000/pair, depending on finish.  Powered by Audia Flight – the Flight Two integrated ($8,000) with the CD One M CD player ($8,000) – the sound was lively, dynamic, and impactful.  In action and on display were Gerhman Acoustics own vibration control devices – LVC, which included the LVC Cable Float ($95/each); the LVC 40 ($335/set of 4); and the LVC 100 ($345/set of 4), which can be used with components and/or speakers.  Also on static display in this room, was a pair of Gerhman Acoustics Idol loudspeakers ($3,000/pair).
Stayed tuned for Part 4 of our coverage of SSI 2014 (coming soon)!