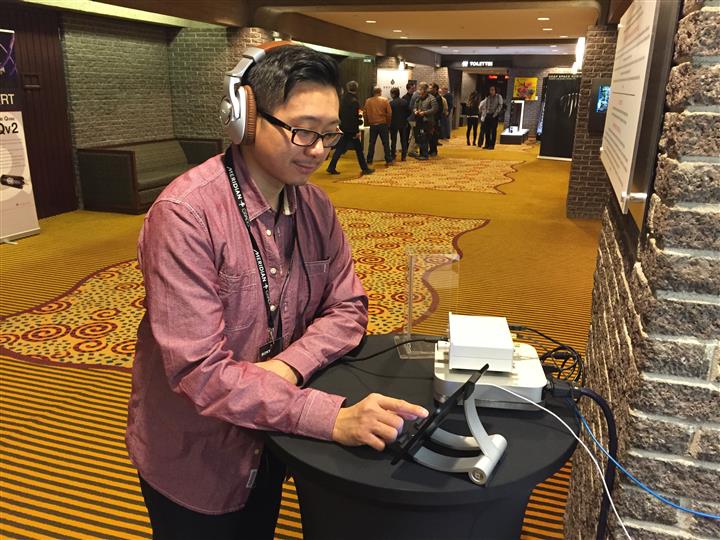 Every year, the beginning of spring is celebrated by Canadian audio enthusiasts at the Montreal Audio Show / Salon Son & Image. Similarly, every year George de Sa and I (Suave Kajko) embark on the short journey from Toronto to Montreal to explore the show floor in search of the latest audio products and exceptional sonic demonstrations. Shows like this present a wonderful opportunity to see old friends and make exciting new ones. We worked long hours on the show floor during the three day show, and enjoyed ourselves equally well after hours in the seductive culture of the beautiful city of Montreal. Thought this year's show didn't feature nearly as many exhibitors as previous shows, we certainly managed to find some pretty attractive exhibits. I hope you enjoy some of my show highlights!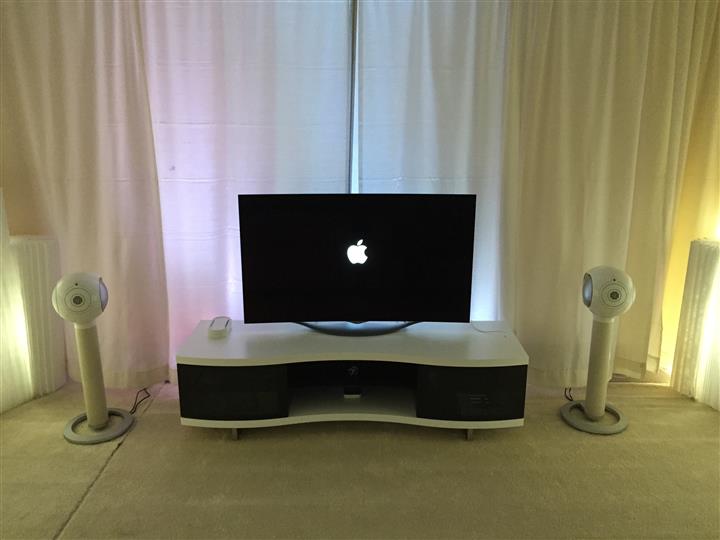 Plurison
One of the companies generating the biggest buzz at this year's show was Plurison, one of Canada's largest audio brand distributors. This company always puts on standout displays at shows and this year was absolutely no different. Michel Plante, Canadian Marketing & Sales Manager, invited me to sit down for a demonstration of something that he was clearly very excited about – the Devialet Phantom speakers. Offering a rather revolutionary design, these speakers feature built-in amplification and produce sound in an omnidirectional pattern that is completely different from a conventional speaker, hence offering uniform sound throughout the listening room. As we've come to expect from Devialet, this speaker offers leading edge technology, combining both analog and digital technologies in order to achieve a very high level of performance. Connect the Phantom to your home network (wired or wirelessly or via your power lines) and it'll allow you to stream music from your smartphone/tablet, computers in your house and most internet music services. Devialet's Spark app for smartphones and tablets makes playback a snap. You can start with just one or two speakers, and add more to build a multi-room system. Two versions of this speaker will be available – the Phantom (about $2,500 each) and the Phantom Silver (about $3,000 each).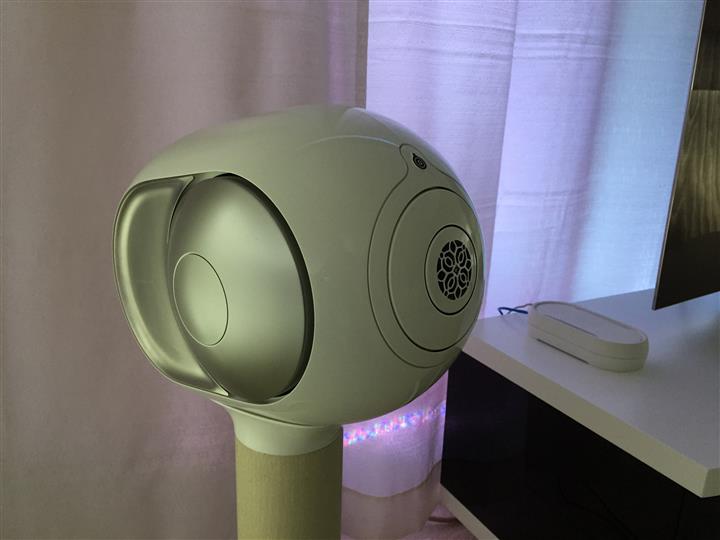 The demonstration room looked like a scene straight out of a sci-fi movie, as shown in the two pictures above. I sat down for a few minutes to listen to the Devialet Phantom and as soon as the music started played my jaw dropped and remained there for an unreasonably long period of time. These relatively small speakers pack a tremendous amount of musical energy, while playing with a clean, articulated bass that stretched into the lowest frequencies effortlessly. The highs were extended and the mids were luscious. These speakers clearly demanded a longer listening session, so I asked nicely for Plursion to send us a pair for review when they become available.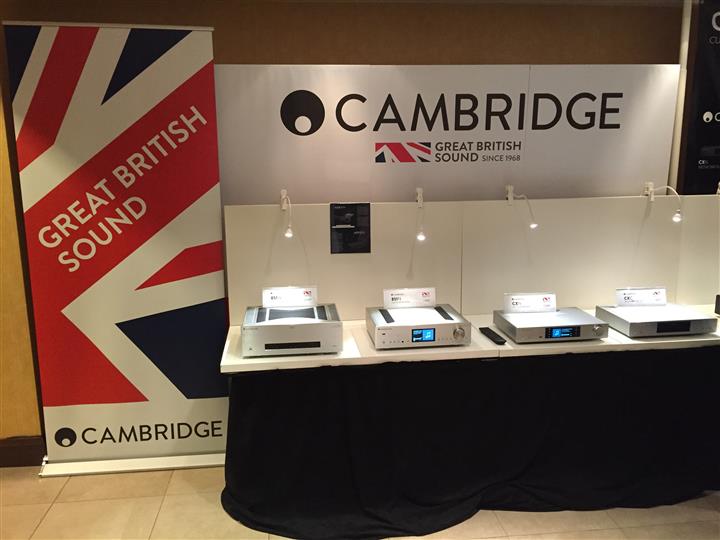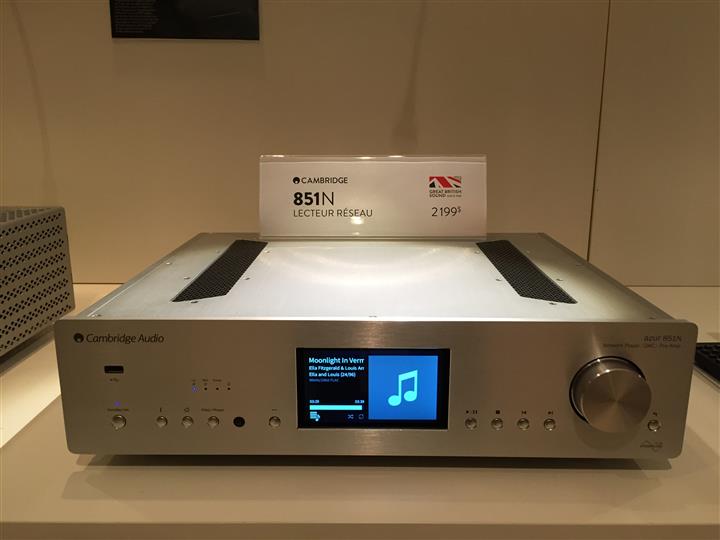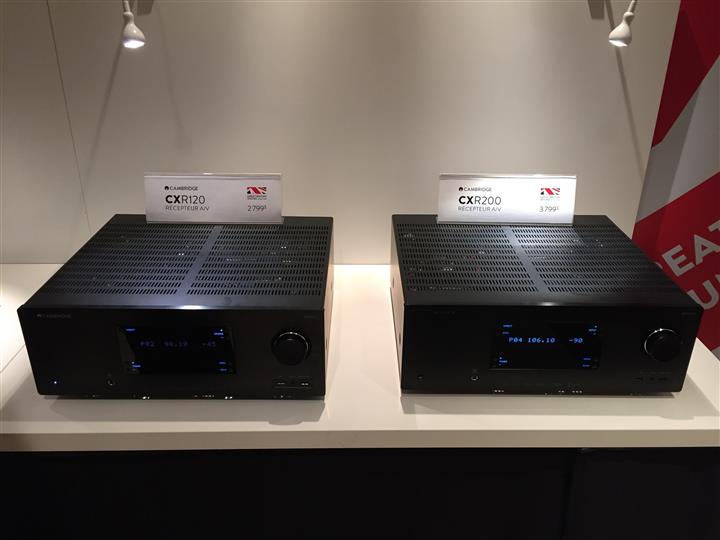 In addition to the Devialet demo, Plurison had a ton of other products on static displays, filling the large hotel hallways.  Another big announcement from the company was the release of a new Cambridge Audio CX series, which will be replacing the long-standing Cambridge Audio Azur series.  Expected to begin shipping in June, the CX series will offer all newly designed components: the 851W power amplifier, the 851N and CXN network players, the CXA60 and CXA80 integrated amplifiers, the CXC CD transport (this is a transport only since all new Cambridge components have DACs built-in), as well as the CXR120 and CXR200 AV receivers.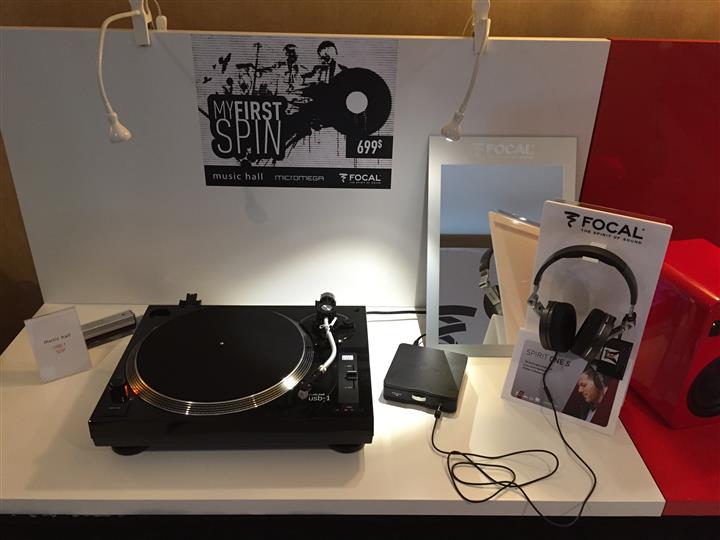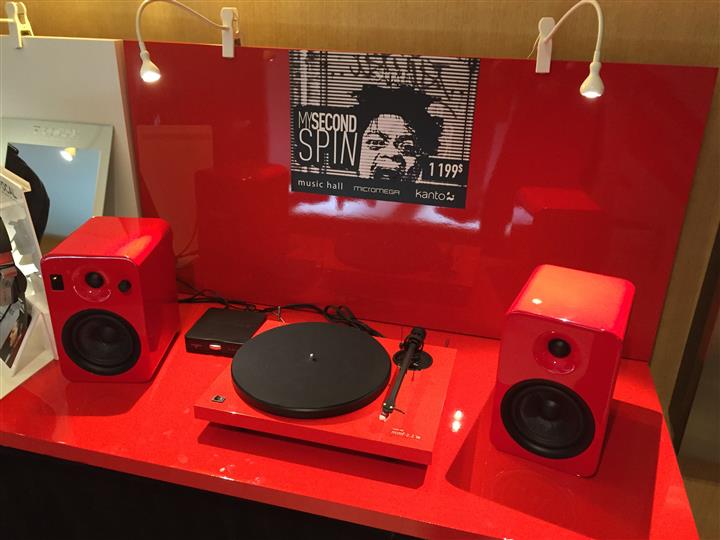 Another highlight at the Plurison display were two introductory turntable-based systems for those looking for an affordable and simple setup that doesn't require a large number of components. The first system on display is called the "My First Spin" priced at $699.  It is comprised of the Music Hall USB-1 turntable and the Micromega MyZic headphone amplifier, along with the Focal Spirit One S headphones, and a record brush. The second system accordingly called the "My Second Spin" ($1,199) features a higher performance Music Hall MMF2.2LE turntable, the Kanto YUMI amplified speakers, and the Micromega MyGroov phono section.
Other brands on display from Plurison, on static display, included Focal, Cocktail Audio, Rega, Music Hall, Naim Audio, Pathos, Siltech and Crystal Cable.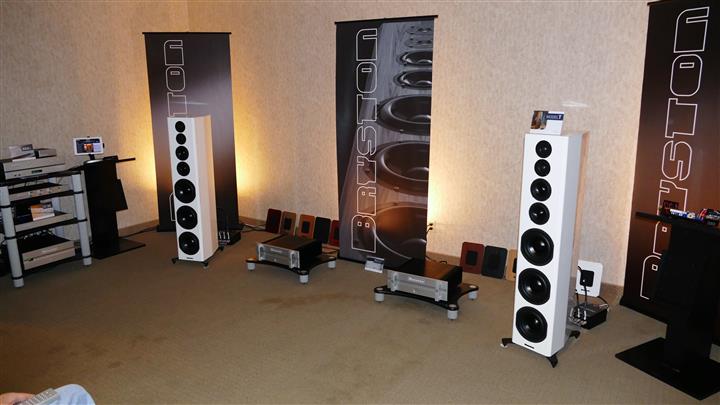 Bryston
Canada's own Bryston offers one of the most diverse ranges of audio products of any company in the business. At shows, the company tends to stretch its muscles by showcasing its big guns, which is fun to see as most of us don't have rooms large enough to build such audio systems. Of course Bryston has products suitable for all real-world room sizes too.  This March, Bryston proudly showed the full line-up of Canadian-built Target Audio Products speaker stands, a brand that it recently began distributing, as well as the brand new Bryston BDA-3 DAC which offers DSD decoding and will begin shipping in the late spring / early summer. The Target speaker stands appear to offer a high level of build quality and reasonable price points – ranging from $269/pair to $549/pair. We've got the BDA-3 DAC ordered for review when they become available so stay tuned to CANADA HiFi for a complete evaluation.  I personally use the Bryston BDA-1 DAC in my own reference system, as I find it to be one of the best DACs out there in its price range.  Perhaps it's time for an upgrade to the BDA-3 DAC…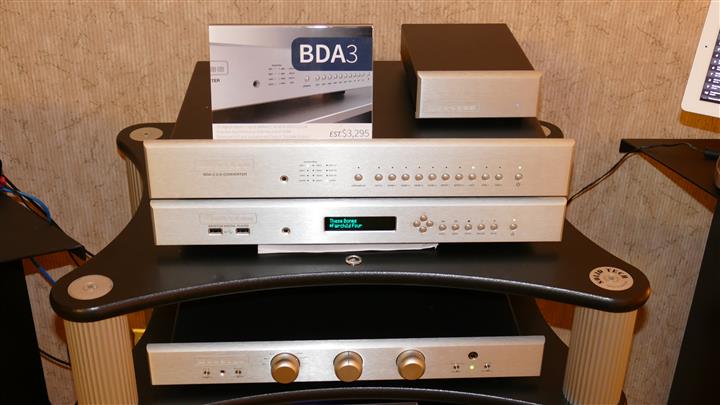 The Bryston system on demonstration was the same as the company showed last year at the Montreal show and commented by many as one of the best sounding systems at the show – and for an achievable price. It consisted of a Bryston BP-26 preamp, a pair of 7BSST2 amplifiers, the flagship Model T speakers in a white gloss finish, the BDA-3 DAC, the BDP-2 digital player, along with the new BOT-1 burner (Bryston Optical Transport). The BOT-1 is designed to add ripping and playback capabilities to the company's BDP-1 and BDP-2 digital players – it allows you to rip your CDs directly to a hard drive connected to your Bryston digital player, cutting the computer completely out of the equation – a worthy system addition for all BDP player owners.  Overall, this was one of the best sounding rooms at the show and one that offered audio gear for just about every wallet.
In addition to the active demo system, the walls of this room were laid out with all kinds of other Bryston products, including the company's full line-up of loudspeakers and subwoofers, as well as nearly all of the company's electronics. Notable recently announced speakers showcased here included the Micro A Sub subwoofer and the AC-1 Micro centre channel speaker. On a related note, look out for a Bryston Model A2 loudspeaker review from CANADA HiFi's contributor Douglas Brown coming up in the next week.  Bryston has already also confirmed its participation in the 2015 edition of the TAVES Consumer Electronics Show (www.taveshow.com) and we can't wait what they company will show us there!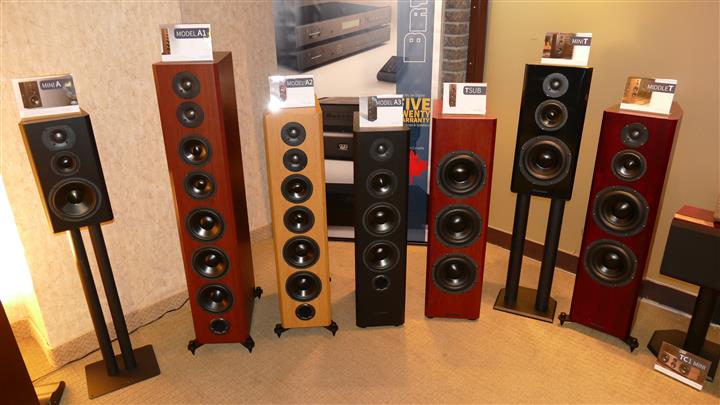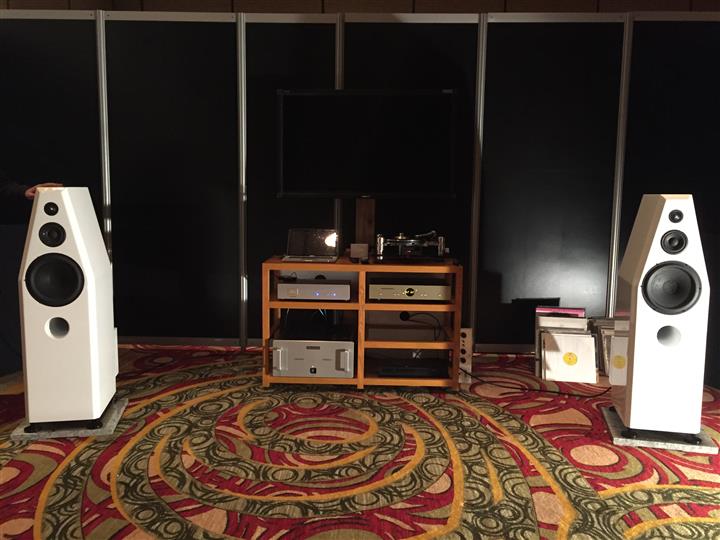 Deep Space Audio
It is always a pleasure to discover a brand new company like Deep Space Audio, at an audio show. Although this Montreal-based company was officially established just over six months ago, the roots of its first speaker model, called the Deep Space Audio DS-1, go back almost 10 years. What began as a project between three musician friends has developed into a business of passion. The DS-1 is an attractive looking, full-range (20 Hz – 20 kHz) loudspeaker based on a bass-reflex design and constructed out of 1.5-inch thick Russian plywood. It is equipped with a 10″ paper cone woofer, a 4″ paper cone midrange and a 1″ cloth dome tweeter – all drivers are sourced from Scan-Speak in Denmark. A careful onlooker like myself, will immediately notice that the crossovers are external, mounted at the bottom rear of each speaker. This helps to isolate the crossover components from undesirable mechanical vibrations.  The Deep Space Audio DS-1 speakers retail for $20,000/pair.  Associated gear in this room included an Acoustic Research tube amplifier, an Oracle turntable as well as a preamp and DAC from Conrad Johnson.  Look out for CANADA HiFi's review of the company's upcoming Deep Space Audio DS-2 loudspeaker in the next few months.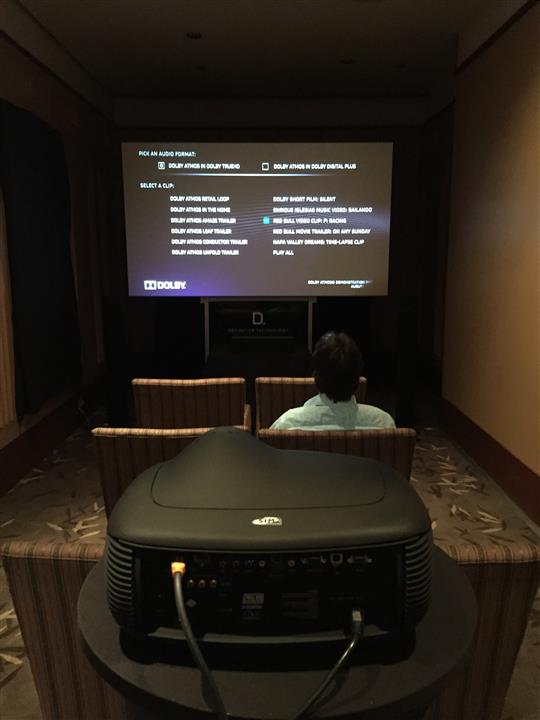 Evolution Home Corp – Dolby Atmos Demo
Have you heard about Dolby Atmos?  It's a brand new audio format that's bringing more immersive, three-dimensional sound than ever before to movie theatres and homes.  Specifically, this new format introduces four overhead speakers that allow you to experience elevated sound.  You have to hear it to believe it!  Of course the challenge for most consumer is cutting holes, running wires and installing speakers in the ceiling, which can be a troublesome and expensive affair.  But there is an easier solution in the form a new type of speaker called a Dolby Atmos enabled speaker – it's basically a speaker that's designed to radiate upwards and reflect sound off the ceiling and back to the listening position.
Saxe Brickenden of Evolution Home Corp, ran a very immersive demonstration of Dolby Atmos at this year's show in a home theatre that consisted of Definitive Technology speakers, a SIM2 projector and a Marantz AV receiver.  Definitive Technology's solution to installing Dolby Atmos in a home theatre is the A60 Elevation Module speaker ($350 each, approx.) which mounts on top of the company's most popular floor standing speaker called the BP-8060ST ($1,400 each). This low profile speaker measures just 4-inches tall and elegantly clips on top of the BP-8060ST – all you have to do is run one of the Atmos "elevation" channels to it via a speaker wire from your AV receiver. In order to enjoy Dolby Atmos you will of course need an AV receiver that offers Atmos processing, like the Marantz that was featured inside this room, as well as content that's encoded with Atmos. The system on demonstration consisted of four BP-8060ST floor standing speakers (a bipolar design with a built-in powered subwoofer). The picture was provided by a SIM2 Nero 3D-1 projector ($19,995) from the company's Domino line. The Nero 3D-1 is a single-chip DLP design, offering 1080p resolution. I sat down for a demonstration of the system with Atmos encoded content and was very pleased with the experience.  The Definitive Technology BP-8060ST and A60 Elevation Module (attached to the top of the speaker) are shown below.  You can expect to see a number of companies demonstrating Dolby Atmos at the TAVES Consumer Electronics Show this Oct. 30 to Nov. 1 (www.taveshow.com).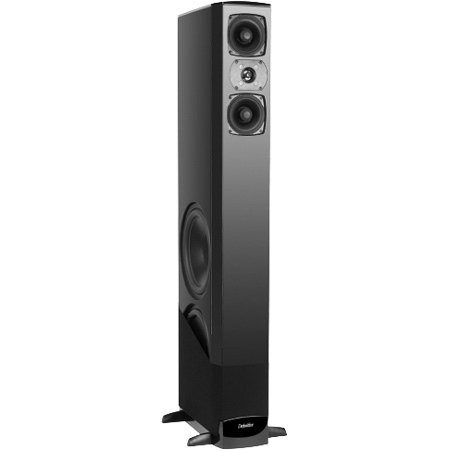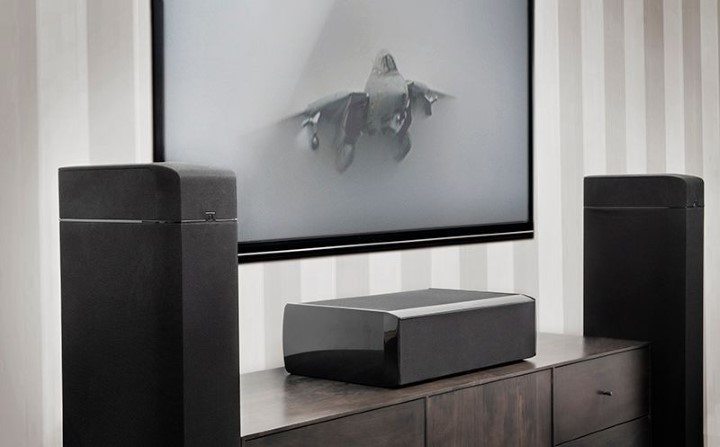 In an adjoining room, Evolution Home Corp also demonstrated a 2-channel system comprised of Definitive Technology Mythos ST-L SuperTower speakers, and AudioControl Rialto amplifier and a Mass Fidelity Relay source.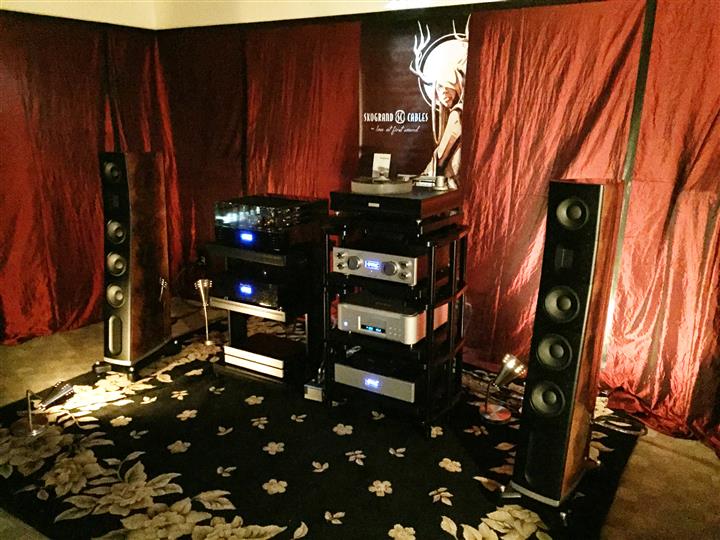 Skogrand Cables / Audiopathways
Skogrand Cables from Norway partnered with distributor Audiopathways to assemble what I thought was one of best sounding systems at the show.  Skogrand also took the opportunity to reveal its complete range of audio cables to the Canadian consumers / industry for the very first time. What makes the products from this company special? Skogrand has managed to develop solid core cables that float completely in the air through the whole length of the cable (i.e. without using any kinds of supports or ever coming into contact with the cable jacket). This technology allows the cables to achieve the absolute highest level of performance and can be found in the company's top four cable series: the Vivaldi, Ravel, Tchaikovsky and Beethoven. Something else that makes this company's cables unique and instantly recognizable are the silk sheet cable jackets. Company founder Knut Skogrand joked saying that his cables are "dressed for the occasion" when listening to grand recordings. Skogrand Cables currently produces speaker cables, interconnects, power cables, digital cables and speaker jumpers.
The audio system in this room consisted of Raidho speakers paired with VAC electronics and played with liquid fluidity, making me fall in love with the combination. If you read CANADA HiFi regularly, you may know that I consider Raidho speakers to be one of the best speaker brands in the world, and listening to them here with VAC electronics inspired me to take a closer look at VAC as well.  The HRS audio rack contained a VAC Statement 450S amplifier, a new VAC Master preamplifier, a Brinkmann Sindre turntable with a Triangle Art Apollo cartridge, a Sutherland Duo phono stage, and a full loom of Skogrand cables.  The speakers on demo were the Raidho D-3 models.  Keep an eye out for our take on Skogrand cables, as well as a Raidho review, in an upcoming issue of CANADA HiFi.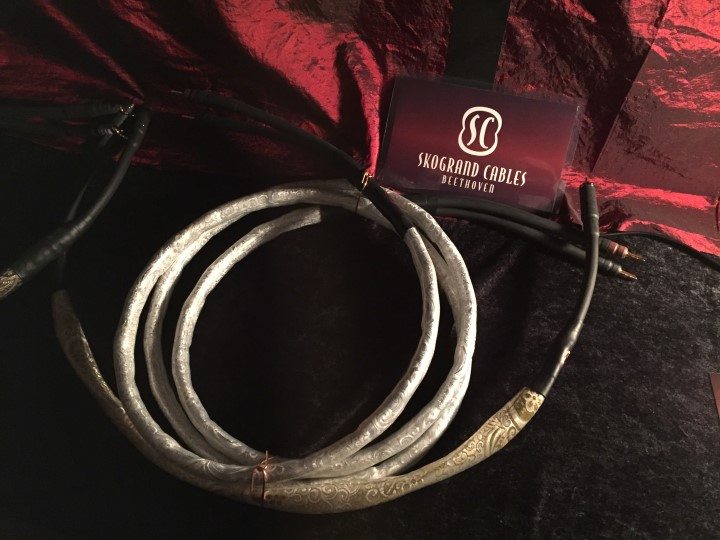 Skogrand Cables focused on demonstrating its Tchaikovsky cable series in the system, while showing the company's full range of cables in various displays on the perimeter of the room. We expect Skogrand Cables to demonstrate its cables for the first time at the TAVES Consumer Electronics Show this fall (Oct. 30 – Nov. 1, 2015, www.taveshow.com).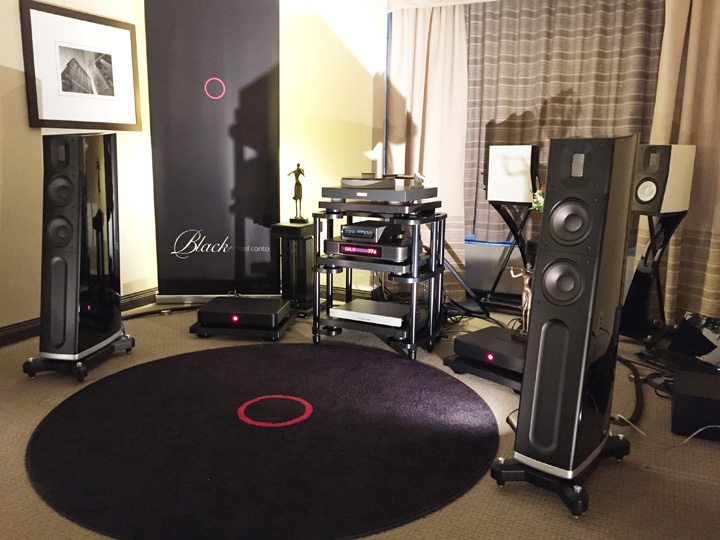 Audiopathways
As if the system above wasn't enough, distributor Audiopathways offered show visitors two additional rooms of audio bliss.  The first of these rooms was centred around the Bel Canto Black System, one of the highest performance audio systems I have personally ever listened to.  The price of $70,000 for this system however is a little hard to swallow for most… but it's nice to dream.  The other components in the system included the Raidho D-2 speakers, a Brinkmann Magne turntable with the Kiseki PurpleHeart cartridge, and a Sutherland Insight phono stage.  Standing off to the side, and also ready for demoing, were the Raidho C 1.1 bookshelf speakers as well as the tiny and unreasonably mighty Raidho X1 speakers. The sources included a Bel Canto CD3t CD transport and a REFlink USB converter used to stream music from the TIDAL online music service.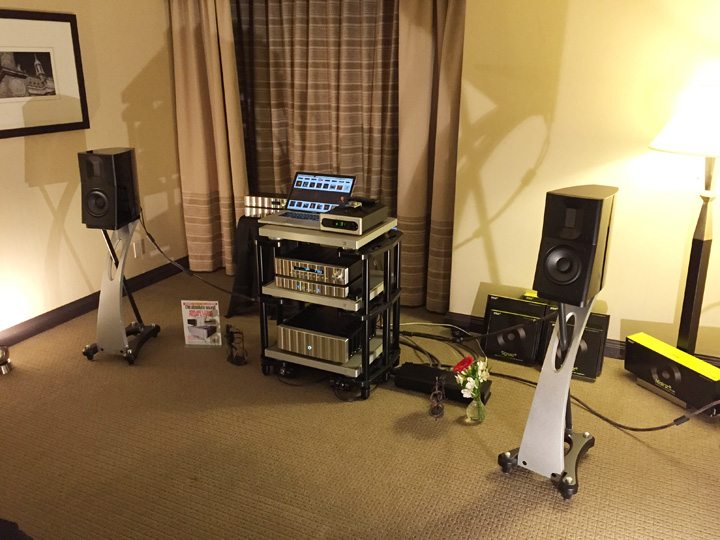 In another room, Audiopathways demonstrated the very special pairing of Jeff Rowland electronics and Raidho speakers. I am currently working on a review of the Jeff Rowland Continuum S2 integrated amplifier (possibly the highest performing integrated I've ever reviewed) and hope to get my hands on a pair of Raido D-1 stand-mount speakers for review very soon.  In play, in this system was the Jeff Rowland 625 power amplifier, the Jeff Rowland Aeris DAC, the Jeff Rowland Corus preamp, and Raidho D-1 speakers.  The sources were a MAC computer and the Bel Canto CD2 CD player.  Audiopathways also introduced Ansuz cables (a parent company of Raidho) for the very first time in Canada in this room.  Finally, also shown in this room were two new Triangle Art turntables – the Reference and the Symphony (with 2 arms), as well as US-made Acurus amps and preamps.
Stay tuned for Part 2 of this article in the next couple of days…