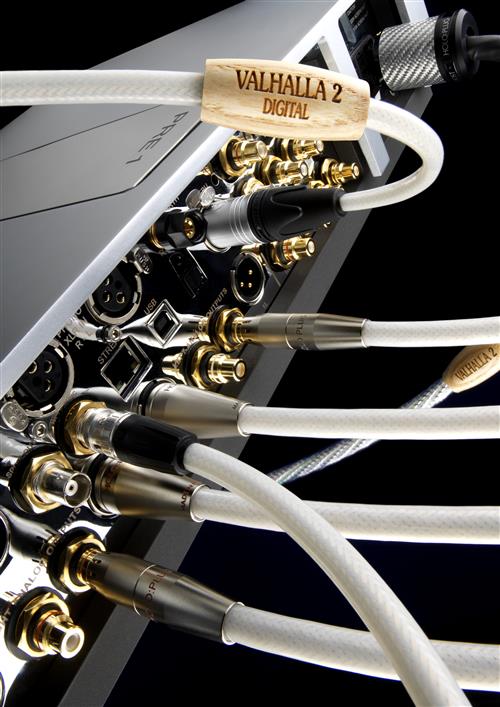 The new setup is immediately more relaxing to listen to. Instrumental color is richer, the bass is more fulsome and the treble gloriously open. It sounds more like the real thing. I've made a conscious effort to compare the sounds I heard from the third row of the wonderful Koerner Hall in Toronto with excellent recordings by the same artists. We're talking the Buena Vista Social Club, then Joan Baez, and finally the classical pianist Andreas Schiff. Although audio memory is far from perfect, what works for me is the feeling of connection to the music that you get in the concert hall, and how very close to that feeling the new Valhalla 2 based setup brought me. The older setup was just as exciting but not equally musical or realistic. To me it was like moving from Redbook CD to SACD. Things are not so black and white any more, they are more colorful and much easier to listen to. The other big improvement was in the very lowest bass, which while still completely pitch accurate as only a sealed box speaker can provide, was also firmer, stronger and clearer.
Now not every recording benefits to the same extent from this transformation. I notice the improvements most in large scale symphonic music and whenever there's a piano playing, and less on vocals and small scale classical music. With anything wide-range and well produced it's almost night and day.
Piano is the acid test for system testing. There's a powerful new recording of Bach's English Suites played by Piotr Anderszewski which illustrates these differences to the full. Where the sound was somewhat harsh, thin and even aggressive, now the piano tone is fuller and cleaner, with an increased range of dynamic shading. It sounds more like a piano and less like a recording of a piano. Some slight ringing has vanished. This is contrapuntal music which means there are multiple voices playing simultaneously. It is so much easier now to make out the various strands that my brain doesn't have to work so hard to follow them, making for greater relaxation and enjoyment.
If Bach is not your listening pleasure, this same musical flow allows you to listen to all sorts of music with less strain and increased appreciation for the artistry involved. I found the same immersion on the Beatles Love album. Even on the opening track "Because", which comprises just a cappella vocals from the original recording and assorted birdsong / insects humming, the image width and depth were both heightened and the voices more lifelike than ever. Moving to "Get Back", the drum thwacks are now stronger, there's more drive and momentum and you can hear deeper into the complex drum rhythms. Paul's bass is cleaner and more present in the mix.
But "Chanchullo" from Cuba's Ruben Gonzales (star of the Buena Vista Social Club) showed smaller differences. No increase in detail, but some extra nuances perhaps. The brass did come through with a richer tone, especially in the lower registers, but you are not getting all your money's worth here. "Diamonds and Rust", Joan Baez's great song, also showed only modest improvement. Mozart's "Divertimento for String Trio" lies between these two extremes. The imaging is improved and there is so much detail in the string tone of each instrument that you can follow each one, where before the instruments were often blended. You get the impression there is all the time in the world now. It's not that the music has slowed down, but you can hear into the music more deeply. And let's not forget that the sound was superb to begin with. Now it's just more palpable.
I've been living with the Valhalla 2 cables for about six months, and I find myself listening to a lot more music than I used to. It's not that I love cables. I love music. These cables bring out the music more than any others in my experience. They do this by offering the flattest and most extended frequency response, the highest level of detail, the greatest accuracy of instrumental and vocal tone and full responsiveness to transients and sustained harmonics. All these are technical considerations which can be measured in the laboratory. But to the listener, it comes through as transparency to the source, which is the measure of every element in the chain. There is no editorializing, no false emphasis in the lower bass, no blending of individual voices, no loss of texture on a stringed instrument, nothing that harms the flow of music or reduces its level of detail or dynamic range. Well, nothing I could hear in my imperfect listening room.
Nordost cables are easy to use – generally slimmer and more flexible than most competitors. The speaker cables have a unique flat design with each conductor held parallel to its neighbour in four groups of seven, while the interconnects and power cables are relatively slim and circular in cross section. They are finished to astonishing standards.
Nordost recommends its own QRT Power Distribution system, so I used that for testing. The first stage is the QBase QB8 Mk II ($1920 Cdn) which provides 8 power outlets. The second stage is the QX4 Power Purifier ($3,240 Cdn), which is installed in line between the QB8 and the power amp. These products seem to do their job very well. There is no hum at all in the system and the speakers are eerily silent even at high volume levels between the tracks of my CDs.
Valhalla 2 power cords start at $6,000, interconnects at $8,000 and speaker cables at $11,520 (Cdn). So we are certainly in a very special realm. In terms of sound quality, these are the finest I've heard at any price and make a huge difference to the enjoyment I get from listening to music in my reference system.