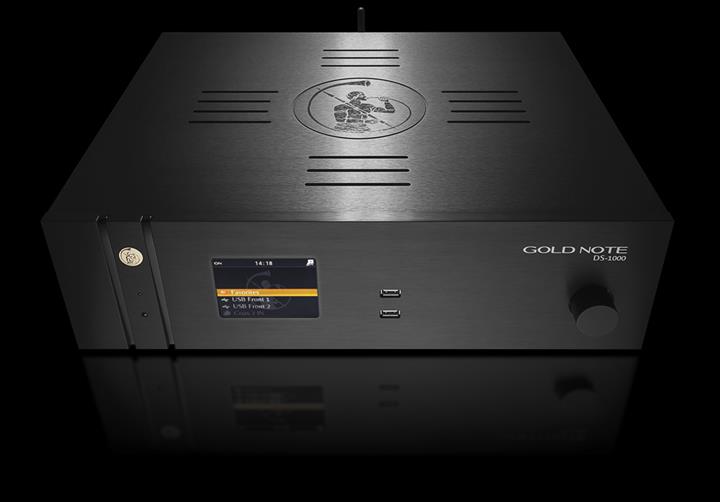 We live in a digital world and the DS-1000 makes it easier than ever before to enjoy your digital music, at the highest possible quality. The DS-1000 combines an amazing DSD Digital Music Streamer with a top notch DAC, allowing you to play music from you digital library, USB key or internet radio stations.
The DS-1000 features easy set up Apple iOS and Android proprietary software for full control via iPhones and iPads as well as smart phones and tablets. The App makes it easy to control the digital inputs displaying all meta data, cover and information registered on the track as well as real resolution format.
To play music files at their best and always with top quality high resolution in 24bit 192kHz, DS-1000 is equipped with a D/A converter, as well S/PDif coaxial and TOS optical digital inputs powered by the AKM receiver, and also a USB port powered by the world class XMOS U6 500MHz DSD for high speed peripherals.
A large 3.5" color display shows playback information in a clear menu that's easy to browse, showing all USB inputs, digital inputs and radio stations.
Thanks to the exclusive SKC – Single Knob Control the unit becomes a friendly plug-and-play source fully controllable even without a remote, computer or mobile App.
The DS-1000 offers a unique modular design exclusively modelled for Gold Note's 1000 series to expand and grow your system into a complete all-in-one high-end audio source with an optional internal preamp stage and also an analogue balanced stereo input.
Modularity is also extended to external accessories, perfect to push the performance even further, up to outstanding levels with two optional external Class-A tube output stages
(TUBE-1006 | TUBE-1012) and two different external super Inductive Power Supplies (PSU-1250 | PSU-1100).
For more info, please visit www.goldnote.it/ds1000