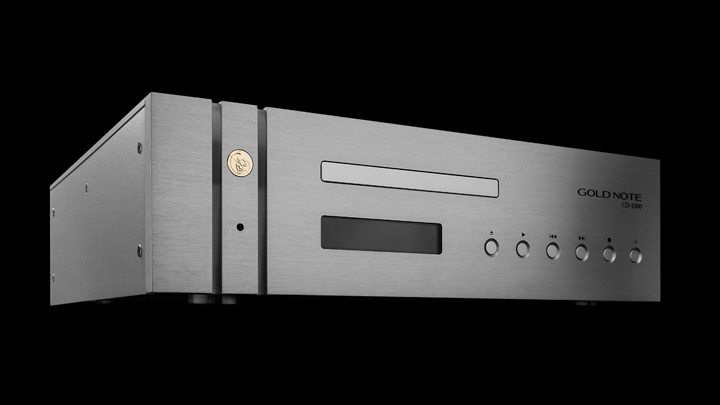 The CD-1000 is a state-of-the-art cd player that integrates a digital stage and an analogue stage in an single, elegant chassis. Featuring a top 24bit 192kHz high-resolution D/A converter with S/PDIF coaxial and TOS optical digital inputs and a USB 24bit 192kHz input, the CD-1000 allows you to get the best out of your computer audio.  CD-1000 features Gold Note's improved output Zero-Clock technology for effective jitter reduction. Zero-Clock powers a T.I. CDCE906 Clock Master Generator that reshapes the clock every single time you play music. Its unique modular design allows a variety of external upgrades to push CD-1000 beyond limits, including two Class-A tube output stages, Atomic Master Clocks and High Power Supplies.
The output stage is solid state, fully balanced with Dual-Mono PCM1792A best D/A converters, the same found in the company's Favard CD player and in the very best digital sources available today.
The CD-1000 is powered by the Gold Note Dual-Mono power supply with two transformers to keep the voltage extremely stable on all audio signal paths and avoid speed fluctuations.
In addition to all this, the CD-1000 optionally features a preamp stage based on a PGA single resistor with double mono volume control, a solution Gold Note introduced on the Demidoff line of amplifiers that can drive power amplifiers directly and with great results.
Finally, the CD-1000 also features an elegant organic-LED display.
For more info, please visit www.goldnote.it/cd-1000