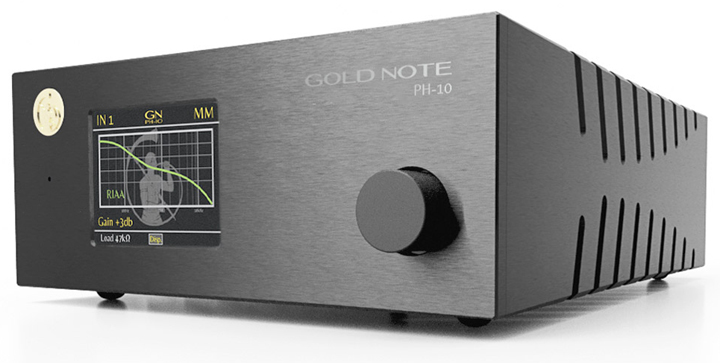 Gold Note – the Italian High-End manufacturer based in Firenze – recently introduced the PH-10, an incredibly innovative new phono stage designed for the most demanding music enthusiasts.
Engineered to reach the best sound possible and total control over the listening experience, the PH-10 has everything right where it belongs: on the front panel we find a large color screen showing all the setup information with a clear layout that's easy to read at a glance. The PH-10 features Single Knob Control [SKC], an elegant solution to browse, select and change settings instantly that will let you enjoy the best out of your system — finding a perfect match between the PH-10 and your MM and MC cartridges through simple, intuitive gestures, without the need of disconnecting cables or adjusting switches.
With the PH-10 you can select the proper EQ curves to always achieve an accurate sound reproduction choosing between RIAA, Decca-London and American-CBS-Columbia as well as "enhanced" versions of each one to improve the natural sound crispness of the cartridge. Through the Single Knob Control you can quickly select between MM/MC cartridge type and then precisely adjust the settings with four GAIN options [-3dB, 0dB, +3dB, +6dB] and nine LOAD options [10Ω, 22Ω, 47Ω, 100Ω, 220Ω, 470Ω, 1KΩ, 22KΩ, 47KΩ] for a perfect match with virtually any phono cartridge available in the market.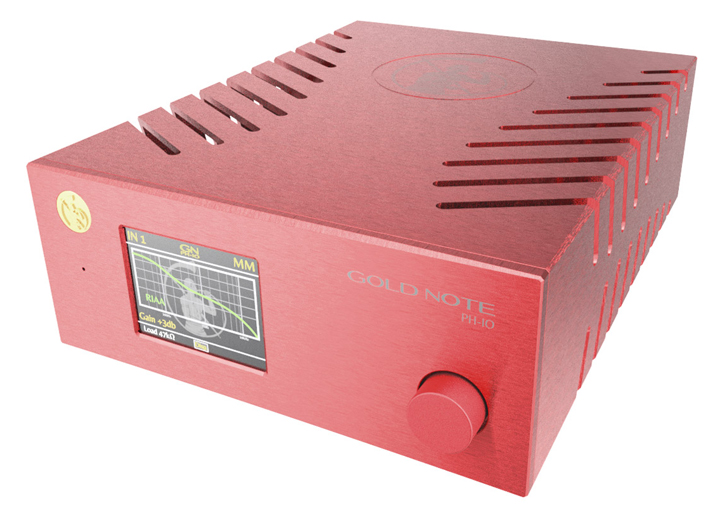 But there's even more, because the PH-10 features two separate, independent RCA inputs and lets you connect two different tonearms (or even turntables) and adjust the settings independently for each cartridge.
Powered by a specially designed anti-rumble high-pass filter, the PH-10 provides great control of the low frequency distortion, preventing intermodulations that would normally activate bass drivers producing inaccurate sound. Plus, all electronic boards of the PH-10 are double sided and paths are gold plated, ensuring a superior and consistent audio performance.
Every unit is built into a chassis machined from a solid block of aluminium, a choice that guarantees low vibrations and a beautiful brushed anodized finish.
For more info, please visit www.goldnote.it/ph10