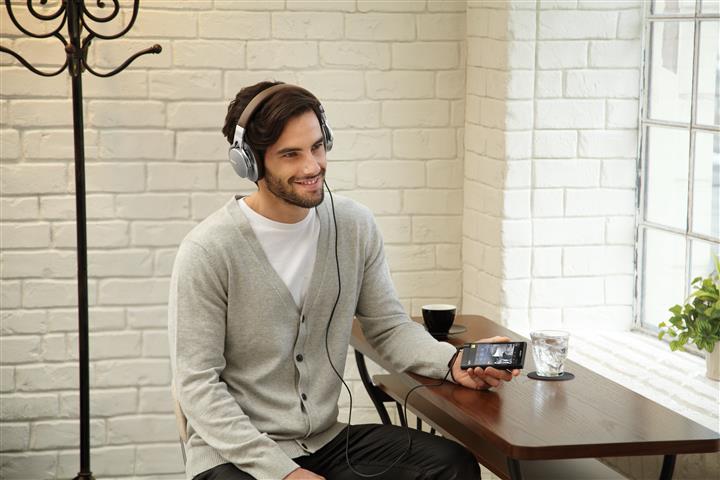 Everything You Need To Know To Find the Perfect Portable Player
From the transistor radio to the Sony Walkman to dedicated players like the iPod, each technological jump in portable music systems has been quickly adopted by people eager to bring their music with them. These days, the dedicated music player has largely given way to the smartphone as it relieves listeners from the burden of managing multiple devices. While there's no question that smartphones are phenomenally capable and convenient devices, they are generalists –"Jacks of all trades", if you will, but also masters of none. Consequently, they simply cannot deliver the levels of sound quality sought after by audiophiles.
On the other hand, a dedicated portable digital music player is a specialist and, at least potentially, can truly shine at the one thing it does. Unfortunately, most of these players are aimed at a mass market audience and while they may have great industrial design and a slick user interface, they are constructed with average parts, packaged with lackluster earbuds and are designed to play mediocre source material like MP3 files. This may be fine for most people but if you're an audiophile, sound quality is of paramount importance and mass market products just won't do.
Fortunately, the last several years have seen the development of players that can satisfy the more demanding needs of audiophiles. Portable high-resolution digital music players are now a reality. But many factors should be considered when purchasing such players. The same criteria that are applied to high-end home audio equipment should be applied to portable devices. Every part of the system that handles the audio signal must be carefully scrutinised to maximize sound quality. With a portable player, the Digital–to-Analogue Converter (DAC), headphone amplifier and headphones are the three major contributors to sound quality. If any one of these are of poor quality, the entire system will perform poorly.
High quality players offer some of the same DAC chips you would find in high-end audiophile equipment. If you're looking for top notch performance, top shelf DACs are the right place to start. Some players offer single DAC designs while others offer dual DAC configurations. The FiiO X7 for example, uses a single 8-channel DAC but in bridged mode, where the left and right channels are each assigned four of the DAC chip's outputs. This leads to a 6 dB increase in signal-to-noise ratio. High-end architectures like these will be significant contributors to top flight performance from your player.
In your research, you may come across the term "natively supports" some file format or other. This means that the product can fully process the file without having to alter its format first. This is an important distinction because lesser products may only be able to play high resolution files by downsampling them first. This process would reduce the resolution and sampling rate to a level appropriate for its DAC chip. This means that you may be able to "play" high-resolution files, but you wouldn't benefit from the extra detail they contain. The best you could hope for are the upper limits of the DAC chip. If those limits happen to be 16 bit/44.1 KHz, the best you would ever get out of this player is CD-quality sound. The bottom line is that native support for a given file format should be much more reassuring to prospective buyers than merely "supporting" a file format.
Once your bit stream has been converted to an analogue signal, it requires amplification before it can power your headphones or earbuds. It shouldn't come as a surprise that run-of-the-mill amps lead to run-of-the-mill performance. Some of the players in this roundup offer interchangeable amplifier cards or modules that allow you to optimize the amplifier's characteristics for your type of headphones. High-impedance headphones, in particular, require different amplifier designs to maximize performance. If you wish to extract every last ounce of performance out of your system, properly matching your amp to your headphones will go a long way.
Last but not least are your headphones. Cheap speakers will never sound like high-end models. The same holds true with headphones and earbuds. Unfortunately, extreme performance isn't cheap, but top notch DACs and amps deserve matching headphones. Some of the vendors mentioned in this article also produce very high quality headphones you should consider for your player. Having detailed knowledge of their headphone's and amplifier's characteristics puts them in a unique position to give you the best advice for attaining that perfect match. Astell&Kern, FiiO and HIFIMAN are manufacturers who offer supplemental amplifier options for their players.
An important consideration that shouldn't be overlooked is obviously storage capacity. Some players have relatively little internal storage while others have a lot. The largest in this group is 256GB which is quite healthy. However, you need to consider that you're not storing MP3s on these types of players, you're hopefully using a high-resolution format like FLAC 24 bit/192 KHz. The extra detail available in this format is wonderful but will consume memory at a far greater rate than MP3s. For example, Fleetwood Mac's album by the same name, eats up 1.62GB in FLAC 24 bit/192 KHz. And that's only 11 songs. At that rate, 256GB will hold 1738 songs, but some smaller models have only 8GB, which represents only 54 songs. Consequently, you should consider your storage capacity very carefully. Models that can accept microSD cards or, better yet, SDXC cards are a big asset. Some players may not have any internal storage at all and rely entirely on external memory cards.
Since we are discussing "portable" players, battery life is another important factor in the equation. As with storage, the numbers vary greatly across different models. Some have battery lives as short as 6 hours while others will give you up to 33 hours. In general terms, longer is always better but whether a shorter time like 6 hours is sufficient will depend on how you intend to use the product and your opportunities to recharge it. If you wish to use it twice a day for a one hour commute to work, 6 hours of battery life is likely more than enough. On the other hand, if you spend a lot of time in airports and on long flights, you may feel that 6 hours is grossly inadequate. Only you can answer that.
As with their larger full-sized counterparts, one thing you shouldn't neglect with portable players is format compatibility. The players available today are capable of handling a broad range of file formats like FLAC 24 bit/192 KHz but you should make sure that the formats you're interested in are fully supported. Many of today's models even support the Direct Stream Digital (DSD) file format. This is the same encoding scheme used by Super Audio CD. However, some DSD compatible models only support 2.8 MHz DSD 64 whereas others also support the 5.6 MHz DSD 128 format. Would you believe that even balanced audio outputs are available on some models? Finally, we have portable solutions to meet the needs of even hard core audiophiles.
Several manufacturers have ventured into this arena. Some, like Sony, are long-time veterans in the consumer electronics world and others, like Pono, are newcomers. In the following pages we take a closer look at the flagship products of several manufacturers. We will discuss their features and capabilities to give you a good overview of what's currently available on the market.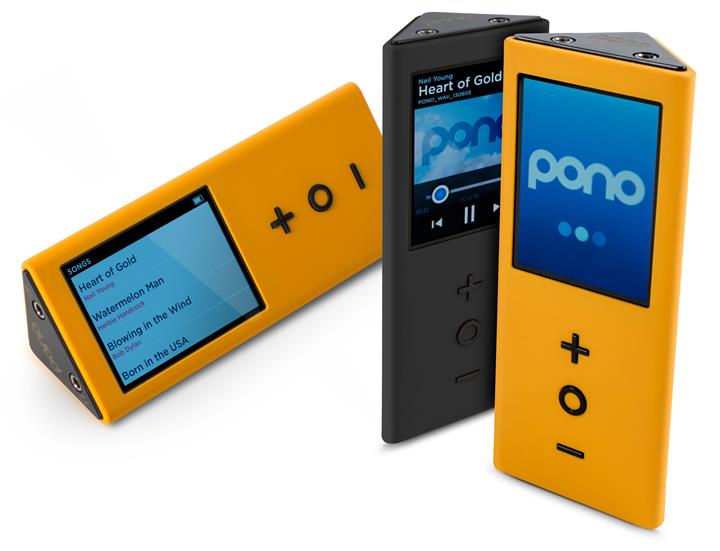 PonoMusic
PonoMusic is actually a music download service where you can purchase high-resolution music files. The PonoPlayer is the associated hardware. The PonoPlayer is a slightly peculiar unit in that it has a triangular cross-section rather than the typical rectangular cross-section. It's available in yellow or black and sports a 2.5 inch colour touchscreen.
The PonoPlayer is compatible with FLAC, ALAC, WAV, AIFF, unprotected AAC, MP3 and DSD files. DSD playback requires firmware v1.0.5 or higher. It will accept resolutions up to 24 bit/192 KHz and includes 64GB of memory. The unit can be expanded with microSD cards up to 128GB in size and it also has a USB port.
The PonoPlayer is equipped with two 3.5mm headphone jacks that support four different listening modes. The first mode allows the user to listen in a normal fashion, as one would with any other player. The second mode uses a fixed output volume for use with a home or car audio system. The third mode allows two listeners to plug in, each with their own headphones or earbuds. The fourth is a balanced mode, where each channel is separated across both jacks. This mode can be used with balanced XLR inputs on a high-end preamp or to connect to high-impedance headphones.
Another noteworthy feature is the PonoPlayer's ESS ES9018M DAC. Its DAC section was borrowed straight from Ayre Acoustics' top-of-the-line digital music players. With this kind of pedigree, it should provide outstanding sound quality.
When playing high-resolution files, the PonoPlayer's battery life is about 6 hours. Unfortunately, the unit doesn't have any wireless capabilities and some feel that the player is quirky and awkward. Despite these issues, the PonoPlayer really delivers in the audio department. The unit retails for $399 US.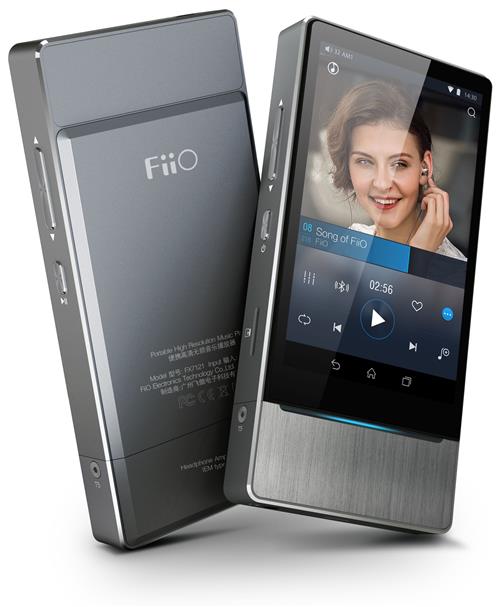 FiiO
FiiO offers five models to choose from beginning with the M3 (price TBD) and culminating with the X7 ($999). The middle siblings include the X1 ($164), the second generation X3 ($339) and the second generation X5 ($499). The X7 is a terrific looking unit that boasts an ESS ES9018S DAC. This DAC has 8 output channels that are bridged (four per side) to provide spectacular performance. FiiO claims a signal-to-noise ratio of 135 dB. The X7 can also let you choose between different headphone amplifier or output modules. This allows you to customize your sound and to use a broader range of headphones. Balanced outputs are also an option.
The X7 is compatible with a wide range of file formats including WAV, FLAC, APE, ALAC, AIFF, WMA, MP3, OGG, DXD, DSD 64, DSD 128 and PCM up to an absolutely astonishing 64 bit/384 KHz! It also has a USB 2.0 port that allows it to operate as a USB DAC. A 32GB internal memory is included and the player can also accommodate 128GB microSD memory cards.
FiiO included its own embedded app called FiiO Music into the X7. It looks to be well designed and user-friendly. This model also includes a 10 band equalizer and three types of VU meters. Bluetooth and Wi-Fi connectivity are also a part of the X7's feature set. This enables the unit to connect to a broad range of other devices. Music can be streamed to the X7 from the internet or other networked devices like a NAS or a computer. The X7 can even be remotely controlled.
FiiO also states that the X7's ergonomics were carefully considered to allow comfortable and easy one-handed operation; even for lefties. The unit has a symmetrical button layout that can be custom mapped for either left or right-handed operation. Extra convenience is available through the FiiO K5 docking station. It will charge your player and provide a host of connectivity options including balanced audio outputs. It even includes a 1.5 watt headphone amp. The X7's battery life is rated for 10 hours of playback.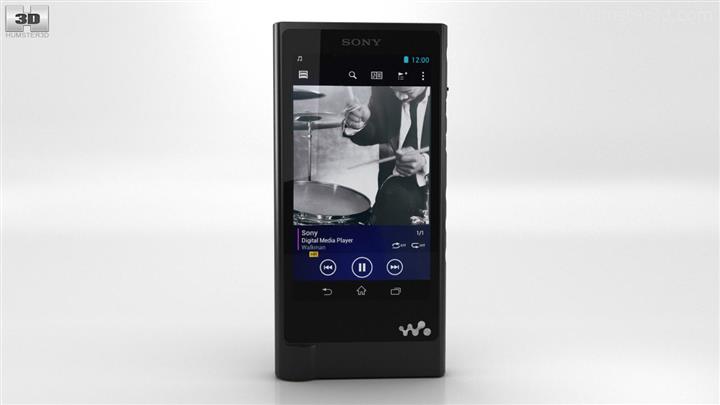 Sony
Sony currently has three models in their lineup. The entry level NWZ-A10 at $299, the mid-level NWZ-ZX1 at $749 and the flagship NW-ZX2 at $1,199. The NW-ZX2 is an attractive unit featuring a large 4" touchscreen and an impressive 33 hour battery life when playing high-resolution music. The battery is said to deliver 60 hours of use with MP3s. It's compatible with a wide range of audio formats including AAC (Non-DRM), AIFF, ALAC, DSD 64, DSD 128, FLAC, HE-AAC, Linear PCM, MP3 and WMA (Non-DRM). It's even capable of playing videos in AVC (H.264/AVC), MPEG4 or WMV 9 formats.
The player also features a healthy 128 GB internal memory which can be further expanded with microSD cards. It's equipped with Bluetooth, Wi-Fi and NFC wireless capabilities for connecting to a broad range of other networked devices. NFC or Near Field Communication, is a protocol that allows electronic devices to establish wireless communication by simply touching the devices together. Other connectivity options include a USB 2.0 port.
The NW-ZX2 features Sony's Digital Sound Enhancement Engine (DSEE HX), which attempts to enhance compressed files to restore them to their original state. Sony has also incorporated its "S-Master HX" high resolution digital amplifier into the NW-ZX2. This amplifier is said to maximize sound quality by reducing high frequency noise. The NW-ZX2 also includes Sony's new LDAC technology, which streams content through Bluetooth at three times the normal bitrate for high quality wireless audio. Available accessories include Sony's PHA-3 USB DAC Headphone amplifier ($999) and Sony's MDR-Z7 High-Resolution Headphones ($699).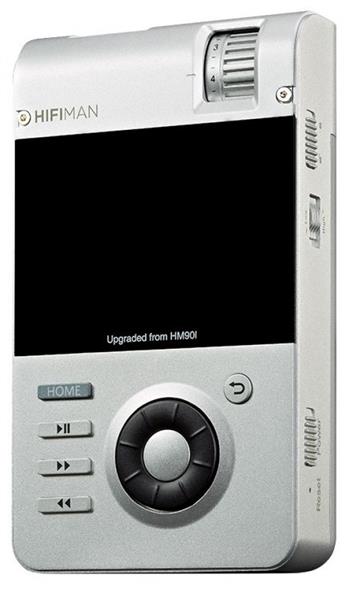 HIFIMAN
HIFIMAN offers a variety of different players ranging from $119 USD for the barebones HM700, all the way up to $1499 US for the HM901s reference player. Intermediate models include the HM650 ($449 US), HM802U ($699 US) and the HM901U ($999 US).
The HM901U is packed with high-end audiophile features like two highly optimized ES9018 DACs and interchangeable headphone amplifier modules. These modules allow you to choose the amplifier best matched to your headphones. They range in price from $199 to $299 US. The HM901U even has a patented step analogue volume control which allows precise volume control and maintains accurate channel balance. This is serious stuff.
The HM901U plays a variety of file formats including MP3, AAC, WMA, OGG, APE, WAV, 24 bit/192 KHz FLAC, AIFF, ALAC (M4A) and 2.8 MHz DSD 64. It supports huge SDXC cards up to 256GB and has a stated battery life of 9 hours. There's also a docking station available for the HM901U. With it, you can completely eliminate your CD or SACD collection. HIFIMAN also has an impressive collection of headphones and earbuds available ranging from $49 to $2999 USD.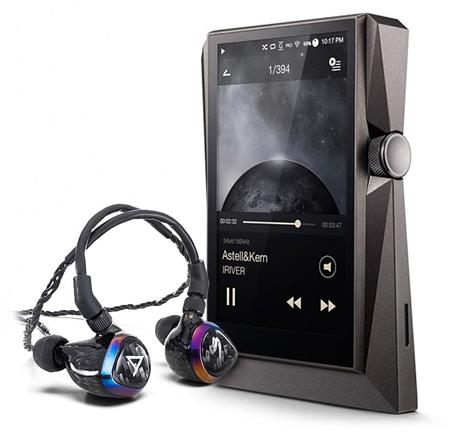 Astell&Kern
Looking for a Ferrari? This is where you'll find it. Astell&Kern quite possibly manufactures the most extreme of portable high-resolution digital music players. Their models vary from the AK Jr ($500 US) all the way to the AK380 ($3,499 US). Intermediate models include the AK100 II ($899 US), AK120 II ($1699 US) and the AK240 ($2499 US). The AK380 is truly a stunning piece of technology. This player natively supports insane resolutions and sampling rates up to 32 bits and 384 KHz. It also fully supports DSD 64 and 128 as well as WAV, FLAC, WMA, MP3, OGG, APE (Normal, High and Fast), AAC, ALAC, AIFF, DFF and DSF file formats.
The AK380 contains a dedicated DSP engine specifically to power a built-in 20 band equalizer. However, the equalizer only works with files up to 24 bits and 192 KHz and doesn't support DSD files either. Are you concerned about jitter? With an AK380, you don't need to be. This model is equipped with a high-precision clock with only 200 femtoseconds of jitter. A femtosecond is one quadrillionth of a second so there's no jitter issue with this player. Other audiophile goodies include dual AKM AK4490 DACs.
Wireless connectivity via Wi-Fi or Bluetooth is provided. Coupled with the AK app, this unit can connect to a host of different networked devices like computers, tablets, smartphones or Network Attached Storage (NAS). Once connected you can easily transfer or stream content. If you prefer traditional wired connections, a USB port is also provided. A CD-ROM drive is also available for the AK380. It will allow you to rip CDs directly to the player. An available cradle will also facilitate charging and connecting the unit through its USB port or to balanced audio outputs. Astell&Kern also manufacture the AK380 amp, which will allow you to connect the player to a broader range of high-impedance headphones.
The AK380 has an impressive 256GB of built-in storage capacity. In addition, a microSD slot is also provided. The unit will accept cards up to 128GB in size. The AK380 is clearly a very serious product and at $3,499 USD it should be.
In Conclusion
Smartphones may have rightfully replaced dedicated music players but I think you'll agree that from a sound quality perspective, they've got nothing on these high-res players. I have yet to encounter a phone with high-end DACs, interchangeable headphone amps and balanced outputs. I seriously doubt we'll be seeing these features in the Galaxy S7 or iPhone 7 either.
The products discussed in this article provide an overview of the better known brands available today. However, if you wish to explore a little deeper, there are many additional products worthy of consideration from lesser known manufacturers like Cowon, Acoustic Research, IBasso, Teac and more. Once you've settled on a solution that meets your needs, remember that great headphones are a must for maximizing your sound quality and enjoyment. If you already have a pair, bring them with you to your nearest dealer. And don't forget to bring your favorite high-res music too.
One last really important note. Always remember to back up your files! No one wants to lose their whole music collection. Multiple backups are even better. Keep one at work too. An ounce of prevention…