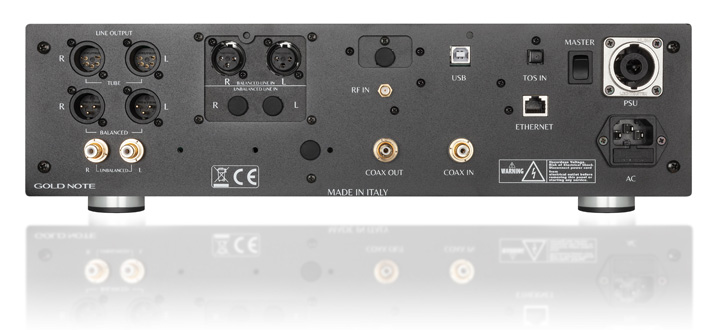 I tested the DS-1000 in two different systems: one with a ModWright Instruments LS 100 preamp and KWA 100 amp; and the other with a Jeff Rowland Continuum S2 integrated amp.  I also tried it with Gold Note's excellent sounding P-1000 preamp (review coming soon).  I also used two pairs of speakers for my tests: the highly musical Totem Acoustic Signature One speakers as well as my prized Raidho C 1.1 speakers.  During my listening tests, I streamed music from my home network and connected a solid state hard drive, loaded with high-res and DSD music, directly to the DS-1000.
I preferred controlling music playback with the Gold Note app, rather than the remote or the front panel control knob (both of these worked well, but seemed rather cumbersome compared to the app).  The Gold Note app offers a clean, easy to navigate interface that was a pleasure to use and worked flawlessly.  I've encountered many other high-end streamers were the native app left a lot to be desired, but luckily that was not the case here.  The DS-1000 is also compatible with 3rd-party apps control/streaming apps which will give it some additional features.
I'll never forget the day I integrated a higher-end external DAC into my system, it was an experience that forever changed the way I enjoy music.  A high performance DAC can take a digital music system from sounding great to outstanding, in just about every regard.  Since the DS-1000 is a two-in-one DAC / streamer, I tested both its functions in tandem.
I started my listening session by serving up music from a solid state hard drive loaded with high-res and DSD music files, connected to the DS-1000's USB port.  I place a lot of value on a system's ability to produce a well defined soundstage because it's one of the factors that can make recorded music sound life-like.  I'm happy to report that when listening to well recorded acoustic tracks and classical pieces, the DS-1000 was capable of painting a massively expansive soundstage.  The soundstage stretched well beyond the walls of my room, in width, depth and even height at times.  Vocals and instruments were positioned with remarkable precision within this sonic image.  All of these improvements were not surprising however from a component at this price point, but the DS-1000 turned out to be capable of so much more.
When you listen to a DAC of this caliber, you realize how much more performance a high-end DAC can breathe into a system.  The DS-1000 was able to render not just a three dimensional soundstage, but a virtually holographic soundstage.  One of the reasons for this is that it's capable of reproducing the air around instruments and artists, just as you would hear in a real life performance.  This meant that I could clearly distinguish individual instruments in a band or orchestra, in the most complex recordings, rather than simply hear a blend of the layers – something you would expect from a lesser DAC.
Additional great strengths of the DS-1000 were detail retrieval and transparency.  This DAC extracted every ounce of inner resolution from instruments and artists contained in the recordings.  It allowed me to tune into the finest details in the voices, making them sound palpable.  Likewise, string, wind and percussion instruments allowed me to peer deeper into their textures, offering a near real life instrument experience.  The attack of percussion instruments like the cymbals was lightning fast and the decay was natural.  The mid-bass and bass notes played with great definition and tightness, and never displayed any excessive bloom.  The DS-1000 played every album, from acoustic to rock to classical, with a remarkable clarity.
During my tests, I also listened to hundreds of CD quality tracks streamed from my home network via a wireless connection.  The results here were equally impressive.  Every song I played through the DS-1000 benefitted from an improved soundstage and increased musical details.  Not once did I detect any of the digital harshness that lesser quality or older DACs produce.  The wireless connection was also rock solid, it didn't fail me a single time.
What does all of this amount to?  Listening to music through the Gold Note DS-1000 DAC / streamer produced an highly immersive and mostly importantly musical experience.  On many occasions, it captured my attention and got me lost in the music for hours at a time.  The DS-1000 is a remarkably great sounding DAC / streamer that is definitely worth your time to audition.  Do even better DACs exist?  Of course they do.  When it comes to high-end audio, the sky is the limit.  However, you'll be happy to know that a DAC like the Gold Note DS-1000 will give you more than 90 percent of what the very best, most expensive DACs are capable of, at a fraction of the price.  At $5,000 US, the DS-1000 is simply the best sounding and best equipped high-end DAC / streamer that I've had the pleasure of auditioning.  It also offers one of the best graphic interfaces on its front panel and in the Gold Note app, both very important factors in a streamer.  And if you're willing to spend a little extra for some of the optional upgrades you can achieve even more flexibility and performance gains.  Very well done Gold Note.
Gold Note DS-1000 DAC and Music Streamer
Price: $5,000 US (additional upgrades extra)