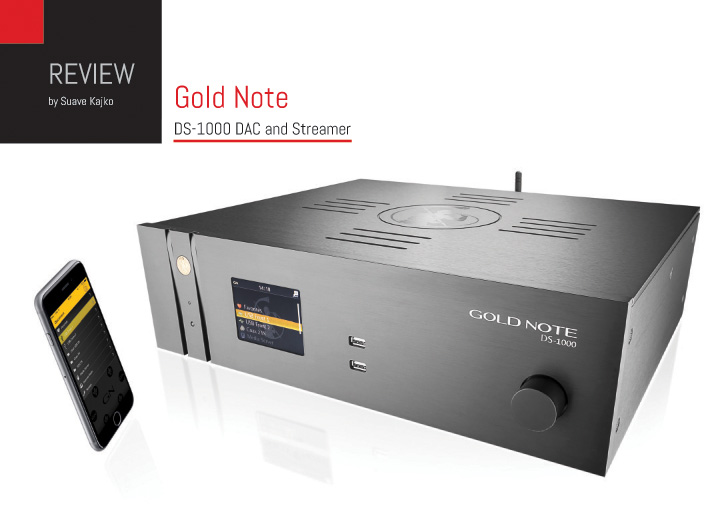 Florence, Italy based Gold Note produces an impressive selection of hi-fi products ranging from turntables to electronics and loudspeakers.  The company is renowned for accurate sound reproduction and elegant Italian styling.  Gold Note is also known for developing really innovative products such as the PH-10 phono stage, which is perhaps the most advanced upgrade you can serve to your turntable.  If you're a regular reader of NOVO, you've probably seen a few pictures of Gold Note turntables – they are drop dead gorgeous.
Since my introduction to Gold Note about three years ago, I've had a chance to listen to a few of the company's turntables and hi-fi components.  In fact, last year, I found the Giglio turntable so irresistible that I ended up purchasing it after writing its review, which you can find at novo.press/gold-note-giglio-turntable-review.  The Giglio now sits proudly atop the audio stack in my reference system and its luxurious appearance prompt a conversation with just about every guest, even those not quite as passionate about audio as myself.  With a price of $5,000 US, the Giglio (wood finish) may not be for everyone, but the great thing about Gold Note is that it offers a range of five turntables suitable for just about everyone's budget – from the $850 US Valore 425 Lite all the way to the $6,050 US Mediterraneo (wood finish).
Gold Note's electronics and loudspeakers on the other hand, are aimed at consumers with slightly deeper pockets.  The subject of this review is the Gold Note DS-1000 DAC (digital-to-analog converter) / Streamer, priced at $5,000 US, designed to deliver true audiophile sound from digital music sources.  Housed in a large rectangular aluminium box, the DS-1000 has the dimensions of Gold Note's other full-sized components, like their preamps and amps.  It comes available in a brushed black or silver finish.  The top plate is adorned with a carved Gold Note logo, while the front plate is outfitted with a 3.5-inch color display.  Overall, the DS-1000 is a very attractive looking component, with a top-notch build quality.
However, it's under the hood where things get even more interesting.  The DS-1000 is a highly advanced DAC and music streamer.  Its DAC functionality allows it to decode PCM audio files up to 24/192 and DSD files up to DSD256.  As a network player it is capable of streaming music from online services such as TIDAL and QOBUZ, your home network, internet radio and playback from USB flash drives and hard drives.  The DS-1000 is built on Gold Note's modular design, which allow its functionality and performance to be upgraded.  Optional upgrades include: an internal preamp stage card (equipped with a high-end PGA single resistor dual-mono volume control), analog balanced stereo inputs, and for the ultimate performance, two different external balanced Class A tube output stages can be ordered.
The rear panel of the DS-1000 offers all the connections you would expect from a component in this class.  Its digital inputs include coax, optical and asynchronous USB.  Two additional USB inputs are located on the front panel.  Output on the other hand include balanced XLR and unbalanced RCA.  The DS-1000 is happy to connect to your home network via a wired or wireless connection, and can be controlled with the single control knob on its front panel, the provided remote or an iOS/Android app.  Rather than repeating all the technical details from the Gold Note website, I invite you to check out www.goldnote.it for the deeper details.  Instead, let's talk about functionality and music.