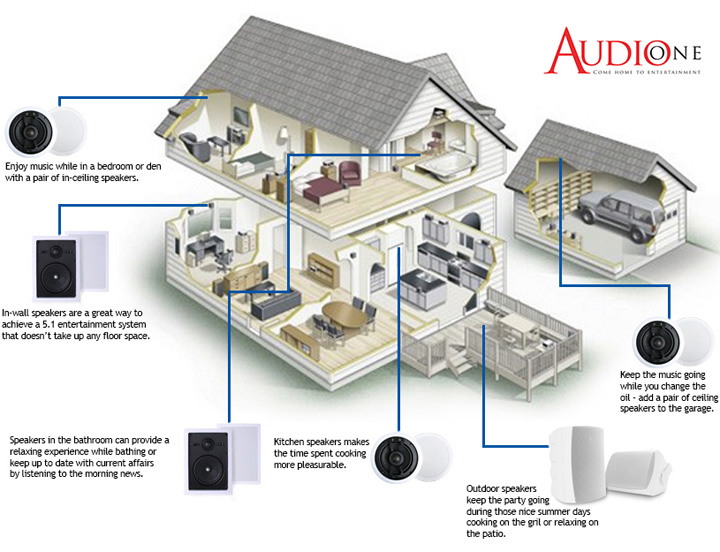 Are you still turning up the volume in the living room so you can hear the music in your bedroom? Say hello to whole-home audio. Here are six reasons to get yourself a whole-home audio system:
1. Uninterrupted Music
Whole-home audio systems allow you to move to any room in your home without missing a beat. A Control 4 Home automation system can be the center piece of your whole home audio or coupled with smart audio systems like Sonos Play 5 and Sonos Playbar it lets you enjoy high quality audio in every room, be it the living room, kitchen or even the bathroom. If needed, you could even choose to play the audio across all rooms at the same time.
2. Start your day on point
Your alarm clock's irritating sound isn't the best way to start the day. A whole home-audio system can wake you up with your desired song or radio station, played via the invisible speakers located in the walls or the ceiling.
3. Concealed Speakers
As opposed to requiring massive, bulky speakers in each room, current whole-home audio systems are intended to fit discretely into your home without making any extra interruption to your beautiful decor. Choose from ceiling, in wall or bookshelf speakers.
4. Enjoy the outdoors
Having a short summer means you want to make the most of it by relaxing around the pool or spending time with the family in the backyard. Now take the music outdoors along with you. With the integration of weather and heat resistant speakers like Paradigm outdoor speakers and Coastal Source Bollard speakers all over your outdoor spaces, you can enjoy your music at any location outside the house. Outdoor audio systems are intended to provide excellent music quality for your outdoor spaces.
5. Host great house parties
Control the music straight from your smartphone or tablet. Set separate playlists for each room, or choose a single playlist for the whole house. From the same device, you can set the music to be in sync with the smart home lighting and automated shades at any given time all night.
6. Unwind in your desired listening room
There is no better way to unwind after a long day at work, than listening to your favorite songs over a glass of wine. You can have the best listening experience coupled with high-quality audio wherever you feel comfortable that day.
These are just a few great reasons to consider investing in a whole-home audio system. We at Audio One, will not only suggest you the best audio systems for your need but we will customize the set to fit right in to your beautiful homes or commercial spaces. Audio One is a recognized Home Automation Toronto company, and we are official Paradigm dealers, Control 4 dealers and Control 4 Installers.
For more details please visit www.audio-one.ca