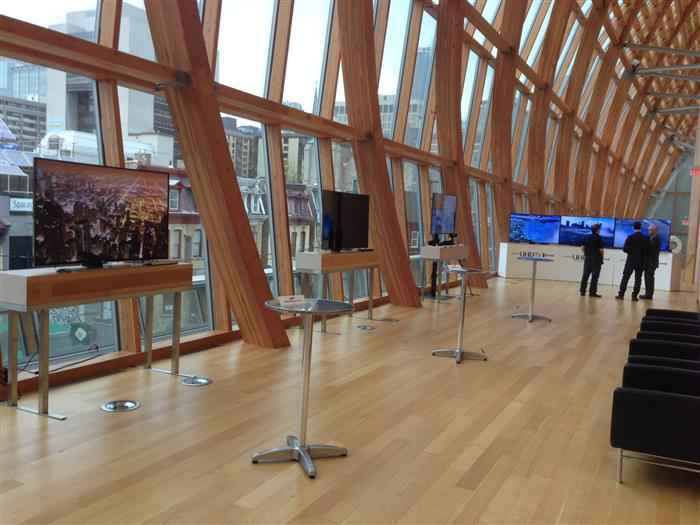 During a special media event earlier this week, Samsung demonstrated the world's first curved screen UHD TV series, called the HU9000, at the Art Gallery of Ontario (AGO) in Toronto, ON.  This new top-of-the-line LED (LCD-based) TV series is already available in stores and comes in three screen sizes:  55-, 65-, and 78-inches.
Jean-Pierre Jutras, Training Specialist at Samsung, was kind enough to give me a complete overview of the HU9000 series of UHD TVs at the event.  When watching these new TVs, what immediately struck me was the incredible detail and picture depth.
The striking picture detail is of course thanks to the increased 4K resolution (3840 x 2160 pixels).  The 4K picture has twice the horizontal and vertical resolution of the 1080p HD resolution that we've become accustomed to over the last several years.  This translates into a picture that has four times as many pixels overall.
The picture depth on the other hand was unlike anything I've seen before in a television set.  The on-screen images simply looked three-dimensional, offering great depth inside the television screen, without the use of any 3D glasses.  This is accomplished thanks to a new feature, found only in this series, called the Auto Depth Enhancer.  This additional picture depth is achieved by adjusting the contrast of different parts of the picture, and I must say that during the few minutes I spent watching the TVs, I was quite impressed.
Samsung says that the carefully designed curvature of this new series helps to make the TV watching experience more immersive.  To me, the experience of these TVs is definitely more immersive, though it's hard to say whether it's because of the curve of the screen, the 4K resolution, or the depth enhancement.  I would say that it's probably the combination of the three.
Another new feature exclusive to the HU9000 series is called Color Accuracy, which dramatically enhances and improves the colour fidelity and accuracy of the picture.
Samsung realizes that TV technology evolves rapidly and the HU9000 series offers an easier upgrade path than ever before, thanks to its One Connect box.  This box contains all of the video inputs, as well as some Smart TV functionality and video processing.  This means that in the future you'll be able to upgrade just the One Connect box, rather than the whole TV – to get the very latest inputs and features.
What about 4K content – you ask?  While 1080p content took several years to become mainstream, Samsung predicts that 4K will be adopted much quicker.  That's because today many more sources and devices exist that are capable of getting the 4K picture to your TV – these include Netflix, smart phones, YouTube and Samsung's own 4K UHD TV media player (coming later this year), just to mention a few.  Samsung's 4K UHD TV media player will come preloaded with several films, and allow users to download more in the future.  Most industry experts believe that we won't see a physical 4K format disc, instead we're heading in the direction of digital downloads and streaming.
Until more 4K content becomes available, Samsung has greatly improved the up-scaling capabilities of the HU9000 TV series, compared to last year's generation of 4K TVs.  1080p content up-scaled to 4K looked excellent on these new TVs, but of course not quite as good as true 4K content.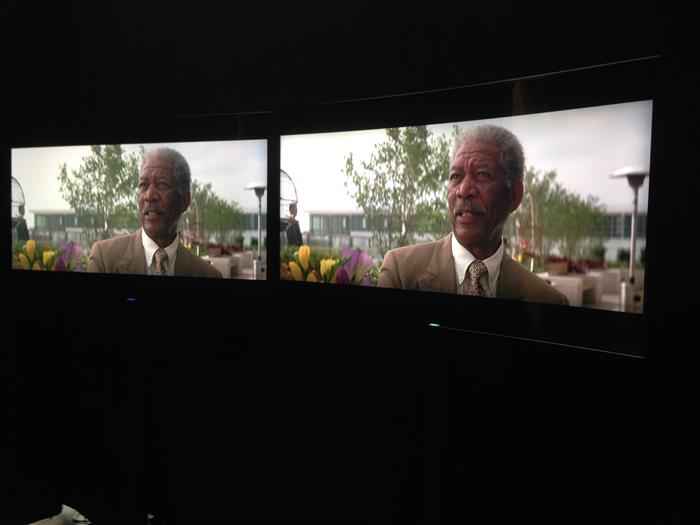 During the event, Samsung also allowed the media to compare its new flat-screen HU8550 UHD TV and the new curved-screen HU9000 UHD TV.  Although both sets offered the same screen size, when setup side-by-side in front of a black drape, the curved-screen actually looked a little bigger – another reason Samsung believes that curved screens are more immersive than their flat-screen counterparts.
Are curved screens the future of home entertainment?  We encourage you to visit a local retailer and judge for yourself.  I certainly very much enjoyed what I saw and plan to upgrade my TV experience to 4K before the end of 2014.
For more info about Samsung's HU9000 UHD TVs, please check out www.samsung.ca.
Comments are closed.