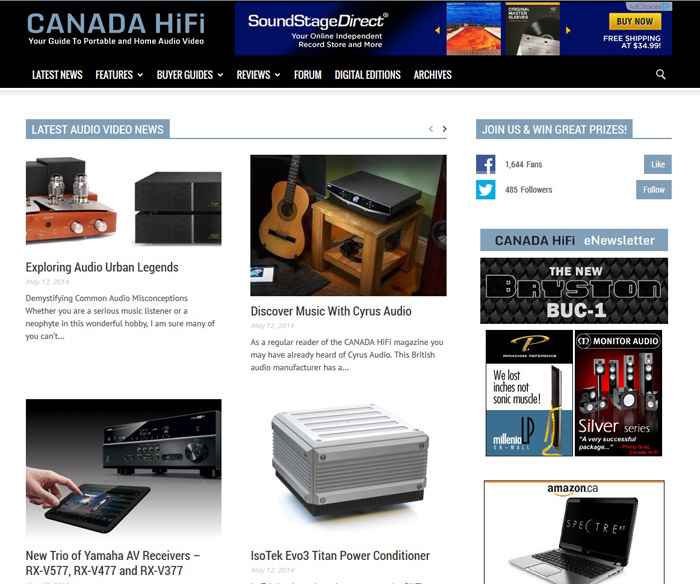 Celebrating the 10th year anniversary of the CANADA HiFi Magazine, Westside Publishing Ltd. is delighted to launch a brand new CANADA HiFi website.  The new design offers readers a sleek, modern look & feel, as well as a very quick load time.  Thanks to a new better organized layout, feature articles and reviews will be easier to locate than ever before, and the site will suggest similar articles that readers might be interested in.  The new website is also designed to function more seamlessly with tablets, touch screen laptops and smart phones, making the content easy to read across all portable devices.
NEW – CANADA HiFi / TAVES Newsletter!  To coincide with the launch of the new site, we will also begin to offer a monthly email newsletter to better connect readers with the new content added on our website.  The newsletter will keep you informed about the latest features on our website, invite you to special events, tell you when the latest issues of the magazine are released, and provide the latest news about the Toronto Audio Video Entertainment (TAVES).  Please sign up for the newsletter by clicking the blue "CANADA HiFi eNewsletter" button in the right sidebar.
Along with the launch of the new site, CANADA HiFi has employed the help of three new contributors in order to produce more editorial content for audio / video enthusiasts than ever before.  More details about this will follow in the next few weeks.
If you have any comments about our new site, or would like to report a problem, please do so on our Facebook page at www.facebook.com/canadahifi or on the CANADA HiFi forum at novo.press/forum.
We hope that you enjoy the new look and visit us regularly.  Happy reading!
On behalf of the CANADA HiFi team,
– Suave Kajko, Publisher / Editor-In-Chief –
Comments are closed.