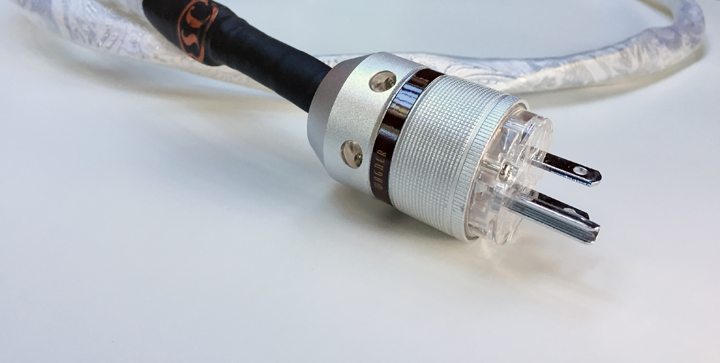 To test the Wagner power cable, I evaluated it with a few amplifiers (see associated gear box at the end of this review) and compared it to several major and boutique brand cables. As expected, I found the Wagner power cable to be most effective when plugged in at the front-end of the power chain in my system – sitting between the wall outlet and my Nordost QB8 power distribution box. The Wagner is a fairly heavy, stiff cable, like many other high-end power cords, and so I had to position it carefully to make sure that it did not sit angled when plugged into my Furutech power outlet.
What did this cable sound like? Well, actually it didn't sound like anything – and that's a good thing. A "perfect" power cable should not introduce its own sonic signature into an audio system. It should simply transmit the power from the wall outlet to the gear, without altering the signal. When listening to various tracks from the Songs of Anarchy soundtracks, I immediately realized the benefits that the Wagner power cable provided. These soundtracks are very well recorded and offer a great mix of vocals and instruments. With the Wagner in place, the sound was transparent, incredibly detailed and packed with micro and macro dynamics. Vocals and instruments played with rich colors, the treble was open and airy, all the while the bass offered a great extension. On tracks that feature backup vocals like "Son of a Preacher Man", there was a greater sense of air between the voices and the instruments. As a result, the backup voices were clearly delineated from Katey Sagal's voice. Despite all of this, the music never sounded overly analytical or harsh. On the contrary, all of these characteristics combined to produce music that sounded more like the real thing, rather than recorded music.
The Wagner also showed its strength when playing music with great bass lines, such as Lorde, BORNS, The Tragically Hip and Red Hot Chili Peppers. Bass lines, which often provide the foundation to songs, were played with amazing control and articulation. The subtle differences between similar bass notes, often concealed by lower quality power cables, came through in full glory with the Wagner cable in place.
What kind of music did I hear the most improvement with? Piano and large scale orchestra recordings, both challenging tests for any audio system. To test the Wagner's ability with classical music, I turned to "100 Best Karajan" conducted by Herbert von Karaja and "Dvorak Symphonies no. 6-9" conducted by Grzegorz Nowak, and performed by the Royal Philharmonic Orchestra. With the Wagner power cable, piano tones sounded clean, powerful and filled with rich textures. Piano sounded as good as I've ever heard it on my system. Various sections of the orchestra on the other hand benefitted from having more air around them, in turn making each section sound more distinctive and easier to pick up, which resulted in a raised enjoyment of listening. This additional sense of air also produced an expansive soundstage, in both depth and width. Dynamic passages struck with awesome power, while softer passages exhibited fine musical details.
The Skogrand Wagner power cable makes an excellent addition to a high-end audio system. In my system, with highly revealing components, the Wagner offered fantastic music immersion and connected me with music on a deeper level. With a price of $2,500 US it's not cheap and you certainly wouldn't use it in an entry-level music system. However if you've assembled a great high-end system and are looking to further improve the realism of your music, this is one upgrade you'll definitely be happy to make.
Skogrand Cables Wagner AC Power Cable
Price: $2,500 US