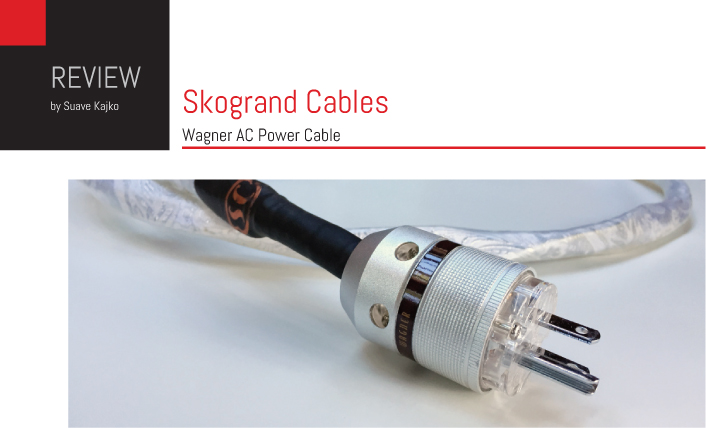 When I began building my first hifi system some twenty years ago, I didn't give much thought to cables. Cables simply served as a means of connecting all the components together.  Audio magazines introduced me to the idea of upgrading cables but it was only when I tried the first few cables in my own system that I truly began to appreciate how much influence good quality cables had on a system's performance. As hifi component designers continue to push the envelope of audio performance in their products, audio cable designers need to develop cables that are more transparent than ever in order to let hifi components perform at their highest level. One of the cable companies that has been capturing the attention of music enthusiasts around the world for the last few years is Skogrand Cables of Norway. In business since 2011, the company has been on the 'hifi show circuit' around the world for several years now, demonstrating its high-end cables to a great acclaim of music listeners and industry types. I've been impressed by the exemplary performance of Skogrand cables on several occasions at audio shows but my true appreciation for the brand was born when I tested the Skogrand SCI Tchaikovsky interconnect cable in my own system earlier this year. Never before had a cable conjured up such an emotional connection with the music that I listen to, allowing my hifi system to truly achieve world-class performance. In fact, I loved this interconnect cable so much, it ended up finding a permanent position in my reference system.
Given this positive experience with the Skogrand interconnect, you can imagine my excitement at the chance of reviewing the Skogrand Cables Wagner AC power cable. It is a well known fact among hifi enthusiasts that when it comes to cables, power cables play the most significant role in the performance of a system. That's because music reproduction starts at the wall power outlet. Music components essentially "shape" the AC power into the music that reaches our ears. Therefore, if you upgrade the cables in your hifi system, it is best to start with power cables and follow the signal path (interconnects next, and finally speaker cables).
Skogrand Cables produces a full range of hifi cables, including power cords, interconnects, digital cables and speaker cables. Skogrand power cords are available in two different series, called Wagner and Beethoven. The company's speaker cables and interconnects are grouped into five different series, each named after a famous composer – Rachmaninov, Brahms, Ravel, Tchaikovsky and Beethoven. Skogrand digital cables on the other hand are available in the Grieg and Beethoven series.
The Wagner series of cables is Skogrand's affordable (by high-end standards) series of power cords. The 2 meter Wagner AC power cable I received for this review retails for $2,500 US. These are far from the least expensive power cables you can find in the market, but as with everything in this world, when it comes to audio cables, you get what you pay for. High-end performance costs. In contrast, a 2 meter power cord from the flagship Beethoven series will run you a whopping $18,000 US.
Unlike some cable manufacturers, Skogrand Cables does not offer a great level of detail about its cables designs on the company's website. Skogrand prefers for listeners to focus on what they hear from their music when using its cables. As stated on the company's website, the Wagner AC power cable is designed to deliver a pure energy flow to your components, while protecting and preserving the energy transfer. The cable features a multi-strand design, which consists of two 4mm stranded UP-OCC copper conductors, and a single 5mm ground wire. Surrounding these conductors is a double braided copper shielding. A polyolefin cable jacket offers additional insulation. All Wagner power cords can be ordered with an optional silk brocade cable sleeve or black braid with purple polyolefin shining through. My review sample came in the unique and gorgeous silk brocade sleeve. Wagner cables are equipped with high-end Rhodium plated UP copper connectors, and can be ordered with North American or European power connectors.