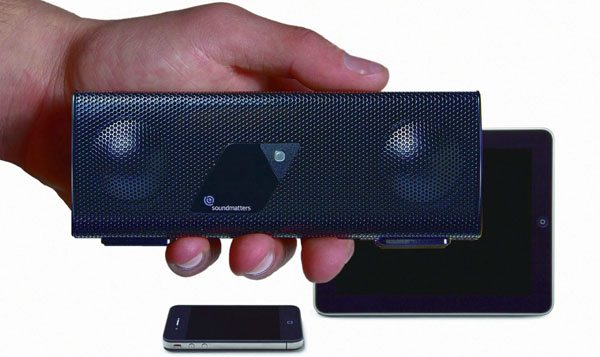 My iPhone is with me 24/7. During the day it sits in my shirt pocket. On my 40 minute walk to work I'm listening to the latest podcasts and the music in my iTunes library. I have custom fit earphones for this purpose. When I get in the car the radio senses the Bluetooth device and starts playing automatically where I left off. At night the iPhone sits in the dock of my Sony clock radio to recharge.
To complete the picture I need a portable loudspeaker so I can continue to listen in the kitchen or by the computer. Enter the foxLv2 from soundmatters. This compact all-black device – 14.3cm x 5.5cm x 3.5cm and weighing a mere 269g – packs a mighty punch and provides enormous flexibility. You can run it from its built-in rechargeable lithium-ion battery or you can plug it in using USB or a universal AC power connector in pretty much any country. You can stream audio through Bluetooth or you can connect using a minijack to any computer or MP3 type device. I like the freedom of using it completely untethered so I rely on the Bluetooth connection and internal battery. Then as I move from room to room I can just pick it up and plunk it down where I want it. The Bluetooth works reliably within a range of about 10 feet before dropouts warn me that I'm getting out of range. The foxL uses the Bluetooth v2.0 A2DP protocol optimized for wide bandwidth and low distortion. And to make itself even more attractive, the foxL has a few more tricks up its sleeve. It doubles as a speaker for your iPhone with pickup/hangup control on the device and a built in noise canceling microphone.
So what's in the box? You start with two ways to charge the battery. First a USB cable, then a 5 volt wall charger with interchangeable pin connectors for multiple shapes of outlets. To carry the foxL you get a wrist strap and a travel pouch. Then there's a 3.5mm audio cable to link to your computer or MP3 device. A well laid out 24-page bilingual instruction manual completes the package. Page 2 shows a smiling Dr Godehard Guenther, founder of soundmatters, a physicist and former NASA engineer with three PhDs. "Music is a big part of my life, yet so is travel. There weren't any really small hifi-quality portable loudspeakers – so utilizing a number of our patented and proprietary technologies, I developed one myself. A true labor of love, I named it after Fox, my first grandson. Listen and enjoy."
The amplification of the foxL consists of 4 high efficiency digital amps delivering up to 8 watts at less than 0.1% distortion. The two main stereo drivers contain dual voice coils, acting as a tweeter and woofer respectively. soundmatters has coined the term – Linear Magnetic "Twoofer" for this innovative driver – tweeters that also woof – and claim a range of 8 octaves.
The battery is a key component, even if you never run under battery power. It's actually shaped and designed to be a functional contributor to the extended bass response. soundmatters calls this patented device a BassBattery, combining a power source with a Flatmagic moving wall passive acoustic bass radiator. Battery life is up to 8 hours, depending on whether you are using Bluetooth and how hard you make it work. Maximum volume is doubled when running under AC power compared to battery power.
If the foxL doesn't dig deep enough, you can attach a subwoofer, and I hear rumors of a matching foxL subwoofer in the future.
You won't find many controls on the speaker, and those few are well hidden. The telephone pickup hang up button is the inverted triangle at dead centre of the front panel, and this doubles as the Bluetooth button. When you turn on the foxL via its rear panel switch, an amber LED on this button lights up, then flashes green while searching for the last five paired devices. If it can't find a paired device it will search for new devices for a few minutes before turning off Bluetooth. By holding the button for 5 seconds you can turn off the Bluetooth manually. The only other controls are a pair of rear mounted buttons to control volume.
The foxL can really astonish with its prodigious volume of output, and it is pretty easy to provoke it to vibrate itself across any smooth surface you rest it on, leading to a potentially catastrophic fall. The solution is in the box – a thin rubber mat with a grippy surface, just like you put between a persian rug and a hardwood floor. You can also extend a grill at the rear for greater stability. The unit leans back to project it's sound up into the room, and the speaker domes extend beyond the main frame for clearer projection while still being fully protected.
The first impression is of a surprisingly full sound, rather than the thin sound I was expecting from so small a speaker. Voices were deep and richer and not particularly toppy as on so many small speakers. This makes it easy to listen to for extended periods, although not necessarily easier to make out the words. For music, this tiny speaker packs a real punch, with impressive drive and dynamics, although it is possible to drive the speaker outside of its comfort zone. As the manual says, "Hearing distortion? Lower volume".
There are two questions I want to look into:
• Does a direct connection sound better than Bluetooth?
• Does it sound better plugged in or through the internal battery?
Actually they both boil down to one question:
• Does it sound better with or without wires?
Ideally there would be no noticeable differences but we already know it can play louder through the AC adapter. I wouldn't worry about that, since in plays loud enough on batteries for the vast majority of purposes. The AC hookup obviously gives you unlimited play time and that may be the deciding factor on how you use it. If its permanent place is in the kitchen then why not just leave it connected to 110 volts? You can still wander around with your iPhone in your pocket and not worry about trailing wires. In my testing, apart from the higher maximum volume (and not higher by much), the sound quality was the same regardless of power source.
The same cannot be said in answer to my second question. There is an extra degree of clarity and spaciousness when you hook up the iPhone by wire. I was delighted by the Cannonball Adderley classic Autumn Leaves from Somethin' Else using Bluetooth but the dynamic range seemed wider and the highs clearer over the cable. The difference is not large but it is noticeable. But you may get a different picture using other MP3 sources.
In terms of distortion, definition and stereo separation, there's no way a tiny pocket-sized speaker like this can compare with a decent HiFi set up, but that's not the point. The aim here is to bring the best possible sound to a pint-size portable wireless component, and soundmatters has achieved this goal in an exceptional fashion. I did not believe it could be this good when I unpacked it, and I'm damned if I'm going to send it back after writing this review.
There is one down side however – it costs $225, including shipping, from Audio Basics (www.audiobasics.com). It is also available in various high end audio stores and other electronics retailers. I'd say it is well worth it but it's a bit rich for some pockets. You can save $36 by opting for the non-Bluetooth version, which also lacks the speakerphone feature but is otherwise identical. If you'd like to dress up your foxL, accessories offered include a car kit, a mini travel trunk, a wall mount, a kick stand, a bike kit, a cable upgrade and a channel splitter. What's not to like?
soundmatters international inc.
www.soundmatters.com
800.698.SOMA (7662)
Available in Canada from Audio Basics Inc.
www.audiobasics.com
1-877-92 (AUDIO) 28346
soundmatters foxLv2 Pocket-sized Bluetooth Music System
Price: $225 ($189 for non-Bluetooth version)
Sidebar: What about the Jawbone Jambox?
Soundmatters licenses and supplies the internal acoustics (drivers, battery, amps) for the competing Jambox. They look quite different on the outside, foxL going for the most compact dimensions and Jambox majoring on style. soundmatters claims sonic improvements due to the shape of the speaker grills and greater exposure of the "twoofer" drivers, and higher maximum volume with their bigger AC adapter (2 amps vs. 0.75 amps). They are also offering interchangeable AC prongs to cover multiple markets (North America/Japan, Europe/China, UK/HK, Australia/New Zealand) and a subwoofer output the Jambox lacks. The Jambox packs some tricks of its own however, so check it out at www.jawbone.com/speakers/jambox