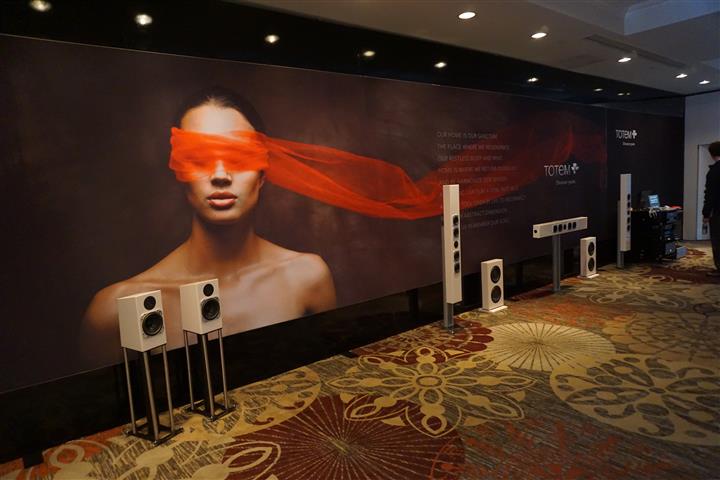 This year marked the fifth consecutive year of the TAVES Consumer Electronics Show. Five years ago the show kicked off focusing primarily on audio/video; however, since then, with each year the show has grown both in size and diversity and now has truly become a consumer electronics event, encompassing technology and innovation, gaming, tech toys, robotics and much more. With over 100 exhibitors, TAVES 2015 was the biggest it has ever been, most definitely the largest show of its kind in Canada and also, one of the largest in North America. How has all this happened? No doubt as a result of the hard efforts, foresight and creative genius of the leadership team – Suave Kajko, President and Simon Au, Vice President of Sales, who brought TAVES into existence a half-decade ago and have since then cultivated it into the fine trade show it is today.
I attended all three days of TAVES (Oct. 30th to Nov. 1st) and was amazed at how much there was to see. Attendees this year came from all walks: the young, the old, families, men, women, boys and girls, with more diversity than I've ever seen in any previous iteration of TAVES. With a plethora of exhibits, TAVES 2015 undoubtedly possessed broad consumer appeal. Heck, for the first time this year, my whole family attended – the wife, and all three kids; which speaks a world about how TAVES now has something for everyone. No longer just a go-to-show for audiophiles or for that matter, technophiles but today a go-to-show for anyone looking for a fun and enlightening event to attend.
Let me take you through some of what there was to see at TAVES from the audio/video perspective. My colleague Jeremy Phan will cover many of the technology & innovation exhibits in an upcoming feature on novo.press.
Totem Acoustic Inc.
Totem had a massive room with captivating images. There were three systems in the room, all which were being demonstrated on rotation, with Vince Bruzzese, CEO and Founder, personally presenting. The largest and most noticeable system was a 5.2 channel audio setup using 3 x Tribe 5 speakers ($3,000/each) for the L/C/R and 2 x Tribe 3 ($2,000/each) for the rear channels as well as 2 x Tribe Sub ($2,000/each) for the low frequencies. These speakers were leashed to a Yamaha CX-A5100 processor and MX-A5000 amplifier. The sound filled this gigantic room with a rich, yet delicate soundscape and was capable of impressive, distortion free volume levels.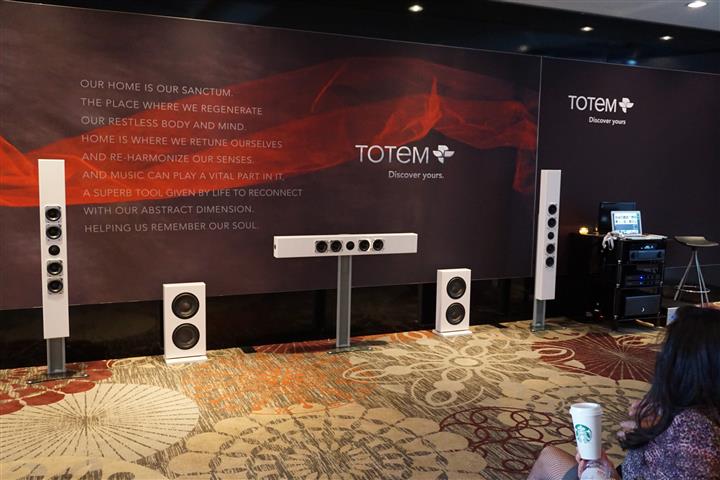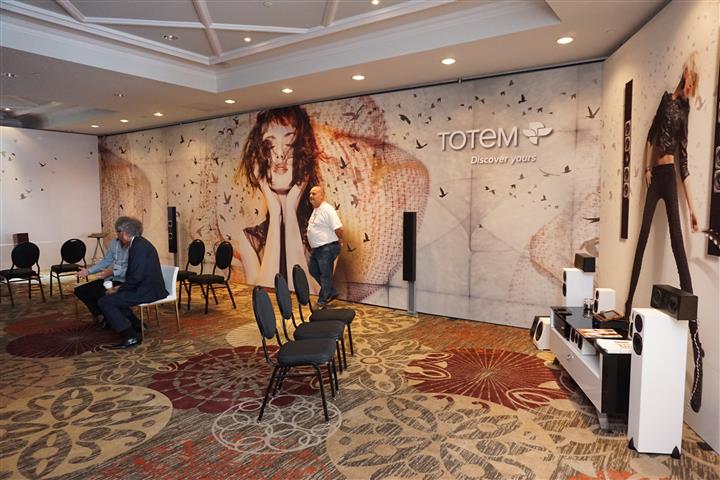 On the high-end stereo side of things, a second system consisting of Forest Signature SE speakers ($6,500/pair) mated to a full Naim stack demonstrated the musical clarity and imaging capability of Totem's loudspeaker products. This pair was quite gorgeous in their Special Edition finish and sure to meet those looking for wonderful sound in a stylish and luxurious package.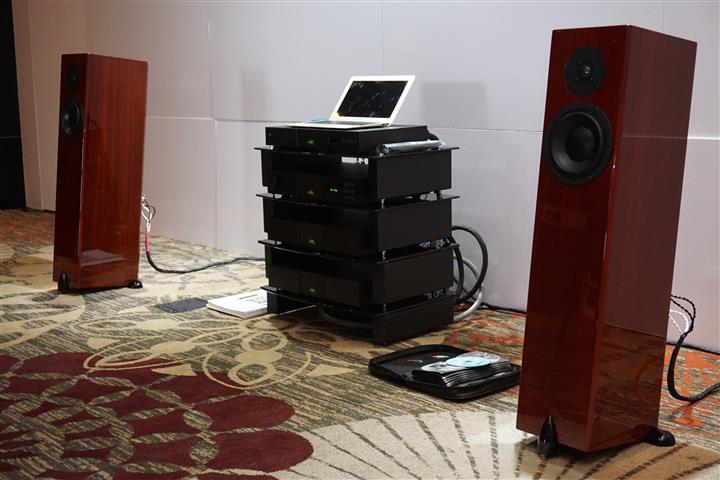 The third system in this room paired a couple of all-new products from Totem – the Kin Flex a compact 2.5 way three-driver compact loudspeaker ($400/each); not yet released at the time of TAVES (will start shipping Nov. 2015) and the Kin Mini 6.5" powered subwoofer ($500). With the Kin Flex speakers driven by a Peachtree 220 amp and a Wadia DAC playing digital files, this system managed to fill the huge space with sound in an amazing fashion. Vince Brucezze explained that the design of the Kin Flex leverages nearby walls to generate a much larger sound than their small size would typically be capable of. Doesn't Vince look like a proud father of his new offspring?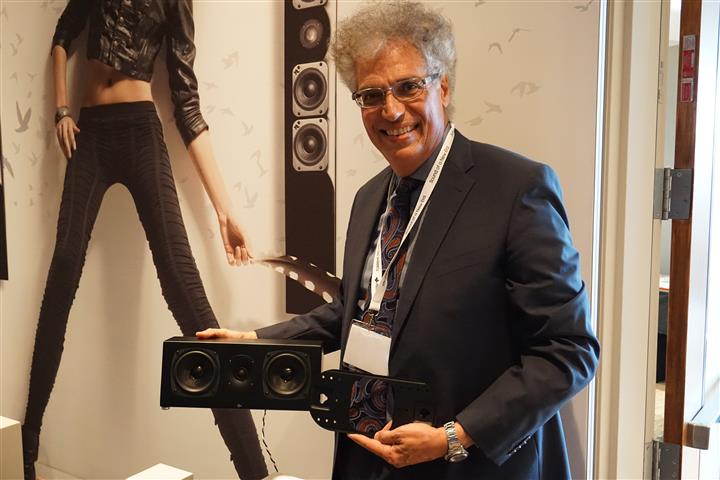 VIZIO
In the past few years VIZIO has been making real headway in the video display and television market, aimed at producing the highest performance at the lowest cost. The U.S. based company produces a full line of televisions, all of which are full-array backlit. As you move up in price the number of active LED lit zones increases, improving the overall image performance. A number of the VIZIO models were on display but their 80" 4K M-Series M80 ($5,530) was the star of the show. My wife gave me the go-ahead – you could say she was impressed herself.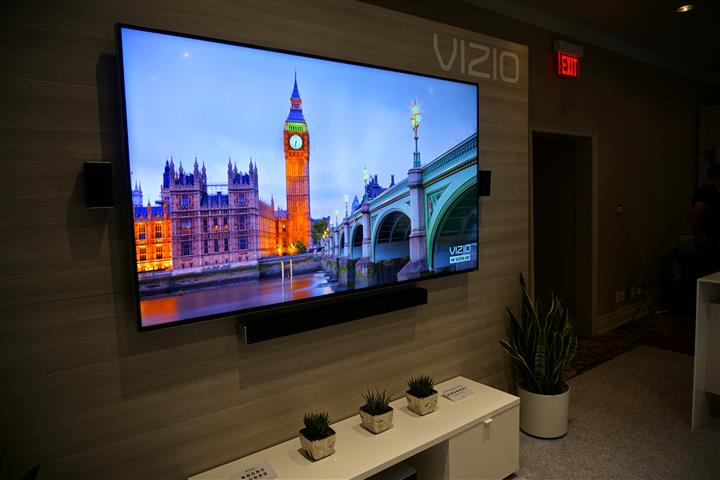 At the show Mike Wood and Bianca Bilauca were helping people appreciate the company's fine products, along with a number of other staff. Here's Mike and Bianca with the M80. Also note the speakers on the wall – this is VIZIO's 5.1 40" soundbar-satellite-sub audio solution – the SB4051 ($500), which incorporates 3 audio channels within the soundbar. Other models on display were the M65-C1 ($2,070) and the E50 ($720).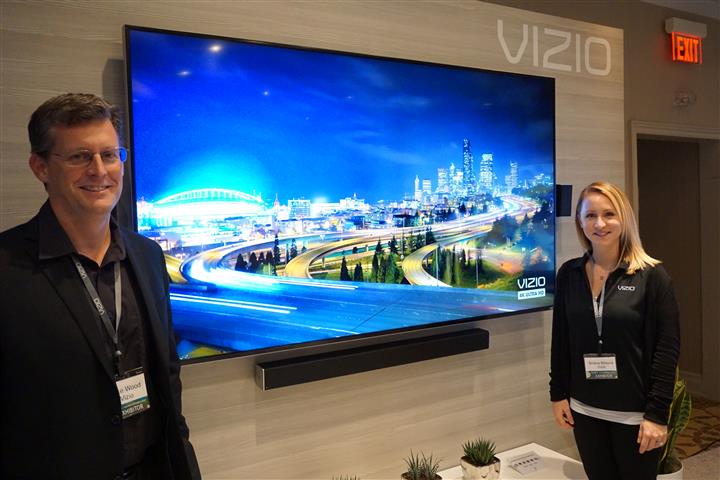 Goldmund
On the Friday, the first day of the show, Goldmund, the Swiss high-end audio product company hosted a morning press event to make an announcement – the company's return to North America, at the hands of the Canadian distribution company Wynn Audio. Mr. Michel Reverchon, President of Goldmund told us that the company was born in the 70's with turntables and tonearms that were then sold in Canada. In the 80's their focus went to Asia and with their success their, interest in North America died away. In 2015, Goldmund's focus has expanded to include a number of much more affordable products that the company hopes will facilitate their successful return to the North American shores, with the distribution support from Wynn Audio.
A demonstration of the capabilities of the Goldmund Logos Tower loudspeaker ($43,999/pair) and Eidos 17 Universal Player ($17,999) was provided. I noticed that the active system was capable of a surprisingly large soundstage, despite the small hotel room. The bass was very tight and impactful – visceral in fact, with smooth midrange and high frequencies. We were told that all Goldmund active speakers use very strong amplifiers that are actively controlled to ensure precise movement of the drivers thus, eliminating any detrimental effect that resonances and room nodes might have.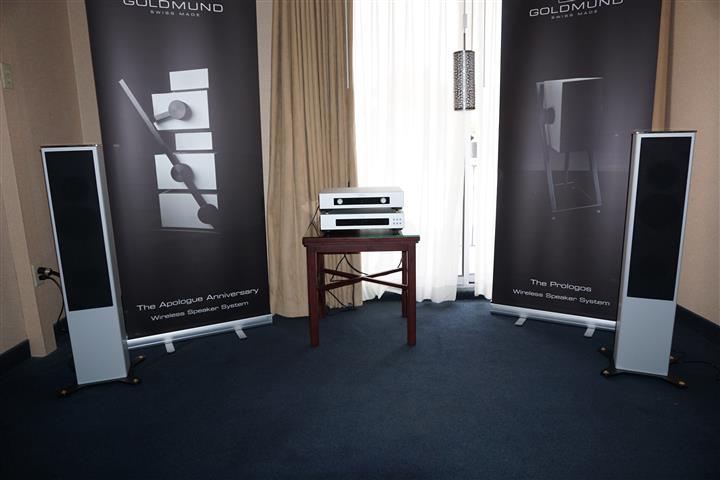 On static display in the room were the Nanometis Wireless compact active loudspeakers ($8,999) paired with the Talisman Hub / DAC ($12,999).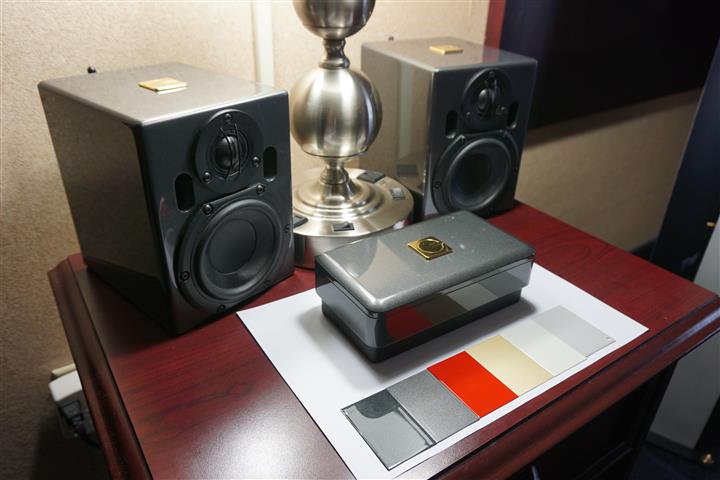 And, also on static display was the Goldmund Metis Tower.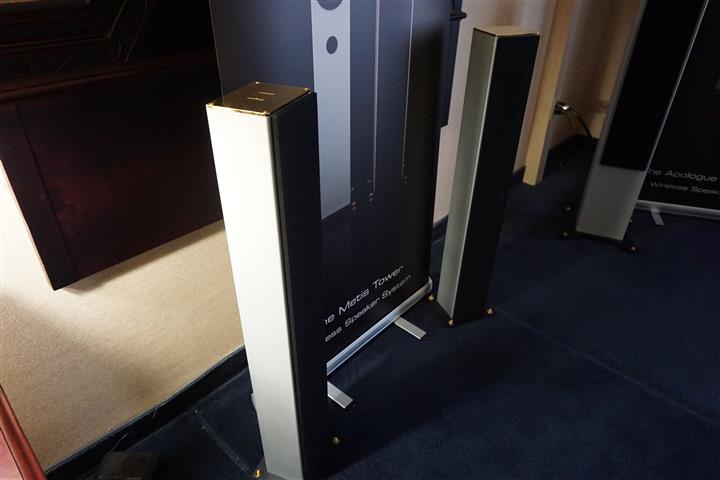 Kevro International – Monitor Audio / Cyrus Audio / Clarus Cable
As was the case last year, Gayle Ginn was setup just outside Kevro's room displaying her fine personal music inspired artwork, while Sheldon Ginn, VP Sales for Kevro, the North American distributor, was inside busy with his brother Jeff, showing off the Monitor Audio, Cyrus Audio and Clarus products.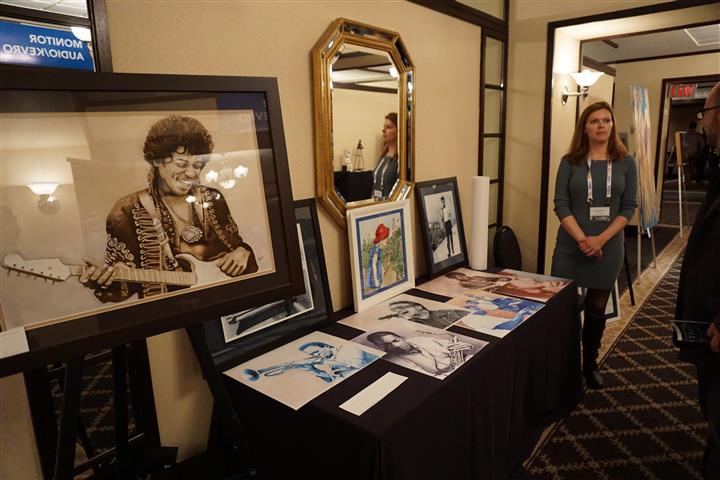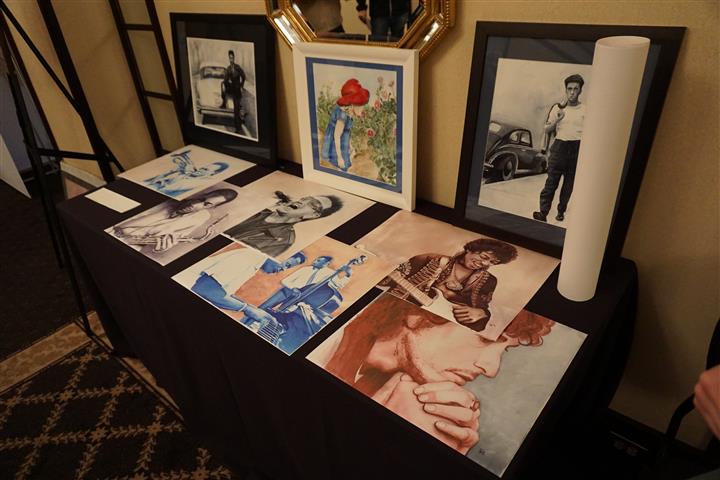 The featured system in the room was fronted by a drop-dead-gorgeous pair of Monitor Audio's new Gold 300 loudspeakers in the premium Ebony Piano Gloss finish ($7,200/pair standard finish or $8,500/pair in Ebony). This was the same pair I reviewed in the October/November issue of CANADA HiFi, and I asked Sheldon and Jeff, if they found my initials carved on their base; in jest of course. Driving the Gold 300 was a full stack of Cyrus gear including: PSX-R2 ($1,799); Pre DAC2 ($2,500); Stream XA ($2,499) and a pair of Mono 200 amplifiers ($3,499/each). The loom was full Clarus. The sound here was smooth with natural warmth and sweetness and lovely imaging. I found myself wanting to spend more time here given the musicality of the system and the cozy atmosphere. This was one of the few systems bringing hi-end performance down to real-world affordable levels – a system attainable for many yet providing good share of the performance of much more expensive systems.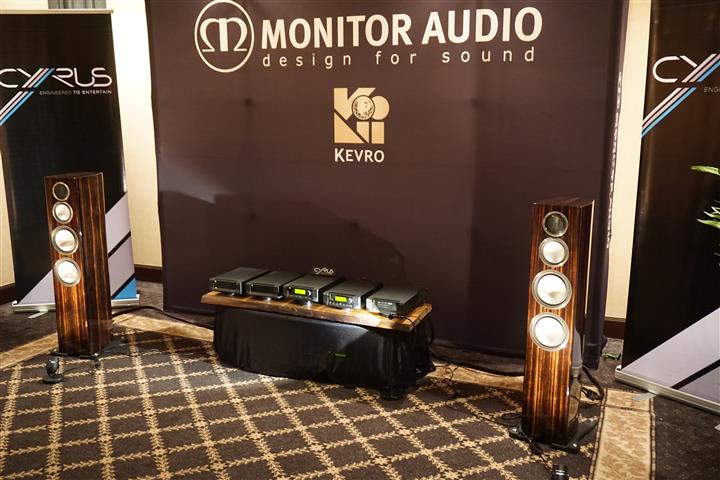 On static display were a number of other Monitor Audio products, including examples of their Radius, Bronze, Silver, Gold and Platinum Series loudspeakers, specifically the Radius 270 ($1,499/pair); Bronze 5 ($999/pair); Silver 6 ($1,999/pair); Gold 200 ($5,695) and; Platinum 200 ($10,995/pair).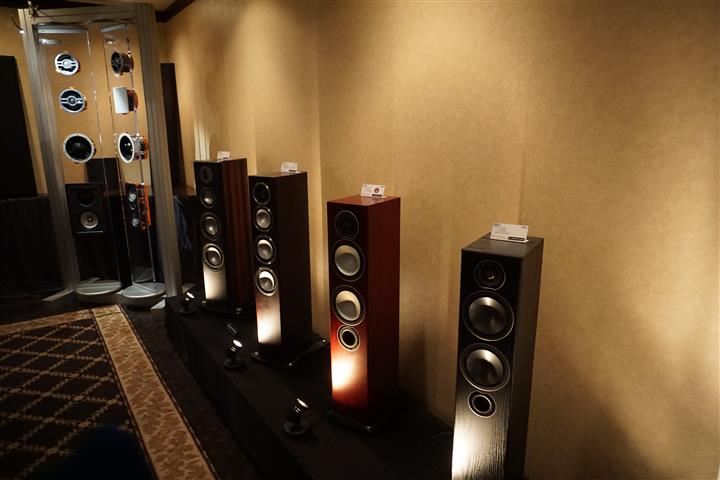 Monitor Audio also has a wide-array of architectural loudspeaker products, perfect for those seeking hi-end sound in the most discrete fashion. On display, along with Jeff Ginn, was their all-new IW460X (Gold Series performance) L/C/R in-wall ($2,249/each) that incorporates 2 x 6" drivers, 2 x 4" drivers and a ribbon tweeter as well as the new IW260X (Silver Series performance) L/C/R in-wall that uses a similar driver complement but substitutes a dome tweeter for the ribbon.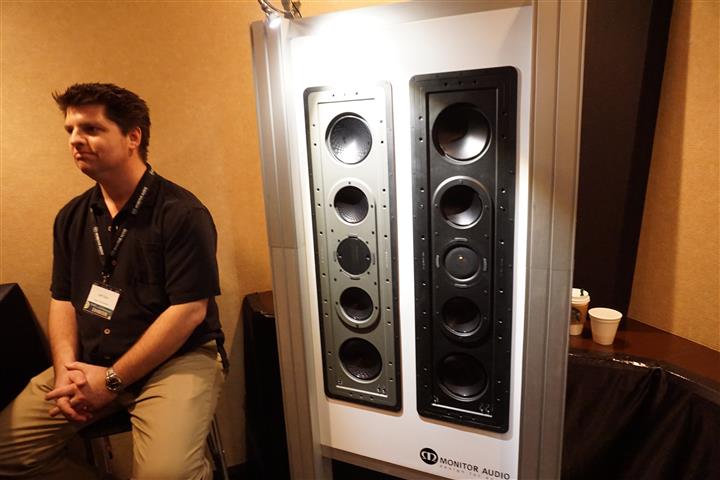 Another display showed off a number of other Monitor Audio architectural speaker products – including their top-selling CT265 IDC 3-way ($450 each).