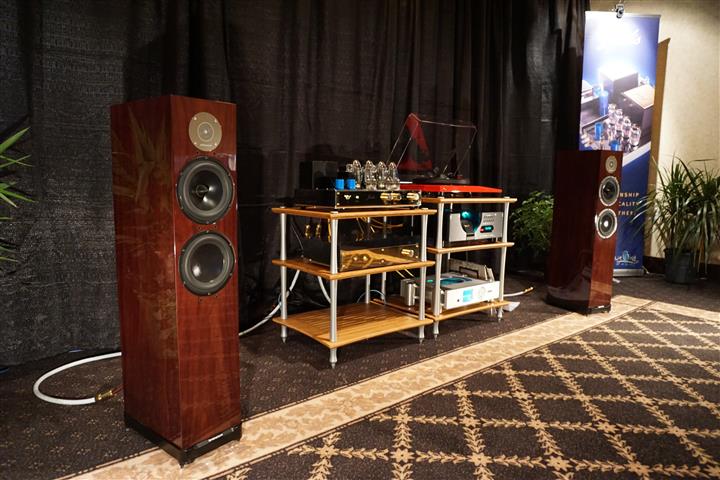 Bluebird Music
Bluebird Music, the distributor for Spendor, Jadis, Chord, Van den Hul and Lindemann had a very nice space at the show, with some natural plants that served to bring a relaxed feel to the room.  The main system was setup on the long wall of the room and fronted by the Spendor D7 loudspeakers ($7,450) being driven by a Jadis I-50 integrated 50 wpc tube amplifier ($12,000).  The analog source was an Oracle Paris turntable ($3,500) with a Benz ACE MC medium cartridge, through a Jadis DPMC phonostage ($6,700).  For the digital source, a Chord Red Reference CDP ($26,000) and a Chord DSX1000 Streamer ($14,000) were setup.  Cabling was Van den Hul Cloud speaker cables with Hill and Mountain IC.  This system sounded quick, graceful and light on its feet and had a lovely lifelike sparkle to the treble that was particularly engaging.
John Christoff Calmettes, R&D Manager, Technical Director and the chief designer of the Jadis I-50 was present, which gave me the chance to congratulate him on his fine product.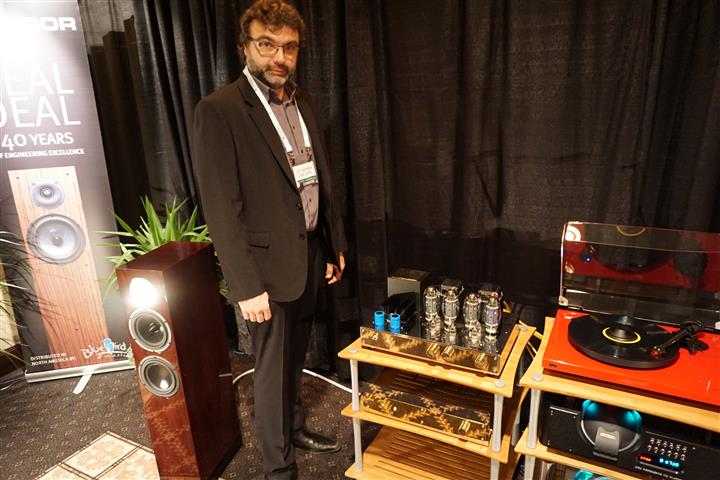 Also in the room were a number of other products from Chord including their new DAVE DAC ($17,300 / with legs $20,900), 2Qute ($1,995), Hugo TT ($5,795), the NEW Mojo USB DAC Headphone Amp ($799) and the Hugo ($2,895).  And, off to the side and missed in my pics was a Lindemann Musicbook 10 USB DAC ($4,895) and Musicbook 50 stereo power amplifier ($3,395) on static display.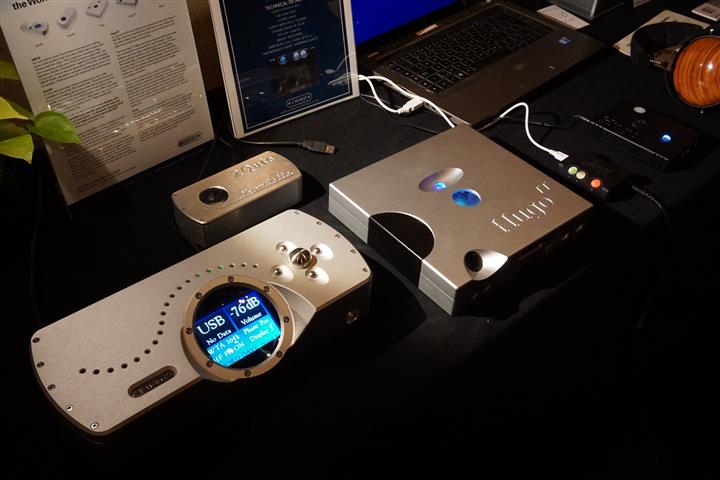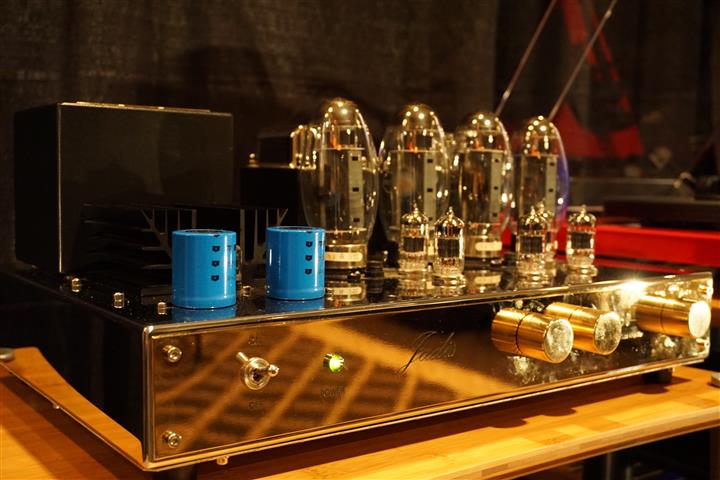 Wynn Audio
In a large room on the main floor of the show I found the up and rising distributor Wynn Audio exhibiting.  Walking into the room I was instantly taken by the sheer grandeur and opulence of the products.  Most striking were the Tidal Audio Sunray G2 speakers ($180,000/pair), which weigh in at 705 lbs. each and stand 6' 9" high; the golden hue of the burl walnut high-gloss finish oozing with luxury and demanding the worship of onlookers.  Wynn Wong, President of Wynn Audio told me that these speakers were a substitute for the Tidal Audio Piano G2 ($32,000) that were originally planned for – nice substitute indeed, I thought.  The rest of the system in play was no less grand, incorporating: the Tidal Audio Presencio phono and line stage preamplifier ($92,000), the Tidal Audio Assoluta Monoblock power amplifiers ($200,000/pair), Reimyo CDT-777 CD Transport ($12,500) with Reimyo DAP-999EX Limited DAC ($11,500) and for the analog source, the Thales TTT-Compact turntable ($17,000) with Tales Simplicity II Tonearm ($12,500).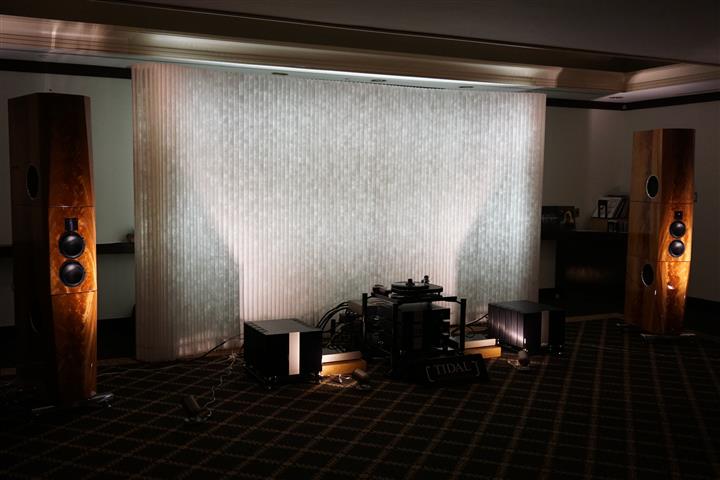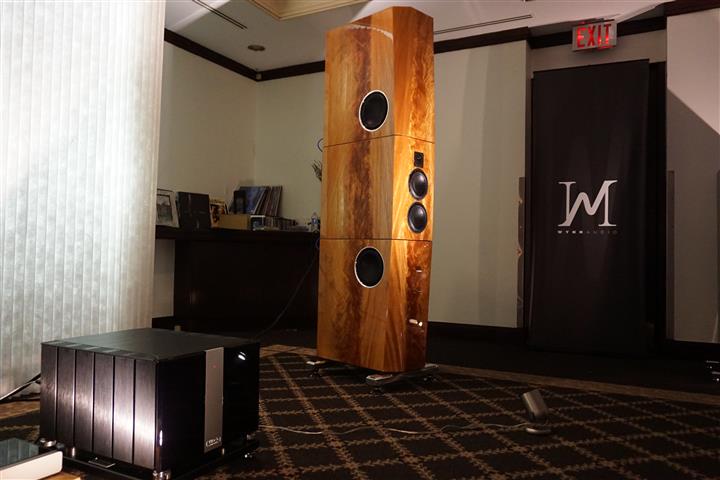 What did it sound like?  Immense, open and airy with great precision and grace, delivering copious detail into the micro level and delivering dynamics in an effortless manner.
On static display in the room were the Tidal Piano G2 ($32,000) and Contriva G2 loudspeakers: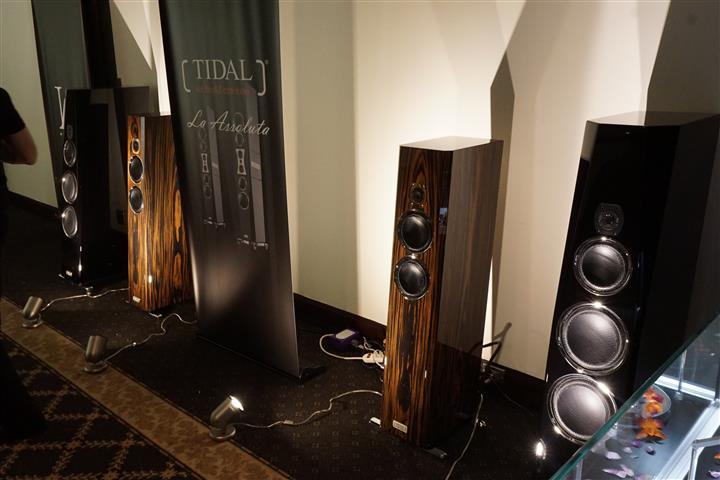 In view, under glass were the Thales Slim turntable ($10,000) with a Thales Easy tonearm ($7,000);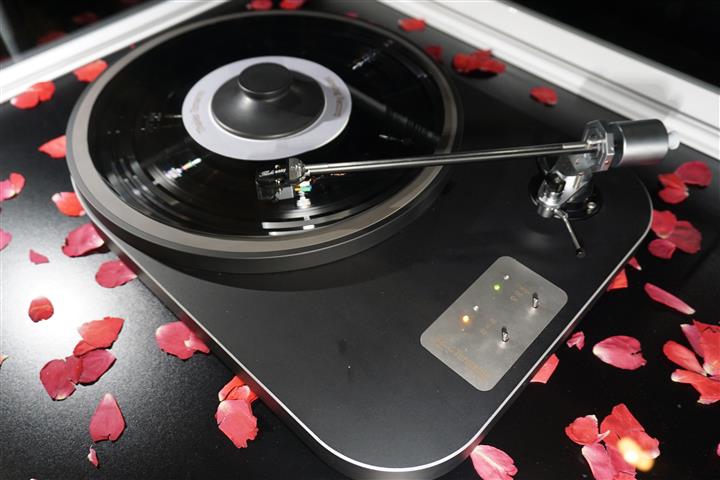 the Boenicke WS loudspeakers ($7,000);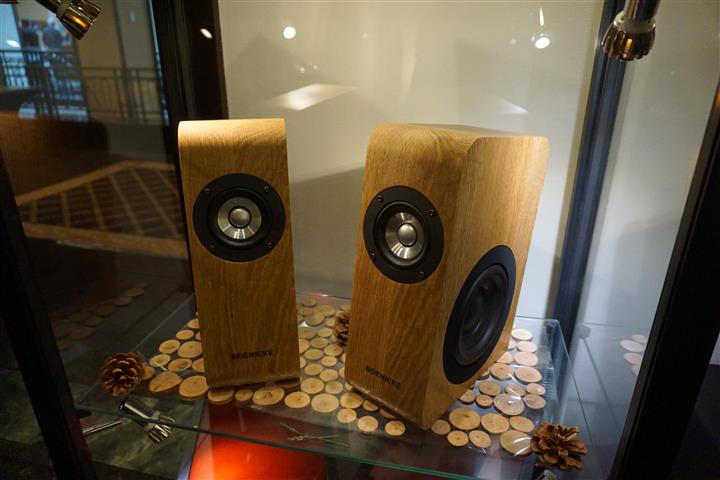 Telos Quantum Noise Resonator ($1,000), Telos Mini Quantum ($500) and Quantum Diffusor ($800);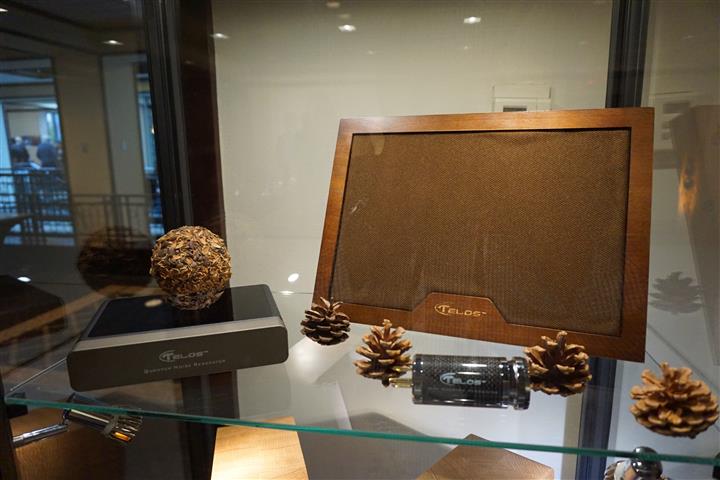 And the Encore ENC-5 bookshelf speakers ($9,000) that Malcolm Gomes from CANADA HiFi reviewed a few months back: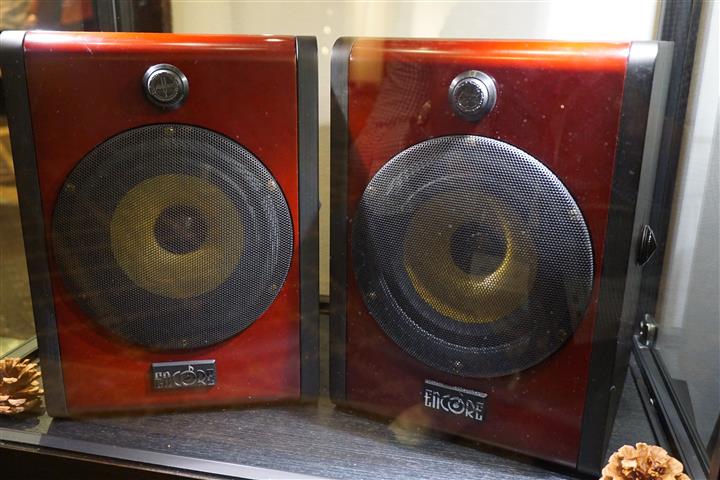 Goerner Audio
Goerner Audio, a distributor that I've come to know for fine products and lovely sound at shows, was launching an Austrian brand "Wiener Lautsprecher Manufktur" (WlM) to the North American market at TAVES.  The main system featured the WlM Rudolf loudspeakers ($27,000 base) finished in a striking cherry wood veneer.  Amplification was by way of a Grandinote Shinai integrated amplifier ($17,000), with the Grandinote Volta music server ($13,500) and the Trigon Trinity Integrated Server ($5,500).  The analog source was made up of an Acoustic Signature WOW XL turntable ($3,490) with AC-1 linear power supply ($450), TA 1000 tonearm ($2,190), London (Decca) Supergold moving-iron cartridge ($1,875), Funk Acromat 5mm platter mat ($150) and a Grandinote Celio phono preamplifier ($8,750).  Cabling was all Nordost Valhalla 2.  Listening to a classical LP being played, I found the sound to be very delicate, naturally detailed and pure in tone, sounding un-restrained with impressive musical flow.  Though I would have liked to hear this system crank out some classic rock or tympani, I had to regretfully move on before such a request could be met.  I'm hoping to hear more from WlM in the coming months.
#301, #303, #305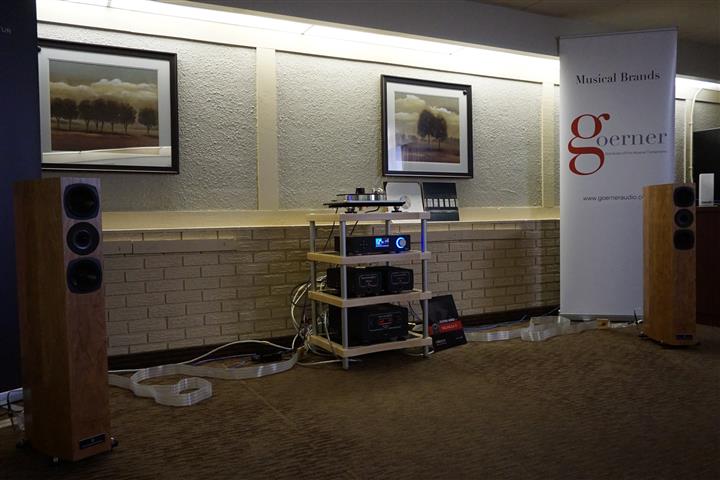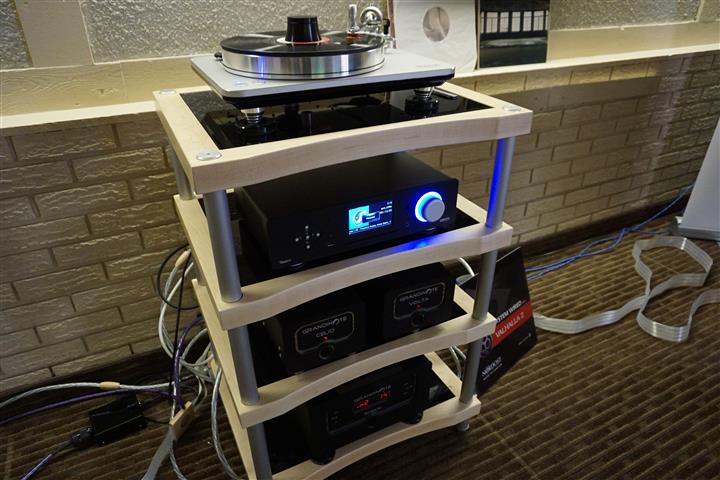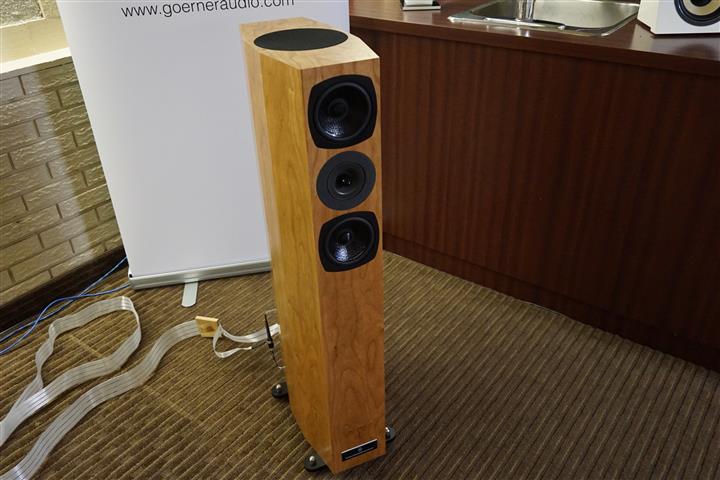 Reinhard Goerner was all smiles, while his new babies were in play, the picture speaks for itself.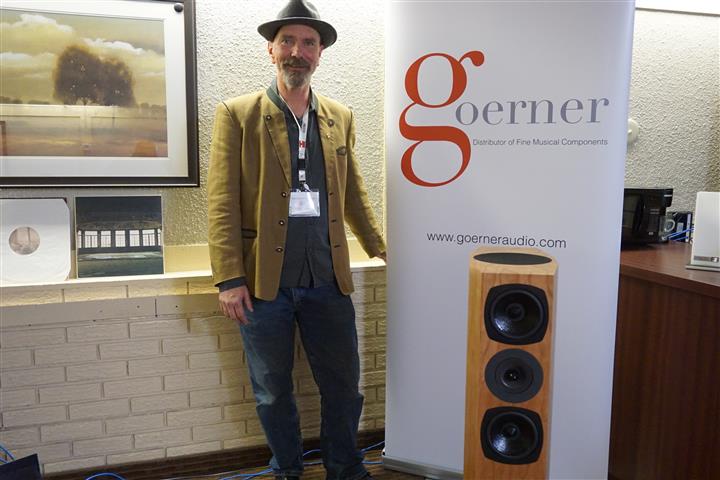 On play rotation, though I didn't get a chance to hear it, was the WlM Wunderkind portable music system that deliver an amazing 250 wpc from a briefcase size box ($6,000).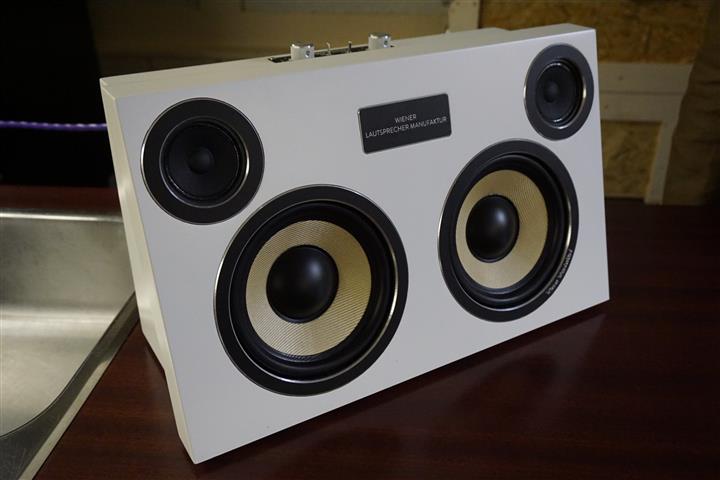 Audio by Mark Jones
The room hosted by Mark Jones had a sound that was welcoming.  The featured system surrounded a Kronos Limited Edition turntable ($38,000) with Black Beauty tonearm ($8,500) and ZYX Universe II MC cartridge ($8,495) into a Tenor Phono 1 ($50,000) with a Tenor Line 1 and Power 1 preamplifier ($100,000) and Tenor 175S amplifier ($55,000).  The digital source was an Aurender N10 ($8,000 U.S.) through a PS Audio Direct Stream DAC ($7,500).  The loom was all Kubala Sosna Research and the system was on a Massif Audio Designs wood rack ($3,500).  The loudspeakers in play were the Magico S7 with optional M-Coat finish ($64,000 U.S. in Lamborghini Orange as shown / $58,000 U.S. in M-Cast standard finish).  This system had wonderful musical ease and flow that brought out subtle details in an incredibly natural manner with organic texture and warmth.  Expensive yes, affordable – not for me but still insanely desirable.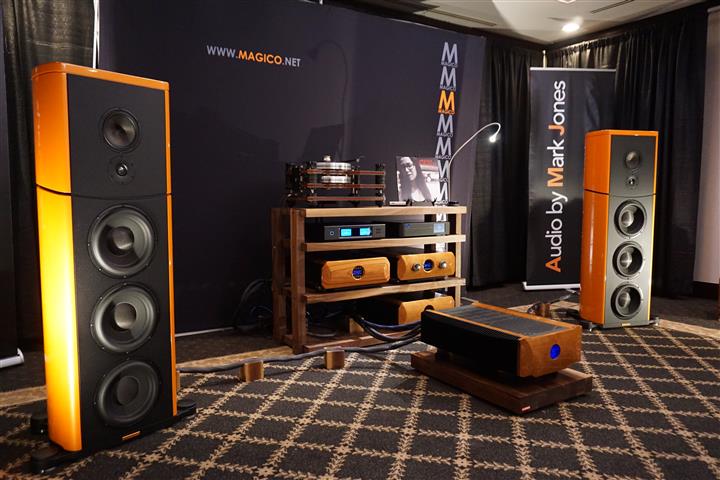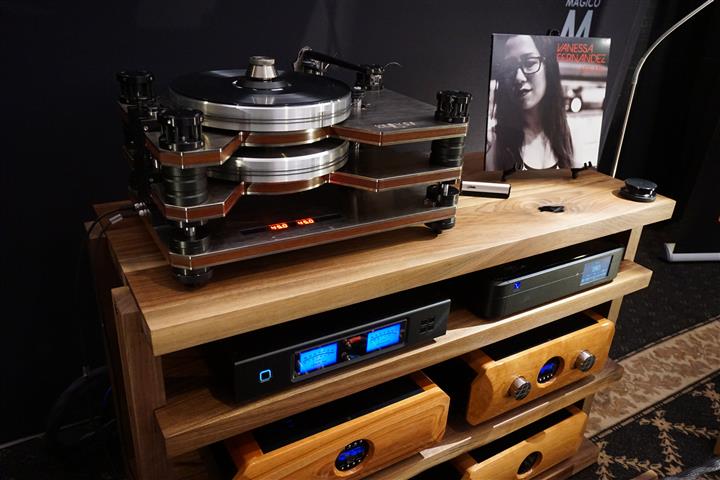 David Johann, Global Sales & Marketing for Tenor Audio, proudly crouched by the 175S amplifier: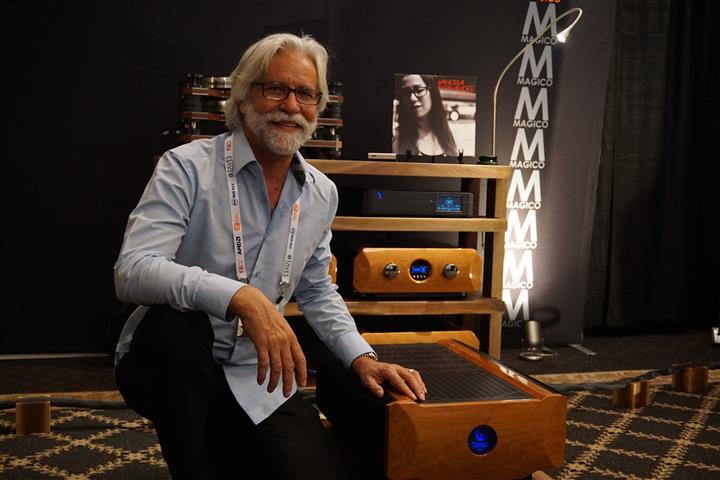 And the proud man himself (though slightly out of focus), Mark Jones, leaning on the exquisite Magico S7: