Nordost
Nordost hosted a room in which they were running informal demonstrations on a number of their products – adapting to the requests of interested consumers and industry visitors.  If you've been following my reviews, you'll know that I've been using a full Nordost Heimdall 2 loom for some time and am very happy with the results.  The system used here was comprised of Wilson Audio Sasha 2 loudspeakers (approx. $40,000) run with a Dan D'Agostino Momentum preamplifier (approx. $35,000) and Momentum Monoblock amplifiers (approx. $70,000/pair). The source was the MSB Signature Data CD IV and power supply ($13, 000) into the MSB Analog DAC and Diamond Power Base (approx. $8,000).  Nordost cabling was Odin 2 ($20,000/power cord; $25,000 interconnects; $45,000 speaker cables).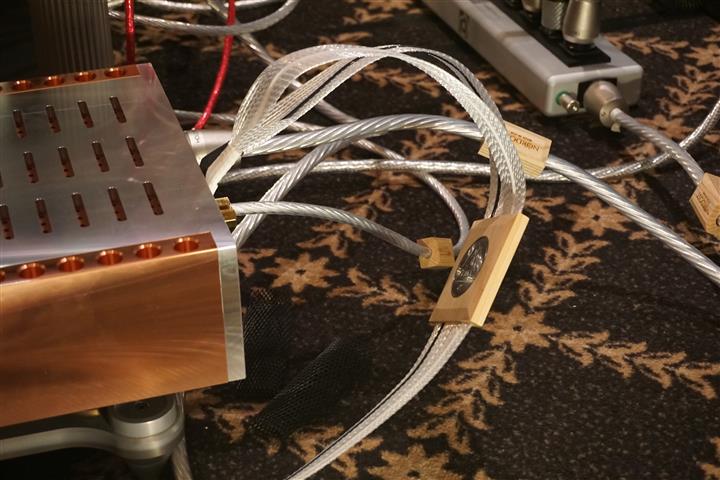 Nordost was also using their Heimdall USB and all-new CAT 7 cable ($840/m), which won't be shipping until early Dec. 2015.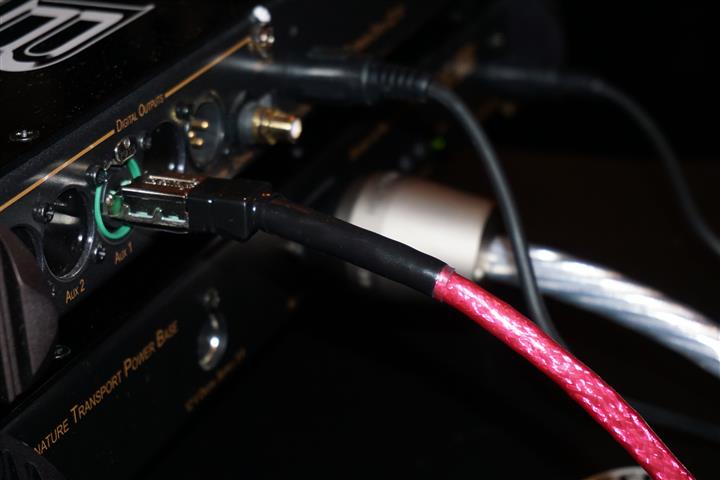 Also employed was the Nordost QB8 MkII ($1,920), Qx4 MkII ($3,200) and Qv2 ($420) as well as their QK1 ($300).  I found the sound to be very transparent, quick and pristine on my short listen.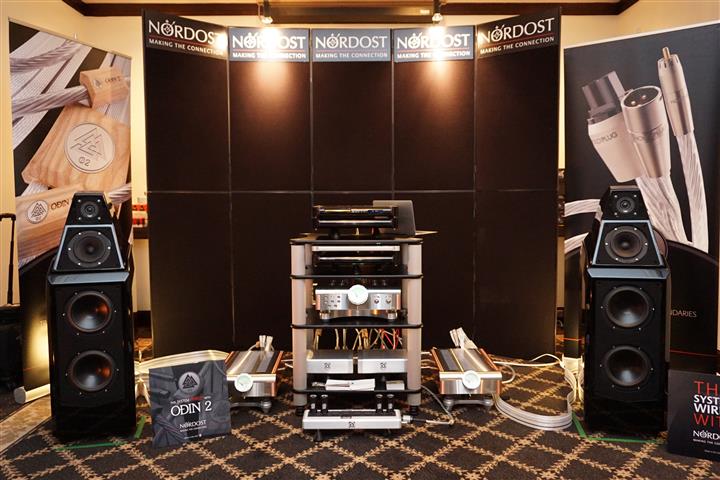 Just outside the room, two familiar faces (Meredith Gabor and Bruno de Lormier) welcomed visitors into the room and offered information and product to those interested.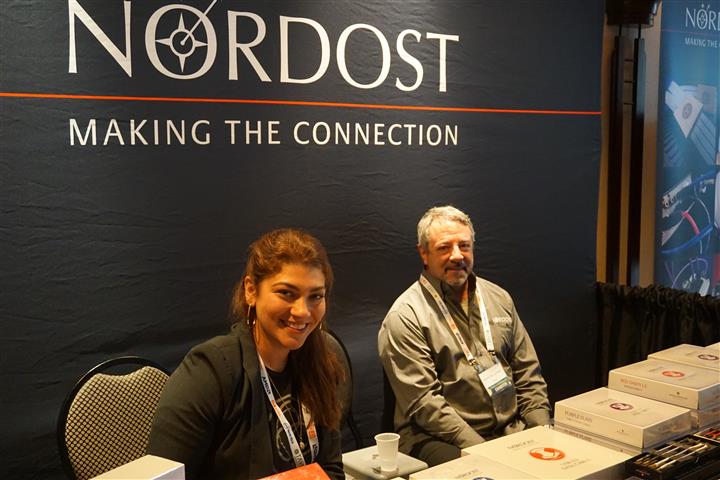 Yamaha
In the Yamaha room the first thing seen was the Yamaha Disklavier E3 – DC3XE3PRO ($68,000) a remote controllable, Internet accessible music / CD player and piano recorder / player all wrapped up into what appeared as a conventional baby grand piano.  During the show Anne Bisson was making appearances in this room, singing and playing the Disklavier to her music.  I caught one of these performances, which turned out to be an improvisational duet between Anne and her recorded self, as played through the featured music system that was also in the room.  It was great to see the tie in between the live music performance and the hi-end recorded rendition.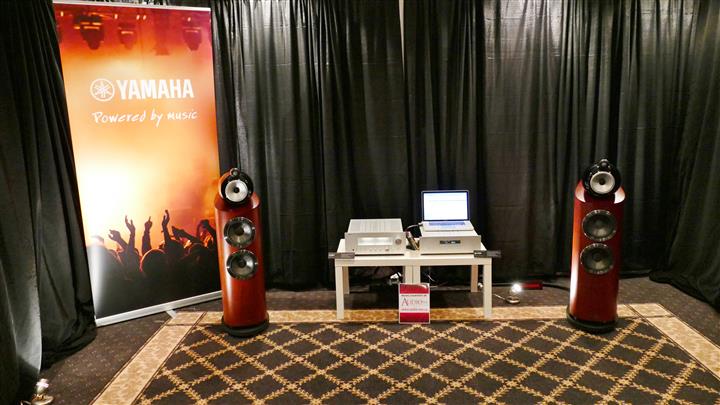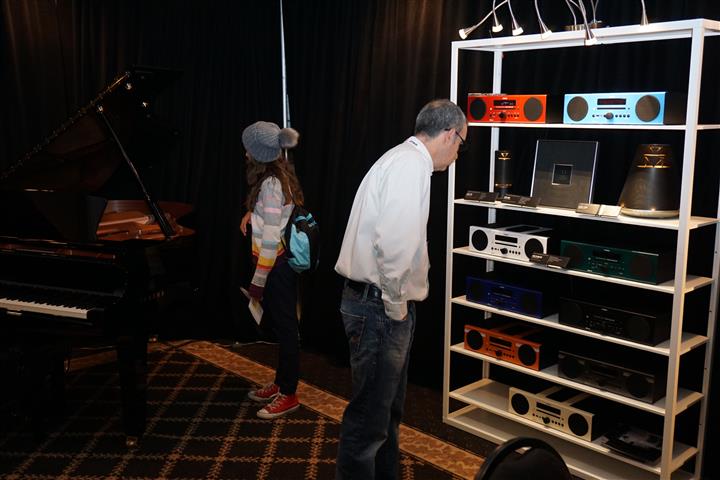 The featured system was comprised of the Yamaha A-S3000 integrated amplifier ($6,500) paired with the CD-S3000 ($8,000), playing through the all-new B&W 803D loudspeakers ($20,000/pair) that feature B&W's latest driver innovations.  AudioQuest Aspen 8ft speaker cables ($2,800/pair) were employed.  This system sounded quite wonderful in the room and when playing back Anne Bisson sounded surprisingly lifelike against the singer in the flesh.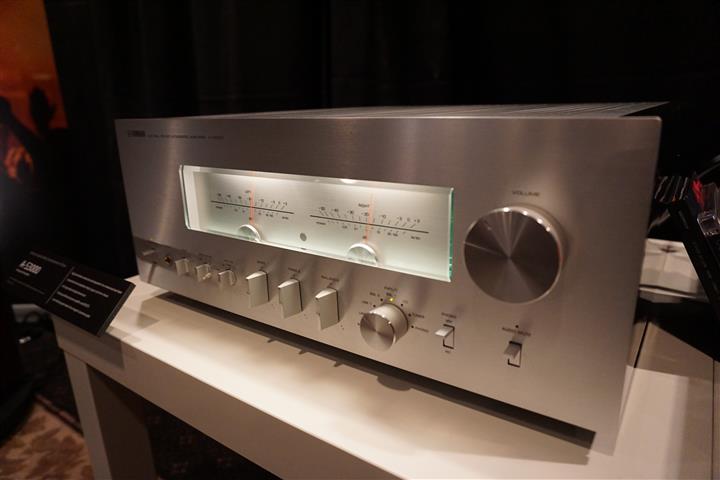 On static display was an assortment of Yamaha integrated amplifiers, including the A-S2100 ($3,499); the A-S1100 ($1,999); and the A-S801 ($1,099):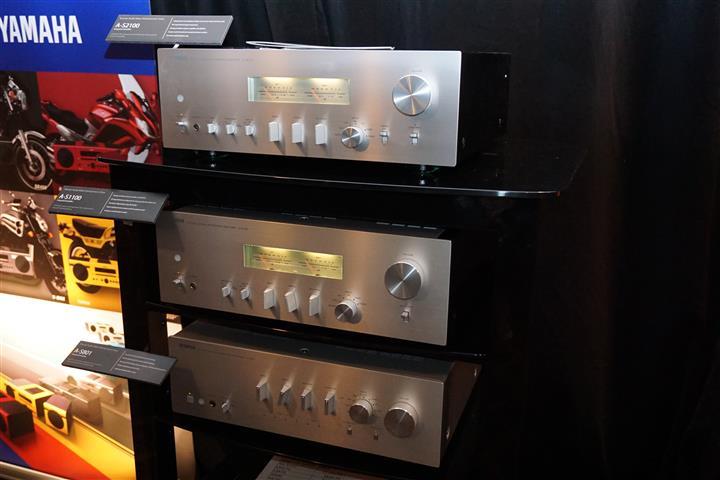 There were also on display the Yamaha NX-N500 network powered bookshelf loudspeakers and the CD-S2100 CD player / 32-bit USB DAC ($3,299), plus a number of other interesting products on shelves.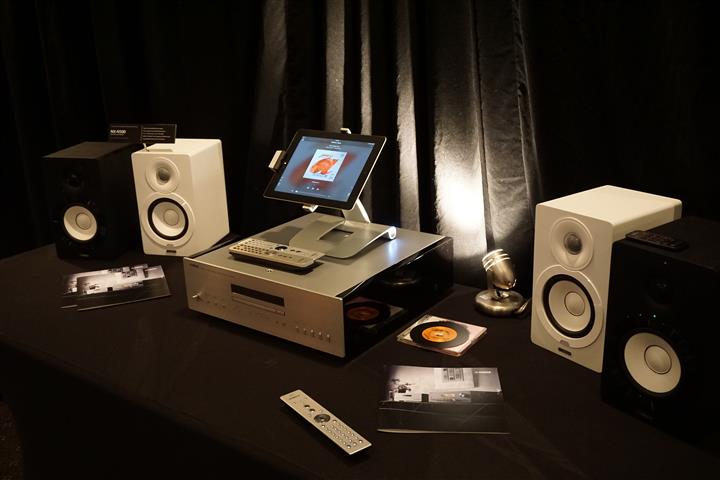 Kennedy HiFi:
Kennedy HiFi, a well known and reputable local Toronto/Markham hi-end audio/video dealer had a substantial room in which they setup a Dolby Atmos home theatre system, built around Paradigm Electronics and Anthem AV products.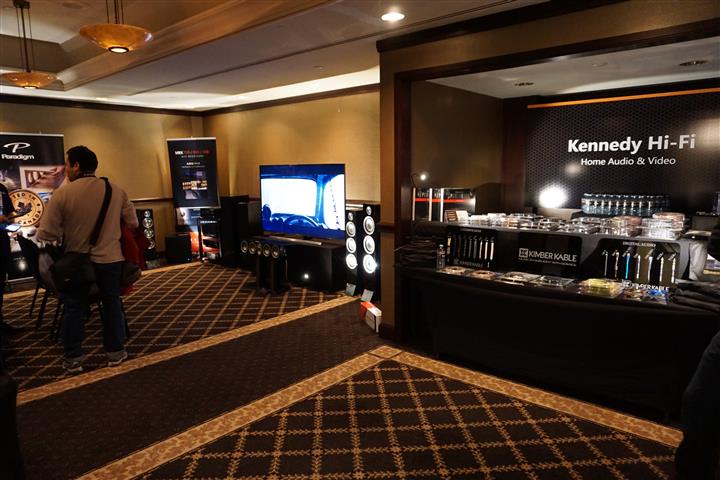 The system demonstrated was a 7.2.2 Dolby Atmos arrangement.  For those not yet acquainted with Dolby Atmos, the last .2 represents two ceiling speakers that are added to a typical 7.2 setup.  Front channel loudspeaker duties were met by the Paradigm Prestige 95F towers ($2,729/each), with a pair of 85F ($2,149/each) speakers on stand-by.  The centre channel was a Prestige 55C ($1,849), while the surround channels were met by Prestige 25S ($1,099/each), with 15B ($849/each) bookshelf speakers for the surround-rear.  Tucked in the coffered ceiling ledge, acting as ceiling speakers was a MilleniaOne 2.0 system ($600/pair), which provided a good estimate of what might be achieved.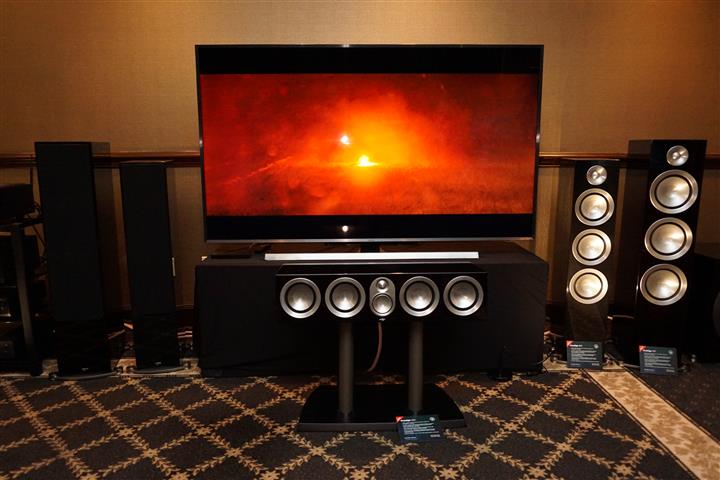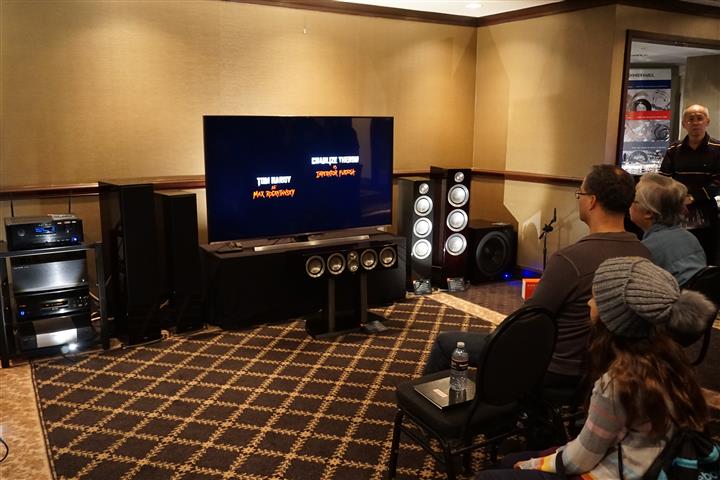 Processing and amplification was being handled by the all-new Anthem MRX 1120 ($3,499) receiver, with an Anthem MCA30 ($2,750) used for the front-channels, just for a little extra kick.  On subwoofer duty was the Prestige 2000SW ($4,799) along with the 1000SW ($3,499).  Kimber Kable 12TC was being used for all the front channels, with Kimber also employed for the other channels, interconnects and power cables.  On static display in this room were the Anthem AV MRX 710, 510 and 310 receivers, which are soon to be replaced by the new models recently announced.
In what was setup as a water-bottle bar, I took them up on the offer for a bevvy, a huge array of Kimber Kable products was there for the viewing and purchase, if so inclined.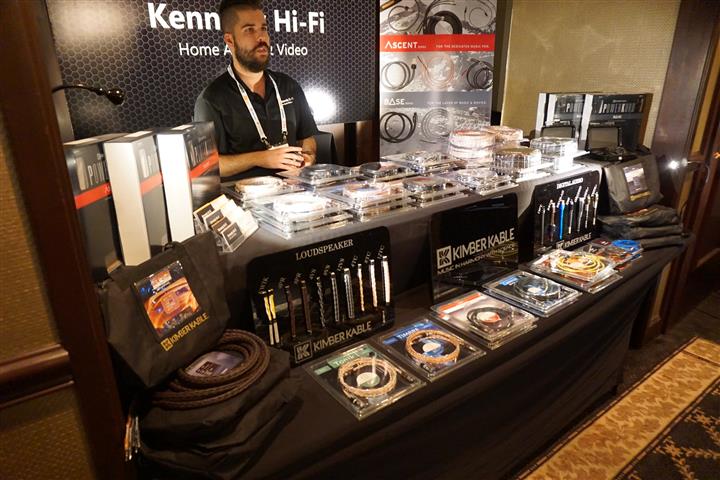 On static display on a small table at the entrance to the room was Paradigm's latest answer to the Sonos threat – three new Premium Wireless network music system products – the PW800 230-watt RMS speaker ($899), the PW600 200-watt RMS speaker ($699) and finally, the PW Amp ($599).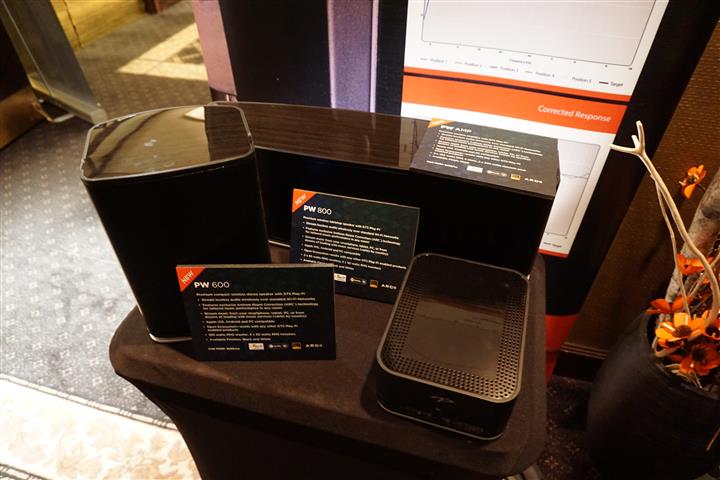 Audio Excellence / VANA Ltd:
I've long been a fan of Audio Physic speakers and recently distribution changed hands from Goerner Audio over to VANA Ltd.  I had heard that the all-new Audio Physic Jubilee Avanti loudspeakers ($11,000/pair) were to be demonstrated, so I made sure to stop by the Audio Excellence room.  There I found the gracefully designed Avanti loudspeakers in Black Glass, playing song from an all-Naim stack.  The Naim system included the new 272 pre-amplifier / streamer ($7,499) with the optional XPS-DR ($7,999) power supply controlling a NAP-250-DR power amplifier ($7,499).  Though I could hear the potential of the system and its inherent clarity, the room did not facilitate a fair evaluation of the Avanti's, so I will hold sharing impression until I get a better opportunity to hear these latest creations from Brilon, Germany.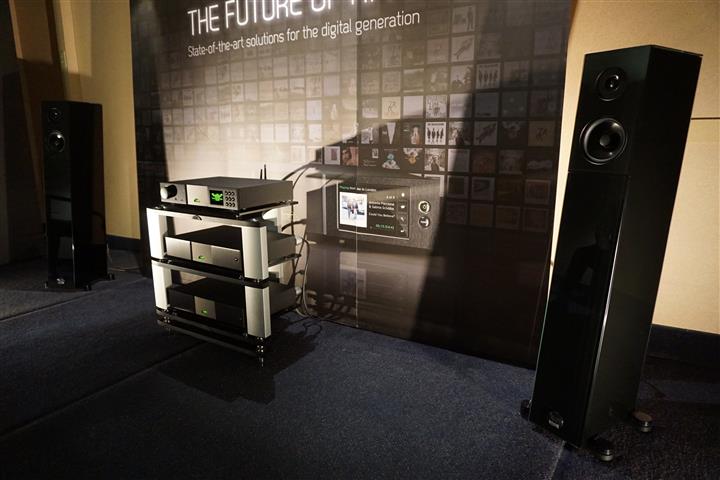 Elunevision / eastporters:
Eastporters was demonstrating a home theatre – a Dolby Atmos 5.1.2 setup – with a new JVC D-ILA X-750RB Ultimate High Dynamic Range 4K projector ($6,200) and a brand-new Elunevision Aurora 4K 2:35 130" screen ($3,500), which will be available in late Nov. 2015.  I found the image very impressive and am now figuring out how I might do the same in my own studio.  The sound system in this room was made up of KEF R900 for front left/right ($3,700 demo), KEF R600c centre ($1300 demo), Onkyo SKH-40 Atmos speakers for top-channel duty ($150/pair demo) and KEF LS50 for surround channel purposes ($1,250/pair demo).  A Marantz SR7010 receiver ($2000 demo) and Marantz UD5007 Blu-ray player ($600 demo) were in play with a Phase Technology HV121 subwoofer ($500 demo) and finally, for seating, there was TheatreOne Pegasus Motorized Leather chairs ($1,049/each – Double Arm, $999/each – Single Arm, $979/each – No Arm).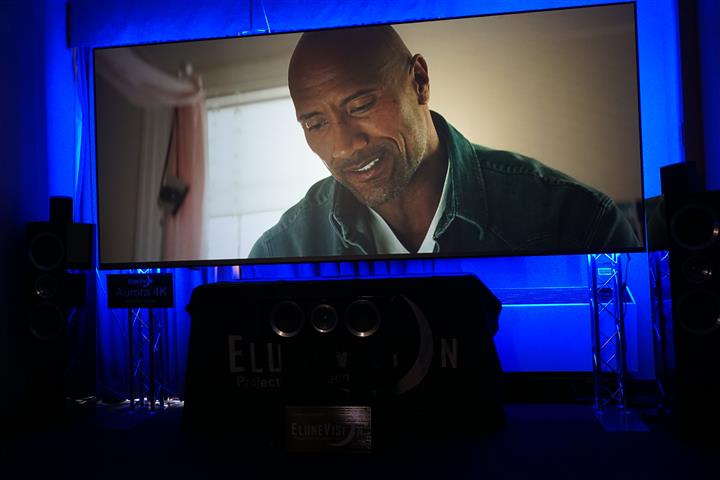 Hope you enjoyed Part 2 of my coverage!  Part 3 of this article will be posted on our website in the next few days.