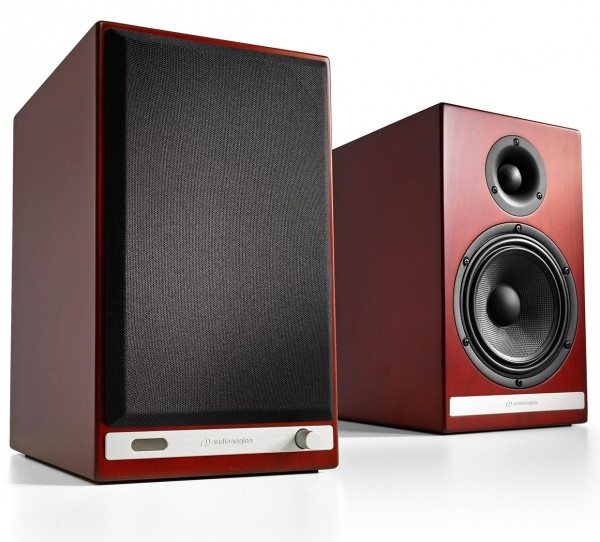 Audioengine today introduced the HD6 Premium Powered Speaker System. More than just a powered speaker, the HD6 is a complete audio system with all the connections you'll need to listen to your music.
Featuring built-in amplifiers that really pack a punch as well as analog and digital inputs including aptX Bluetooth and optical, the HD6 is super-easy to use and designed for the way people listen to music today.
The new HD6 uses Audioengine's tried-and-true amplifier design with a new optical input from the D1 DAC, as well as the Audioengine Advanced Bluetooth and 24-bit upsampling circuitry from the B1 Bluetooth Receiver.
With Bluetooth connectivity, it's easy to stream TIDAL, Spotify, Pandora, YouTube, iTunes or any other music service from a media player, smartphone, tablet or computer – wirelessly. The optical input allows easy connection of an AppleTV, Sonos Connect, network music player, or any other device that has optical out. A turntable can be connected via the RCA preamp inputs.
The HD6 is finished in furniture-grade wood veneers with detachable magnetic grills that give it a retro old-school design elegance that blends with any decor.
The HD6 is Audioengine's latest statement on high-quality and highly-affordable audio. The all-new woofers have aluminum frames allowing the lower-end to really perform. Also new are the tweeters, which have been upgraded for smoother, more extended highs and incredible imaging.
Features
•Built-in class A/B monoblock power amplifiers
•Dual audio inputs and variable output
•High-fidelity advanced Bluetooth® with aptX®
•24-bit digital optical input
•Hand-built cabinets with furniture-grade finishes
•Solid aluminum remote control
Pricing and availability
The Audioengine HD6 Premium Powered Speaker System is now available at a MSRP of: $749 U.S. Look for more information at: http://audioengineusa.com