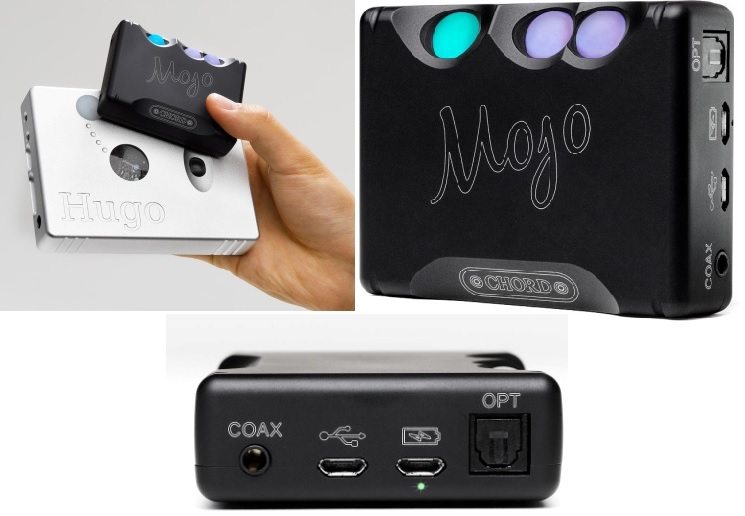 Bluebird Music, the North American distributor of Chord Electronics products, has just announced the immediate availability of the new Chord Mojo portable headphone amp/DAC. The new Mojo was recently shown / demonstrated at the TAVES CES 2015 show and is now shipping to dealers.
Mojo leverages what Chord has learned with their Hugo portable headphone amp/DAC, using Chord's proprietary
DAC technology the Mojo brings this performance to consumers in the smallest package yet from Chord. The Mojo offers the same great sound quality of the Hugo but at a much more affordable price. The Mojo is Chord's latest headphone amp/DAC product and does not use an off-the-shelf DAC chip but rather, Chord's own proprietary
FPGA DAC that delivers significantly higher resolution and clarity.
The Mojo is a reference-quality mobile DAC and high-level headphone amplifier within an ultra-compact design. It uses the new Xilinx Artix-7 FPGA and is capable of driving any headphone between 4 ohms and 800 ohms and even two headphones simultaneously. Compatible with virtually any music file from 44.1kHz up to 768kHz and DoP DSD files: DSD 64; DSD 128 and DSD 256, as well as PCM; WAV; AAC; AIFF; MP3 and FLAC files.
Mojo is now available at a MSRP of: $599 U.S. or $799 CAD. Look for more information on this and other Chord products at: http://www.chordelectronics.co.uk