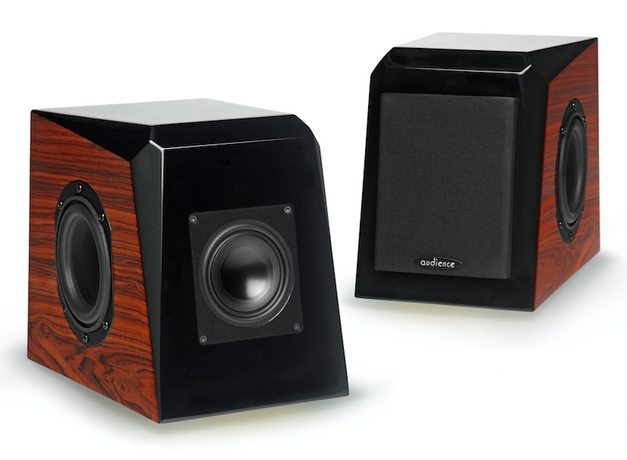 Audience has just announced their new ClairAudient 1+1-V2 loudspeaker. This new model incorporates upgraded drivers, providing improved sonics over the original 1+1 version. Along with the standard ClairAudient 1+1-V2, Audience is making an upgrade kit available, the "+ kit" has been developed to take the standard 1+1-V2 to yet another level-up in performance.
The new ClairAudient 1+1-V2 is a bi-pole design, with both front and rear radiated sound that provides a greater level of expansiveness. The 1+1-V2 incorporates a substantially improved Audience full range driver – the A3S2-16. The new driver basket and motor are machined to higher tolerances for greater precision and a more powerful motor aided by the use of higher-quality steel with the neodymium magnet. The new driver utilizes custom OHNO oxygen-free copper (OCC) leads between the motor assembly and the speaker lugs for improved conductivity. In addition, the A3S2-16 now has one 16-ohm voice coil rather than the dual-8-ohm voice coils of the previous driver, eliminating a jumper wire on each driver and the associated connections that were needed to parallel the two previous 8-ohm voice coils to yield 16 ohms for each of the two drivers.
Audience claims that this latest ClairAudient provides significantly better resolution, "speed" and soundstaging with more realistic timbre and a natural natural quality to vocals and instruments.
The available 1+1-V2+, + kit provides yet another degree of sonic refinement. The 1+1-V2+ adds beautiful solder-less Tellurium binding posts and Audience premium Au24 internal wiring. The + kit option adds yet another layer of refinement, particularly evident by the smoothness, improved timbre and tonal richness.
The compact ClairAudient 1+1-V2 utilizes one A3S2-16 driver in the front and one in the rear along with two side-firing passive radiators in a crossoverless point source design, a configuration that yields exceptionally coherent and musically natural performance. The speaker is striking in appearance, with a multi-angled enclosure finished in high-gloss black accented by rosewood sides.
The A3S2-16 driver, although just 3 inches in diameter, delivers an extremely flat frequency response from 50Hz to 22kHz (depending on room placement), eliminating the need for a separate woofer, midrange driver, tweeter, and crossover network. As a result the inherent problems of integrating sonically dissimilar drivers and the accompanying phase distortions, loss of resolution and transient response degradation of a crossover network are completely avoided. The dual side-mounted passive radiators augment the output of the A3S2-16 drivers and enable the 1+1-V2 to deliver outstanding presence and dynamic contrast with an expanded soundstage, extended low-frequency response and increased power handling.
The A3S2-16 driver incorporates numerous engineering refinements such as a large patented neodymium-magnet motor structure and voice coil that moves with a highly linear excursion of 12mm; an exclusive titanium alloy cone material with a curvilinear shape; a concave dust cap specially designed to control high-frequency cone breakup and provide optimum dispersion; a unique "S"-shaped surround that allows the driver to behave more like an ideal pistonic radiator, and many additional enhancements.
Upgrade for the Audience ONE-V2 Available:
In addition, the Audience The ONE-V2 speaker has also been upgraded with the new driver. The ONE-V2 single-driver speaker is ideal for desktop music listening, compact high-end stereo and surround sound home theater systems. Measuring just 7″ x 7″ x 5.5″, The ONE-V2 employs a single A3S2-16 driver and a passive radiator and represents Audience's effort to produce the finest small speaker possible.
The Audience ClairAudient 1+1-V2 loudspeaker is currently available at a suggested retail price of $1,995 U.S./pair. The 1+1-V2+ is available at $2,345 U.S./pair. The ONE-V2 has a suggested retail price of $1,095 U.S./pair and The ONE-V2+ is $1,445 U.S./pair.
Previous ClairAudient 1+1 owners can have their speakers upgraded to V2 or V2+ status for $500 U.S. and $875 U.S. respectively. The ONE can be upgraded to The ONE-V2 or V2+ for $250 U.S. and $625 U.S.
Look for more details on these products at: http://audience-av.com