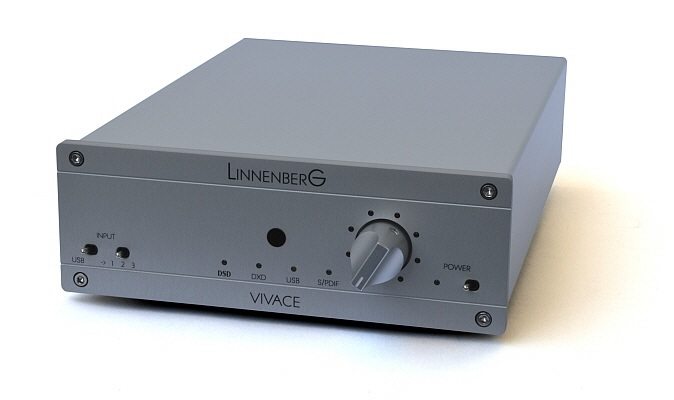 Linnenberg Audio has announced a successor to their Vivace DAC, none other than the Vivace 2 DAC. The new Vivace 2 DAC replaces the 2 year old original model, which retains the performance and features of the original DAC, while adding several additional features. The new features are as follows:
Hybrid Volume Control:
Digital attenuation is a common method for controlling volume; however, typically such attenuation in the digital domain impacts sonic performance negatively. The new Vivace 2 DAC unites digital processing with the lossless approach of an analog volume control and provides a fully balanced volume control with over 85dB or range in 0,5dB increments.
Remote Control:
Volume in the new Vivace 2 DAC is now remote controllable and a bargraph around the volume knob displays a readout of the actual volume.
External Linear Power Supply:
The Vivace 2 is designed to work exclusively with the Legato or Unisono external power supplies, offered by Linnenberg Audio.
Performance:
The new Vivace 2 also takes performance to a new level with improved THD and noise, which is now in the territory of state-of-the-art.
The new Linnenberg Audio Vivace 2 DAC is currently available with a European price of €2,690. North American availability and pricing has not yet been announced. Look for more details at: http://www.linnenberg-audio.de