Smartketing
Smartketing had come up with a very unique and impactful décor for their room – ultra modern and dance-club like; definitely an attention grabber and memorable. In their room they were focusing on the Canton Reference 3.2 loudspeakers ($18,500) that were being driven by AVM MA 3.2 Monoblock amplifiers ($9,500/pair) with an AVM SD 3.2 Preamplifier/Streamer DAC ($7,395) and an AVM CD 3.2 player ($5,500). The bass was incredibly solid, weighty and impactful, though I couldn't really judge articulation, given the music being played. I'd even go as far as saying that this setup was perhaps the most "ballsy" sound at TAVES that I heard. I did hear some hardness in the treble but would chalk that up to the confines of the room.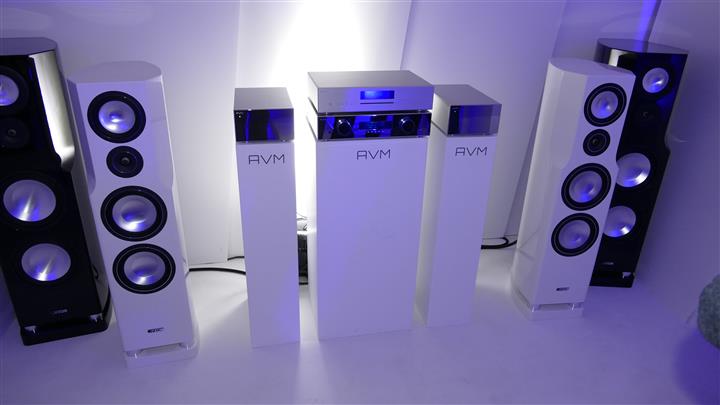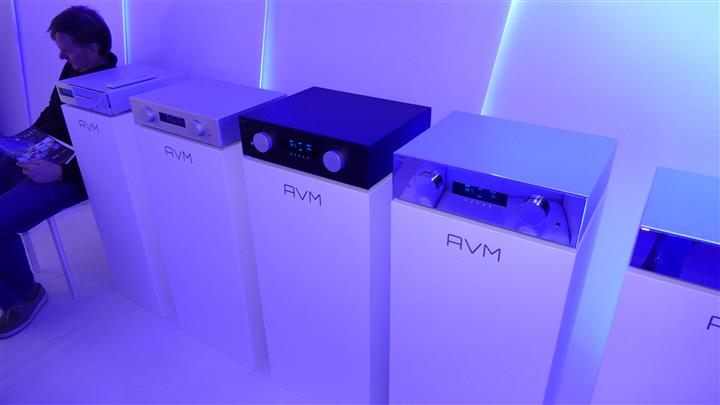 L' Atelier-Audio
Samuel Furon, the owner of L'Atelier-Audio was present to invite guests to the room and demonstrate the system. The speakers were Jean-Marie Reynard (JMr), my first encounter with the brand. The model in play was the JMr Orféo Supreme V2 ($12,900) running on an Audio Projekte power amplifier ($4,000) with a Metrum Acoustics Pavene DAC ($7,000). The full cable loom was Ocellia Reference ($5,000 total). This system had great dispersion, filling the room and possessed a realistically smooth midrange with an intricate treble, though a bit light in bass weight and a little shy on inner warmth.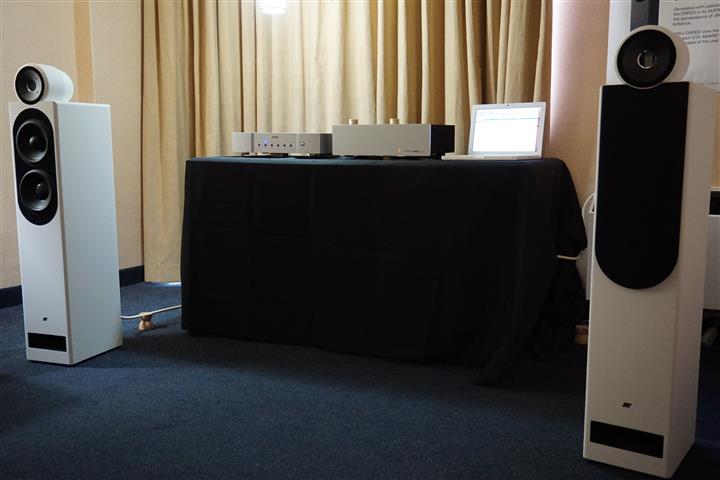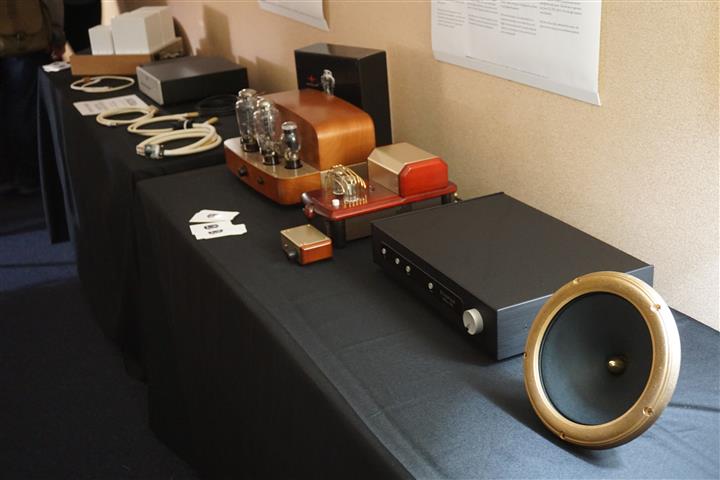 Tube De Force – Triode Labs / Finalé Audio:
Tube De Force was presenting a new brand in their room called Finalé Audio that is based in Toronto, Ontario.  Most of the products in the room from Finalé Audio were tube components but an all-new speaker was also being demonstrated – the Vivace Mini ($2,800), a small single driver high sensitivity tower.  The new Vivace Mini uses an internal horn structure to amplify the bass frequencies of the 4" full range whizzer cone driver.  The speaker has a nominal 16 Ohm impedance but will also operate at 8 Ohms.  In-room frequency response is 50 to 20,000Hz, with a 40-watt power handling.  Though the speaker is assembled in Canada, I was told that the cabinets are manufactured in Japan.  Powering the speakers was a Triode Lab Au Pre Grande preamp ($3,800) with a pair of 2A3 M-2 monoblock tube amplifiers ($7,000/pair).  The CD player in use was an older model NAD C521BEE.  The equipment was stationed on Codia Racking.   Despite the minute drivers and small stature of the speakers, music sounded surprisingly full.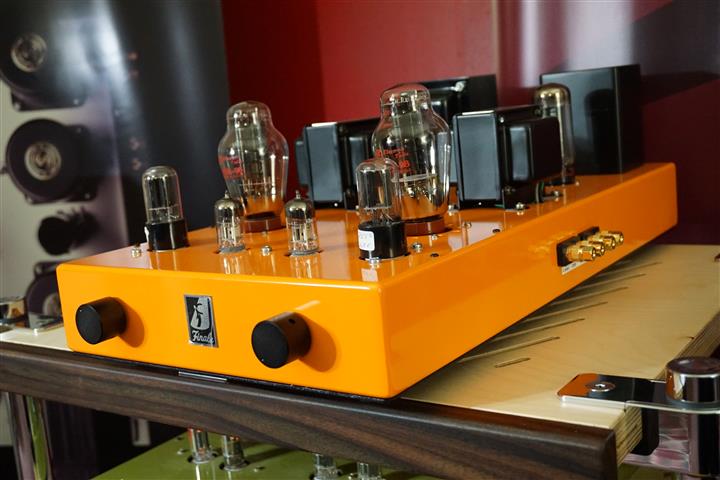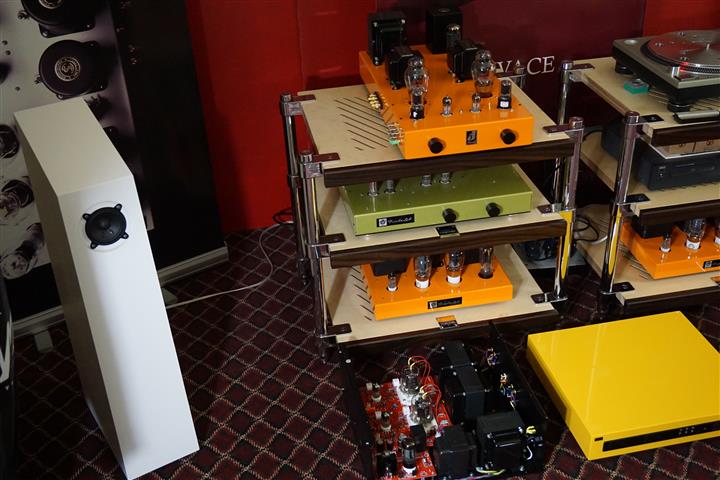 Erikson Consumer – Harman / Revel / Arcam / Mark Levinson / JBL:
Erikson Consumer, the distributor for Harman International products, among many other brands, had a large room at the show with three main systems that were being demonstrated in rotation.  Mario Cadoret was very helpful in providing me with the details on the three setups within the room that were garnering much attention from visitors.
The first system employed a Mark Levinson No. 585 integrated amp, No. 52 Reference Dual Mono Preamplifier ($42,000), and a pair of ML No. 53 500 wpc monoblock amplifiers ($35,000/each).  Music files were fed from a laptop through a 32-bit/192 kHz DAC ($16,000).  The speakers in play were the Revel Ultima 2 Series Salon2 loudspeakers ($33,000/pair).  The sound was authoritative, warm, smooth and musically detailed.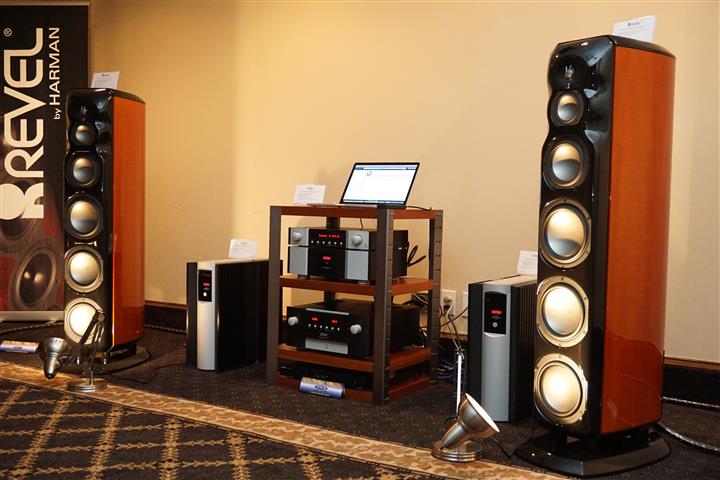 The second system was utilizing the Mark Levinson No. 585 integrated amp in its full functionality, with a connected laptop playing the music files.  The speakers used were the JBL S4700 3-way with horn-loaded tweeters and a 15" woofer, having a 94db/1w/1m sensitivity ($22,000/pair).  On display were also the JBL 3900 speakers that use a 10" woofer ($14,400/pair) and the JBL 4429 3-way studio monitor ($7,200/pair).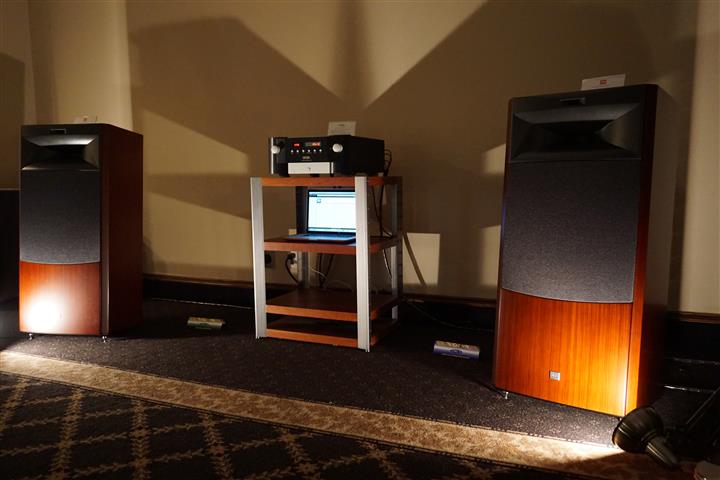 The third system in play was a more affordable setup comprised of the all-new (1st Canadian showing) ARCAM SR250 2-channel stereo audio/video receiver, which is unique, as virtually all AV receivers offer more than 2-channels of amplification.  Mario told me that ARCAM had enough client enquiries that it justified the creation of this new 2-channel AVR product.  The SR250 has 7 HDMI inputs and 3 HDMI outputs, capable of handling the latest 4K standard.  It is set to ship in December 2015.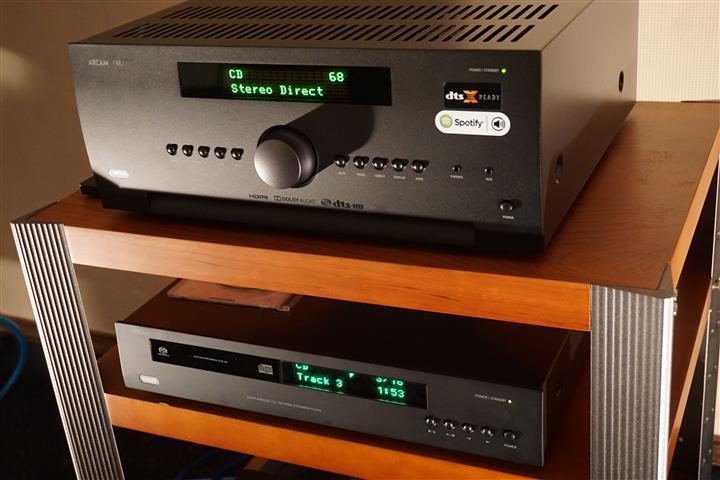 Connected to the SR250 was a pair of Revel Performa 3 F208 tower loudspeakers ($7,000/pair).  The source was a CDS27 SACD/hi-res streamer and USB 24/192 DAC ($1,899).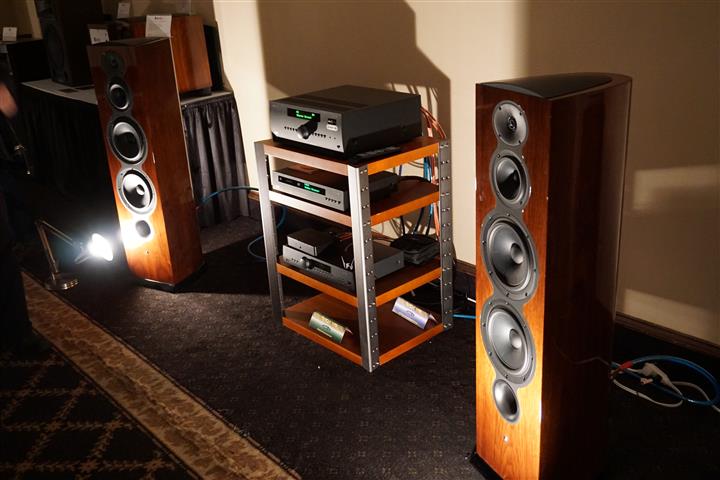 As well, on static display in this room were a few other Revel loudspeakers: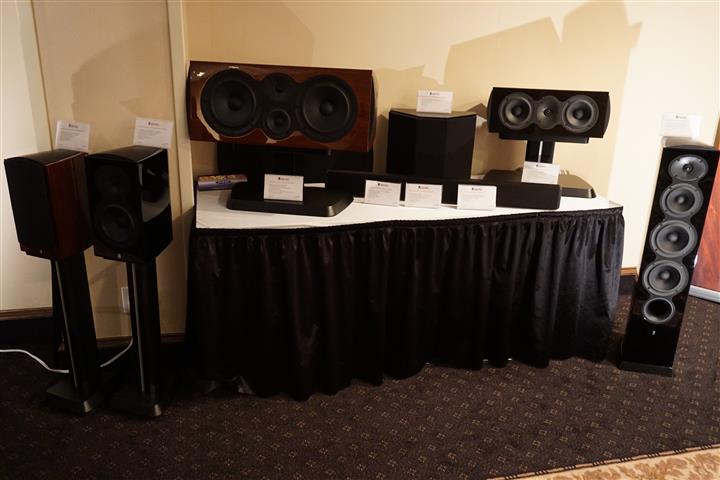 In Closing
Well, there you have it, my show report.  TAVES 2015 was my favourite yet and I'm already looking forward to the next.  I haven't done any justice in my coverage to all that was there, especially the Technology and Innovation sector but be sure to take a look at Jeremy Phan's upcoming coverage of the show for a full view on all that was there.  Until next year, all the best to you!