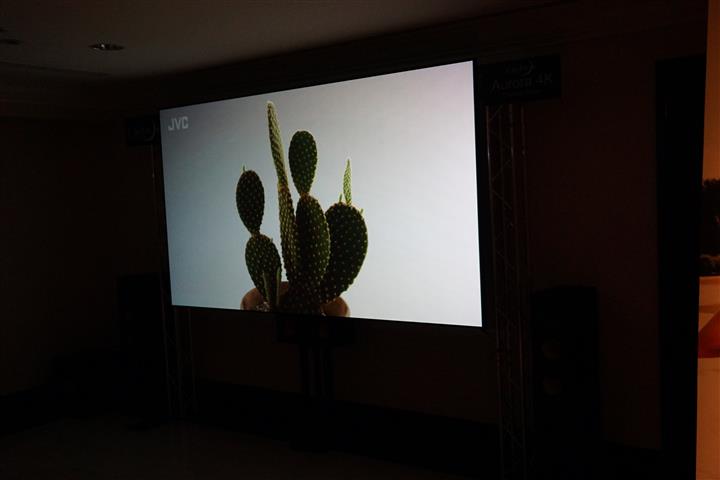 JVC / Kenwood
JVC / Kenwood occupied one of the larger rooms at TAVES this fall and demonstrated its professional series of projectors on a Canadian 108" Elunevision Aurora 4K screen.  I spent some time speaking with Gregory Cameron, VP JVC Professional Products Canada Inc about the demonstrations they were running.  When I commented on the amazing imaging quality and resolution, Greg responded by taking me right up to the screen and showed me that even at such a close distance, with the huge image, the pixels were essentially unperceivable – 4K offers that much pixel density.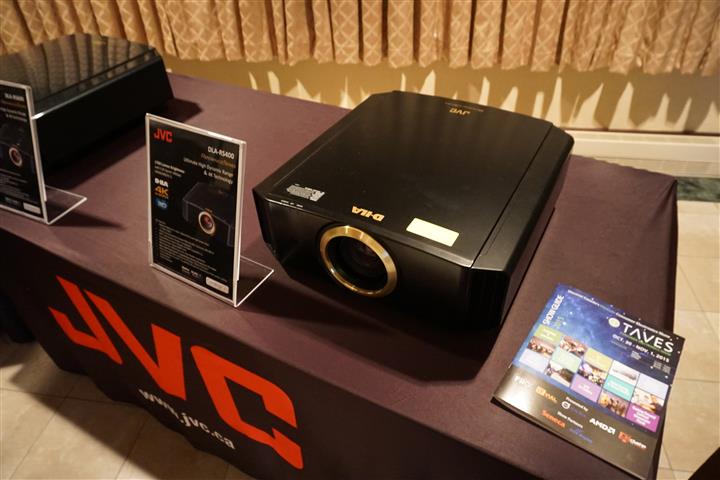 JVC projectors come in both professional and consumer versions.  The model being demonstrated in the room was the professional DLA-RS500U ($8,500), which is a 4K 3D projector with a 120,000:1 native contrast and 1800 lumen ANSI brightness.  Other models in the series include the DLA-RS600U ($12,500) with a 140,000:1 native contrast and 1900 lumen brightness as well as the DLA-RS400U ($6,500) with 40,000:1 native contrast and 1700 lumen brightness.  All JVC projectors offer dual HDMI 2.0a inputs (HDCP 2.2, 18Gbps standard) and up to 4K, 60p, 4:4:4 processing.  Another point worth noting is that with these latest models, JVC has reduced noise of operation down to just 21dB, eliminating the need to conceal the projector within a hushbox, when used in small rooms.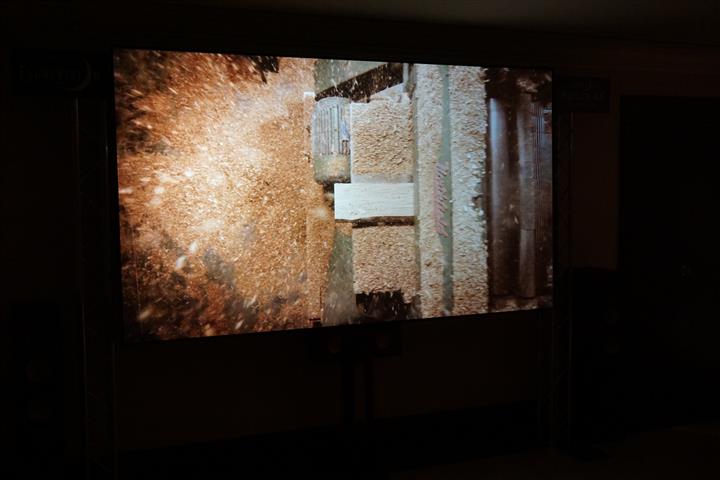 Nexus International – Audio Alchemy / XLO
Nexus International was debuting products for the first time in Canada from Audio Alchemy. The room was dimly lit with some accent LED rope lights that presented the equipment in a very dramatic fashion. The main system consisted of all Audio Alchemy components that included the DDP-1 Digital DAC/preamp/headphone amp ($2,899) with a Power Station power supply ($899); the DMP-1 media player (price not released yet); and two DPA-1M hybrid Class A/Class D monoblock power amplifiers ($2,899). All of this gear was connected to a gorgeous set of fire-engine red KEF Blade 2 speakers, and wired up with XLO cables. The sonic reproduction was rich, smooth and natural with fulsome yet articulate bass.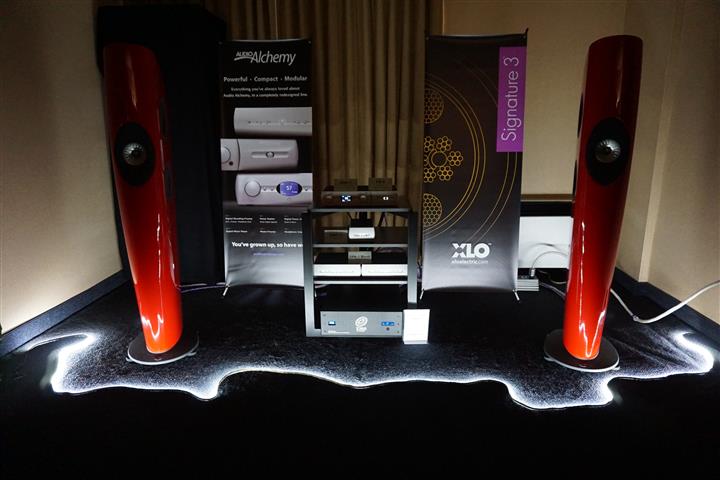 Nexus International – FiiO
In addition to its room in the audio portion of the show, Nexus was also demonstrating numerous portable audio products from FiiO in a couple of booths on the main show floor, which served to give them tons of traffic. I sat down with Sarah Tremblay (distributor of Grado headphones) who was helping out at the FiiO display, since Grado headphones were being paired up with the FiiO products. Sarah showed me the all-new, smallest-to-date FiiO M3 player (first Canadian showing) which will become available for purchase in Dec/Jan ($55 U.S.) – see picture below.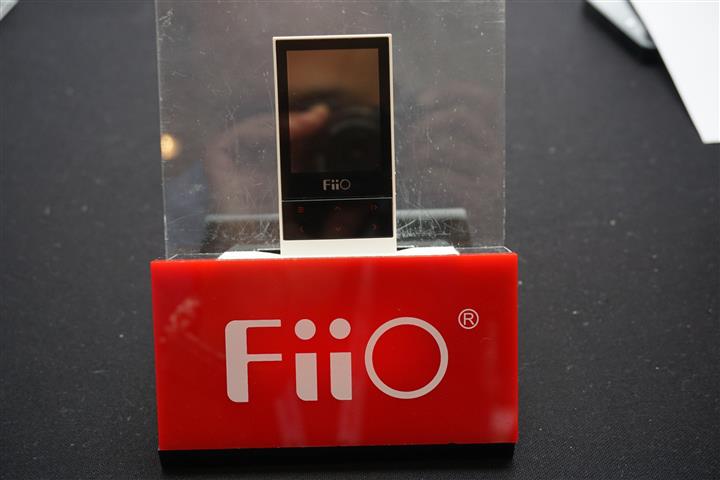 Another new product form FiiO was the X7 Android based portable music player ($650 U.S.) which will use the new ESS DAC ES9018S chip; expected to also be available this Dec/Jan. I did get some time to listen to the FiiO X3 (2nd gen), which is a hi-rez, lossless 128GB portable music player equipped with a Cirrus Logic top-flight DAC ($340). The headphones were the Grado SR80e model and the sound was great, I was actually tempted to put my wallet down and buy one on the spot. When Sarah inserted the FiiO Kunlun E18 portable headphone amp ($230) into the mix, the sound became tighter, more dynamic and more resolved. I was very impressed with the build, fit, finish and feature set of the products on display.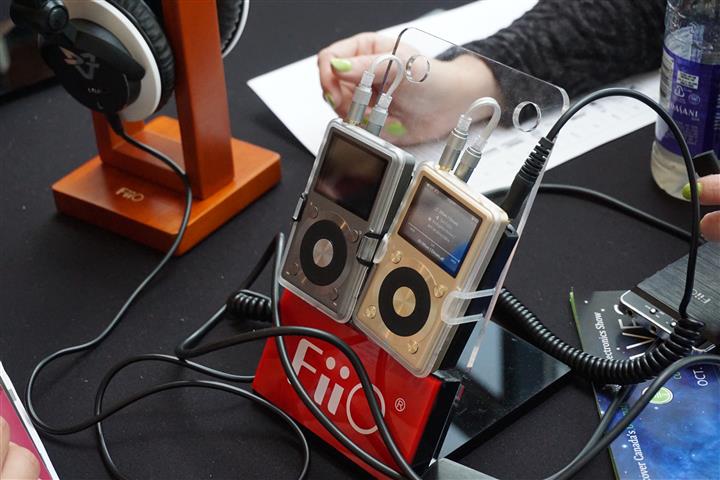 AuDIYo Inc.
AuDIYo, the distributor for Furutech and Alpha Design Labs (ADL), as well as Mundorf and 1877Phono, was showing a system in their room fronted by the all-new Mundorf MA30 Anniversary bookshelf speaker kit ($3,500/pair unassembled).  The speakers use a Mundorf AMT tweeter and Accuton ceramic woofer, combined with a Mundorf crossover that's made-in-Germany.  The cabinet comes in a choice of black or white high-gloss piano lacquer finish, and the kit comes with absolutely everything needed for assembly.  Having a 91dB sensitivity, the MA30 speaker is said to be "kind" to tube amps.
Along with the MA30 speakers, a brand new Zavfino 1877Phono ZV5 turntable ($3,200 U.S. standard or $4,200 U.S. custom paint; including the tonearm) was introduced for the first time at TAVES.  The custom paint on this table made it just stunning – take a look at the pics below and I'm sure you'll agree.  For the curious – the cartridge (sold separately) was a Dynavector Karat 1703.  Electronics were all ANKits (ANK) and included: a prototype phono preamp; L5 Preamplifier "The Mentor" ($5,600 unassembled); DAC 5.1 ($5,500 unassembled); EL34 35-watt Monoblock amplifiers ($2,300 unassembled).  The CD transport was unnamed and all cabling was Audio Sensibility.
I heard a couple tracks spun on the turntable, while in the room.  The first was Bruce Cockburn's "Wondering Where the Lions Are" from his Dancing In the Dragon's Jaws LP.  The bass was taught with a delicate a light treble; when Ray Montford's Fragile CD was played, the sound was fleshy with an engaging bloom, giving me the impression that the system was a chameleon due to its transparency.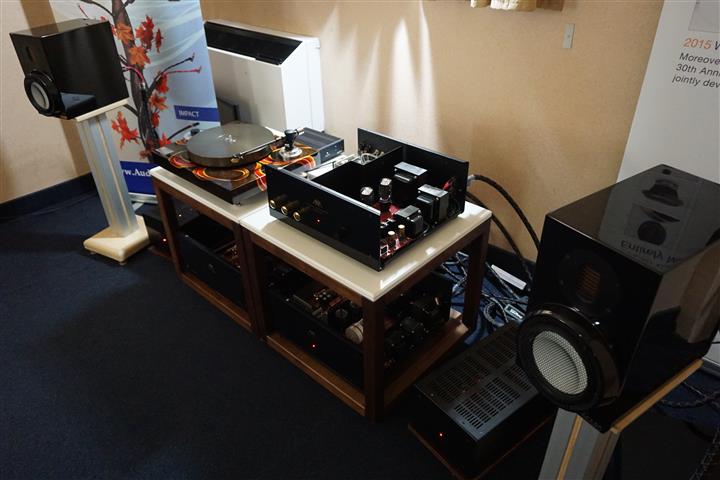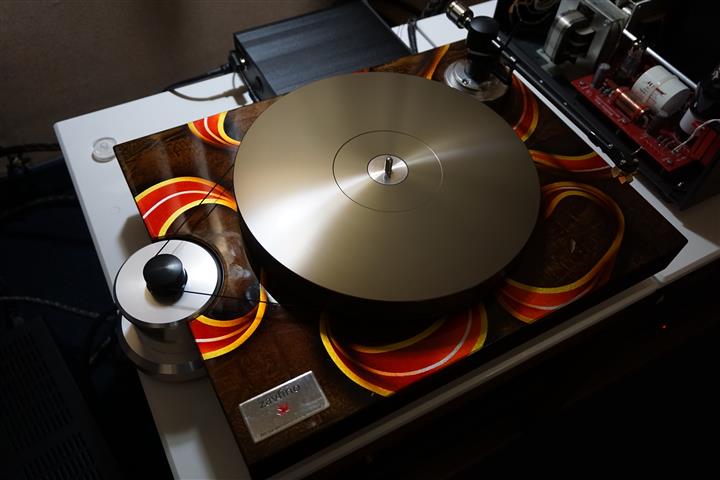 Here are a few shots of the other versions of the Zafino 1877 Phono ZV5 turntable that I found in the room: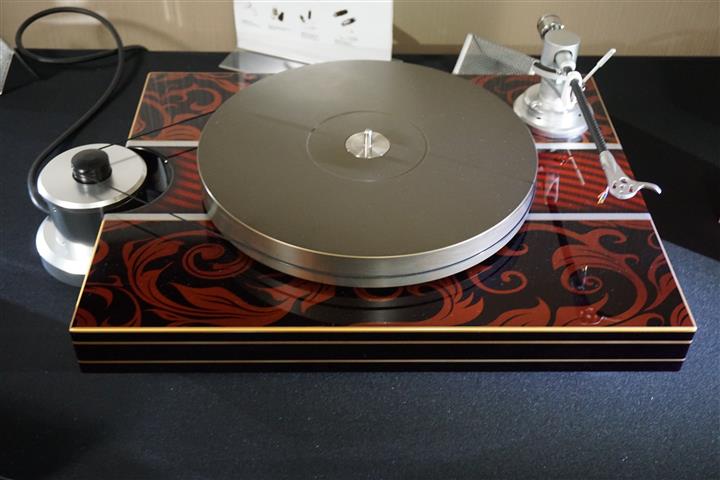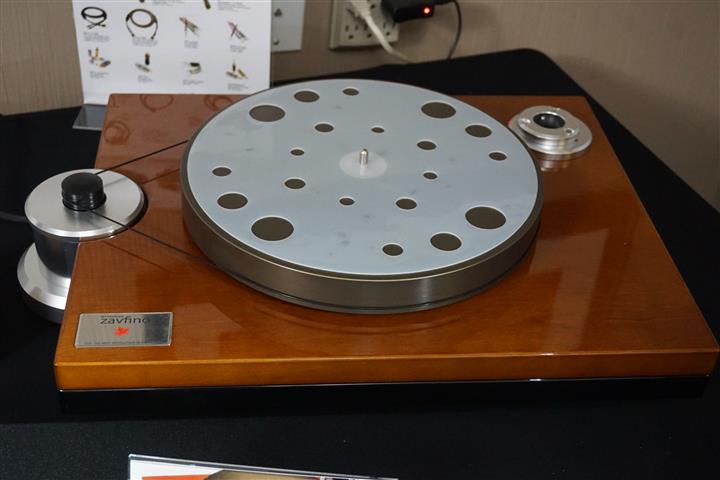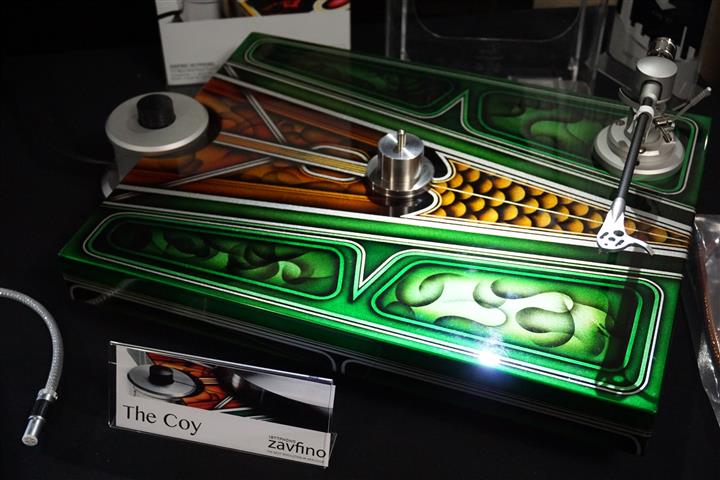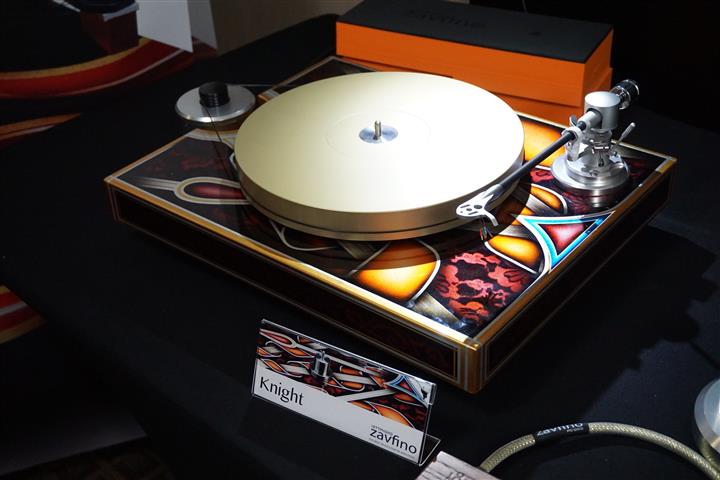 On the Main Show Floor, AuDIYo also had a booth where they had many cables and accessories available for purchase.  There was also the all-new ADL Stratos DAC/ADC headphone amplifier / preamplifier (est. $1,899) being demonstrated with a pair of ADL H118 headphones ($269).  What I heard was very promising.  I personally have been using an ADL Esprit DAC/ADC in my main reference system for sometime and can vouch for the high-quality of their products, so something new is always of interest to me.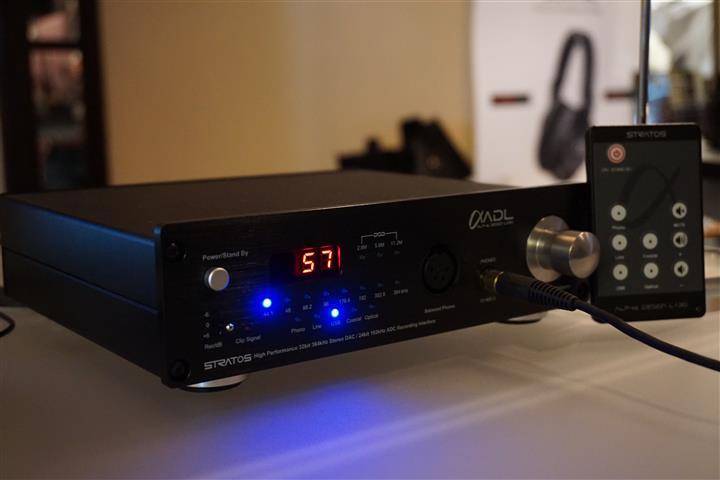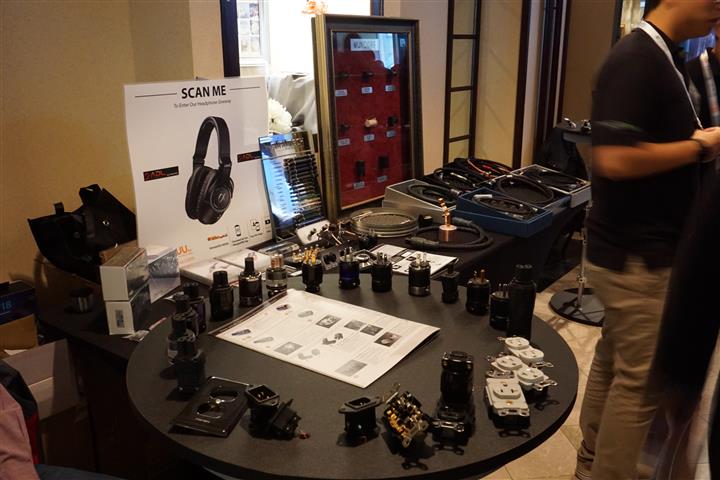 DVL Audio Inc
Distributor DVL Audio had two rooms at the show, highlighting its product for the first time at TAVES.  The first room employed a pair of Kharma Elegance loudspeakers that were driven by a Viola Audio Labs Sonata preamplifier ($35,000 U.S.) paired with a twin enclosure (amplifier and separate power supply) Viola Audio Labs Bravo II amplifier ($59,000 U.S.).  The amplifier outputs 350 wpc / 8 Ohms and doubles up into 4 Ohms.  The source was a CH Precision D1 SACD player running as a transport into a CH C1 DAC ($33,000 U.S.)  Listening to some Rush at loud volume, the presentation was very clean with stellar bass.  On static display in the room was the Viola Audio Labs Crescendo stereo preamplifier ($22,500 U.S.).  All of these components appeared to be extremely well constructed.
In the second room hosted by DVL Audio, a full CH Precision system was being demonstrated, playing through a set of Wilson Audio Sophia loudspeakers.   The system was comprised of a CH Precision D1 SACD transport/player ($38,000 U.S.) with a C1 DAC ($33,000 U.S.), feeding the signal into a L1 Dual Monoral Preamplifier ($33,000 U.S.) running a pair if M1 Monoblock Reference power amplifiers ($95,000 U.S./pair).  CH Precision cabling was used all throughout the system.  Listening to Dave Brubeck's Time Out, I heard incredible definition and transient speed with outstanding impact.  Moving to The Drums of Jiangzhou Shanxi CD, I was amazed at the soundstage depth, the incredibly fast transients and dynamic impact.  The system was also able to reveal intricate detail and ambiance.  CH Precision was a brand I had never encountered before but I've taken note as this system, in my humble view, had the most incredibly dynamic and impactful bass at TAVES.