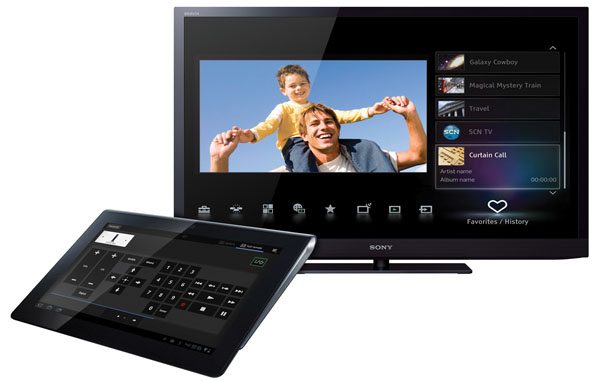 The home theatre is a focal point in many homes.  It's a place where friends and family congregate to watch the latest blockbuster movies, catch up on the day's events with a local newscast or listen to music.  As the last remnants of an analog existence, for better or worse, slowly fade away, a digital convergence is occurring.  Analog over-the-air TV broadcasts are already a thing of the past (they were phased out after August 2011) and analog TV cable service will be ending within the next year for most Canadian consumers.  Today the evolution of digital entertainment allows us to purchase or rent movies directly from our TV sets thanks to online streaming services, access news directly on the TV set via an online connection and listen to lossless music from a digital audio library in various zones around a home.  Along with this evolution come new features and functionality such as the ability to stream audio and video to any capable, connected device; universal remote control capability from a variety of different devices; and DVR-like functionality throughout the home.
Two of the key devices of this digital evolution are the smartphone and the tablet, devices now found in many Canadian homes. Smartphone penetration is now over 40 percent and tablet penetration is over 10 percent, with a close mix of Android and iOS devices.  Apple's iPad still has a considerable lead in the tablet space while the mobile phone space is much more even. To facilitate and take advantage of consumers' continued adoption of these easy-to-use touchscreen-based devices, many AV component manufacturers have released apps for these devices. Most of these apps are free and available on the various mobile platforms: Google's Play Market, Apple's App Store via iTunes, and even BlackBerry World for the PlayBook.
The main functionality of many of these apps is to allow users to use their mobile touchscreen devices to replace the remote control of the target device. Using a large, vivid, colour touchscreen is easier and more intuitive than searching for the appropriate button on a traditional remote – especially if that traditional remote is not backlit. Take a look at any modern AV receiver remote and you'll quickly see the advantage of a touchscreen remote versus the dozens and dozens of tiny buttons on a traditional remote. Users who are familiar with other touchscreen or universal remote devices from Logitech, Marantz, Philips, Universal Electronics, and others can attest to the benefits of universal/programmable remotes – once they get them programmed (which can be a feat in and of itself). The best part is that these devices have steadily dropped in price with the Logitech Harmony One (touchscreen combined with traditional buttons) now selling for under $200 CAD.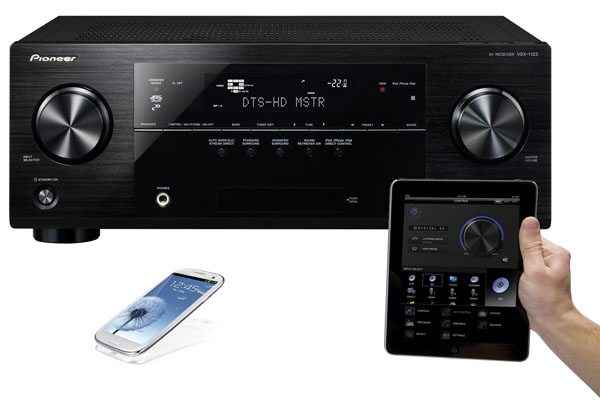 Thanks to the adoption of tablets and smartphones, users now have another alternative to control their entertainment.  While not as full-fledged as a Logitech Harmony remote, most manufacturers of smart TVs, AV receivers and Blu-ray players now have free remote control apps available for download.  If your device was released in the past year and/or supports DLNA (Digital Living Network Alliance) connectivity (via WiFi or wired Ethernet), it most likely has an app available for your tablet or smartphone. These apps require your mobile device to be connected to the same [home] network as the AV device being controlled. For example, Samsung's "Remote" app supports HDTVs released in 2010 with Internet@TV and all 2011 HDTVs with AllShare as well as Blu-ray players/HTIBs with Smart Hub (D5300 and above, HTS D5000 and above). Sony's "Remote" app supports HDTVs starting from the EX42 Series and above as well as Blu-ray players starting from the S370 and above. Panasonic's "VIERA Remote" app supports DT/ST/GT30 Series HDTVs from 2011, among others, as well as the latest 2012 sets. LG's "TV Remote" app supports 2011 LV37-, LV55-, LW55-, and LZ96-series HDTVs and above while its "Remote for Audio & Video Devices" app supports 3D Blu-ray and LG Cinema products released in 2011 and beyond. Suffice it to say, HDTV manufacturers have been keen to include apps for mobile platforms as they strive to push for connected, "smart" features and functionality.
What was once the realm of ultra-expensive custom home theatre and home automation systems from Crestron, Control4, AMX and others is now readily available to the everyday consumer. While your smartphone or tablet can't yet control every system in your home, AV or otherwise, they are increasingly being used as the touchscreen-based interface for many home automation systems, forgoing the proprietary touchscreen controllers once offered.
When used with AV receivers, your smartphone or tablet goes beyond a glorified remote control.  Some manufacturers, such as Pioneer and Yamaha, offer features that allow the ability to create custom playlists and stream music directly from the device. Thanks to the popularity of Apple devices such as the iPod and iPhone, many receivers already offer digital connectivity via a USB/30-pin cable or a dock.  These allow users to playback their music through their home theatre system with full remote control capabilities and if you don't have an iOS device, the USB port doubles as a receptacle for the ubiquitous USB memory stick, allowing music to be played directly off of it. The main added benefit of extracting audio in the digital domain from Apple devices, as opposed to using the analog headphone jack, is utilizing the higher-quality DAC (digital-to-analog converter) found inside the receiver instead of the DAC built into the Apple device.   That's because Apple devices' internal DACs typically fare rather poorly, fidelity-wise when compared to other portable music players.  As with HDTVs, all the major manufacturers have mobile apps.  Denon's app supports AVR-991 and above receivers; Yamaha supports the RX-V2065 and above, HTR-8063 and above, RX-A1000 and above, RX-V671 and above, and more.  Onkyo, who was one of the earliest adopters of mobile apps, has support going back to its 2009 TX-NR807 and continues support through to the 2010 TX-NR708 and above, the 2011 TX-NR509 and above, and the 2012 TX-NR807 and above. A great trend for consumers is that these networked features are continually making their way into more mid-range and even entry-level receivers. The Yamaha RX-V671, a capable dual-zone, networked receiver was available for less than $500 CAD at the time of writing.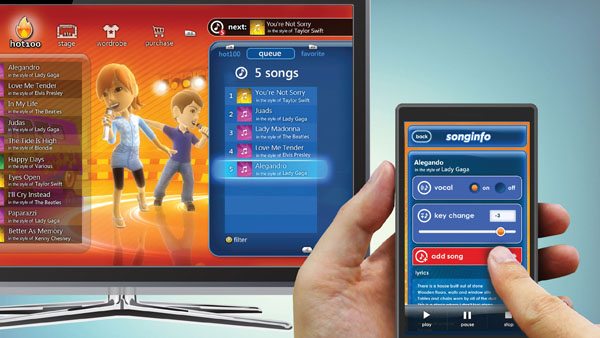 The other method that smartphones and tablets are connecting with audio devices is through short-range Bluetooth technology. Traditionally used on cellular phones to connect with a hands-free headset, Bluetooth technology has continued to evolve and is now capable of streaming high-bitrate stereo sound to compatible devices. This allows both iOS and non-iOS devices to wirelessly stream their music libraries to compatible audio components. iOS has its own version of wireless streaming, called AirPlay, for streaming audio and video content as well as metadata such as track information, time and artwork. Many receivers, dedicated iPod speaker docks, and other devices support AirPlay though its adoption is less widespread than the open-source DLNA protocol.
One other category of components that should definitely not be overlooked is dedicated digital media playback devices. These range from inexpensive clock-radio iPod docks to multi-zone Sonos systems, to dedicated decks sporting Burr Brown DACs. Various audio manufacturers offer dedicated smartphone and tablet apps to control music playback.  These include manufacturers such as Naim, with its NDS, NDX, and ND5 XS Series of "Network Players"; Bryston with its BDP-1 Digital Player coupled with the BDA-1 External DAC; PS Audio's PerfectWave DAC II, Digital Link III, and Digital to Analog; and the Marantz NA7004 Network Audio Player. When coupled with an iTunes library, these apps will display cover art and lyrics, manage playlists, and much more.
Not to be left out, if the networked device supports DLNA, other compatible (non-mobile) devices can also stream and control playback. Chief among this are personal computers and laptops. One sticker that is now showing up on AV receivers is the "Windows 7 Ready" sticker meaning that the receiver can be controlled by and stream content from networked Windows 7 computers. Windows Media Player, which once was a program preinstalled but often neglected, was revamped in Windows 7 (and the upcoming Windows 8, an OS built around touchscreen input) and is now quite proficient at managing and streaming media content.
As with all innovations, there is one downside to using a remote control app instead of the dedicated remote control itself.  The mobile device must be "awoken from sleep" with the click of button and then unlocked with a slide or screen tap.  Then the app has to be located and launched.  These are all additional steps that aren't required with a traditional remote.
Another category that has began embracing smartphones and tablets as control devices is the video gaming sector.  In June of 2012, Microsoft unveiled the Xbox SmartGlass app which will be released on various smartphone and tablet platforms later this year.  This app will provide gamers a whole new means of interacting with their video games and also allow users to navigate the Internet Explorer browser (soon to be released for the Xbox) with ease.  Imagine drawing up a play in EA SPORTS' "Madden NFL" on your tablet and then watching it play out on your TV!
As we move forward, you can expect a greatly increasing number of devices that support remote control functionality via a downloadable app on your smartphone or tablet.  I predict that as an increasing number of consumers switch to digital content and online streaming services, more advanced versions of these apps will simply become the norm.  It seems that the future of home entertainment control lies with smartphones and tablets.  I for one, look forward to it!