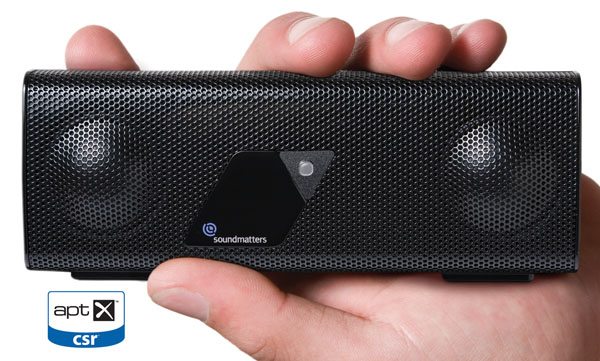 Soundmatters has just announced a new entry-level aptX Bluetooth equipped portable speaker called the foxLv2 aptX.  Based on the foxLv2, named one of TIME Magazine's "Top Ten Gadget of the Year", the foxLv2 aptX takes go-anywhere music to a new level with CSR aptX's advanced streamed Bluetooth technology for wireless CD-quality music and improved sound/picture sync for movies and gaming available with aptX-equipped devices (like the latest Samsung smartphones/tablets and Apple computers).
foxLv2 aptX is the portable speaker that audio purists love, with a range of unique sound features, including foxL's patented "Twoofers," "BassBattery," and other technologies that provide a smoother deeper bass and an "open & airy" listening experience that provide tablets, smartphones and other devices with the superior sound quality they need to allow you to enjoy movies and music to the fullest.
Priced at $199 US and incredibly small at 5.6" wide x 2.2" high x 1.4" deep, with up to 12 hours (or more) of rechargeable battery-time, the foxLv2 aptX is the gold standard that other audio companies aspire to reach.  Created for the growing range of aptX equipped phones and tablets, from companies such as Samsung, HTC, Motorola, it features a full range of audio output, from 80Hz – 20kHz with real bass for amazingly great Bluetooth music streaming in a tiny package that fits with your portable lifestyle.
foxLv2 aptX Features:
Streams aptX's Virtual CD-Quality Bluetooth music wirelessly when with used with aptX-equipped phones, tablets or computers.
Patented Audio Technology:  provides more audio output for louder, distortion-free sound.
Dual 1-inch Linear Magnetic Drive "Twoofers" more likely found in large expensive hi-fi speakers for remarkable clarity and range.
"BassBattery" Technology turns the battery into a woofer for smoother deeper bass.
"DomeForward" driver alignment and high-transparency acoustic grill provide an "open and airy" listening experience, typical of good home speakers.
Built-in Noise-canceling Mic:  for "business quality" wireless speaker phone/conferencing.
Plays & Charges Anywhere:  Along with its patented re-chargeable built-in woofer/battery (for up to 12 hours of play), it plays and charges with the included universal AC charger (with four international adapters) and included USB cable.
Pricing & Availability
The foxLv2 aptX is priced at $199 US, available immediately through major online retailers, including Amazon.com. BestBuy.com, ListenUp.com, OneCall.com and more, as well as through the Soundmatters site at: www.soundmatters.com.  It comes with the portable speaker, re-chargeable built-in woofer/battery, universal AC power charger, four international charger adapters (for US, Japan, Europe/China, UK/HK, and AU/NZ), USB computer charging cable, stereo 3.5mm audio cable, wrist strap, travel pouch, anti-slip mat,  and manual.  In addition, Soundmatters provides a wired version of foxLv2, priced at $149 US.
For more info, please visit www.soundmatters.com