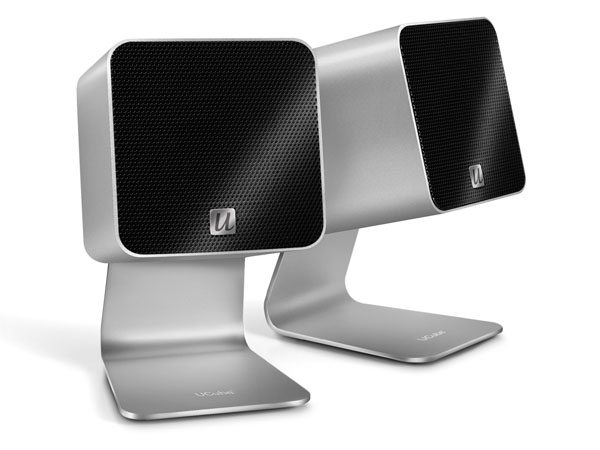 Computer desktop real estate is a valuable thing.  Think of all the items that usually compete for this space – a keyboard, mouse, telephone, planner and some paperwork – just to mention a few.  My personal desk also has to allow for a Superman statue and a model of my dream car, the Pagani Zonda.  And what about laptop users who desire better sound than what comes out of the micro laptop speakers?    It's no wonder then that most computer users have to resort to using tiny computer speakers and there's no shortage of these to choose from.  The trouble is that the vast majority of tiny speakers usually sound exactly the way they look – tiny.  But now there's a new option.
UCube is a brand recently launched by Ultralink Products Inc., a Canadian company that made its name in the audio video cable and power accessory business.  The first product under this new brand is the UCube compact USB digital speaker ($169/pair) which promises to deliver a higher quality sound than you might except from a speaker of its size.  The recipe for the UCube speakers is said to combine "equal parts science and art".  So is this a recipe that works for the UCube speakers?
The UCube is designed for laptop users who demand portability and desktop computer users that have limited desk space.  Measuring just 3.25 inches in each direction, the UCube mounts on to a brushed aluminum table-top stand which angles the speaker toward the listener's ears.  Unlike many computer speakers that require an external power supply, the UCubes draw power directly from the computer's USB port.  This combined with the compact size makes them truly portable.  If you're technically inclined you might know that a computer's USB port outputs just 5 volts which isn't very much to power a pair of speakers.  To address this, the UCubes' "smart" DSP (digital signal processing) controlled power supplies store energy during quiet music passages.  As a result, when louder, more demanding passages are played, an equivalent of 15W of power is available to each speaker from its built-in class D amplifier.  Behind the UCube's grill is a non-conventional Balanced Mode Radiator (BMR) driver.  This is a flat-diaphragm driver which is said to deliver a vastly improved off-axis performance – up to 170 degrees – compared to other computer speaker drivers.  So the "science" part of the UCubes recipe appears to hold.
Visually, the UCubes are very elegant, lifestyle speakers.  I never thought I would ever call a speaker cute, but that's exactly what these speakers are – cute.  Perhaps it's the rounded corners or the glossy finish or the simplicity of the design that makes them so pleasing to look at.  And to further sweeten the deal, the UCubes are available in a choice of four different glossy colours: white, black, silver and red. Whatever it is, the "art" part of the recipe also appears to hold.
And now let's move on to the sound test.  The UCubes come supplied with two cables, a 1 meter (3.3 foot) USB cable which carries the audio along with the power from the computer to the speakers and a 1 meter Ultralink RCA cable which connects the two speakers.  When I hooked up the speakers to my computer's USB port, I quickly changed the sound playback device on my Windows 7 PC from my Audio Engine speakers to the UCube speakers and voila – I was getting sound through the UCubes.
The UCubes spent a good deal of time on my computer desk during which I took them through a healthy diet of music ranging from classical to rock to hip hop.  I even watched a number of movie clips, including the new Avengers trailer (I can't wait!)  It didn't take me very long to conclude that the highlight of these speakers is the clarity and natural character of the mid-range.  Performer and actor voices as well as instruments sounded clean and intelligible with all the selections that I listened to.  The details in the midrange were quite respectable for speakers of this size.  It should be said that although the UCubes can be played fairly loud, the mid-range does begin to distort at higher levels so don't expect to push these speakers too hard.
What surprised me the most about the UCubes was the width of the soundstage.  Audio extended well to the left and right of the speakers.  Similarly the depth of the soundstage also stretched further than I expected.  This resulted in music that was spacious and more enjoyable – and brought an even greater benefit when watching movies.  Thanks to the wide dispersion characteristics of the BMR driver the UCubes also offered a wide listening sweet spot.  This is definitely an advantage when more than one person is listening to the speakers.  While listening to "Hotel California" by the Eagles, the highs sounded crisp although they did not extend as high as I've heard from some other computer speakers that have a dedicated tweeter.  Overall the picking and strumming of guitar strings sounded sweet in the mids and highs.  With certain movie scene selections the UCubes produced a large and engaging soundstage which will definitely enhance the movie watching experience for those who watch movies on their computers.
However, as you might imagine speakers with such tiny drivers and enclosures simply cannot compete with larger speakers or satellite/sub combos when it comes to bass.  The bass notes had very little weight and sounded thin overall on the UCubes.  Hence songs that reach into the lower frequencies were missing the proper foundation.  Ditto for movies of course.  Nevertheless, although lean, the bass did sound melodic and pleasant on the UCubes – I prefer this more than the single-note, boomy bass that so many other computer speakers offer.
So who are these speakers best suited for?  The UCubes are a good candidate for those who travel with their laptops and desire sound that is of far greater quality than what comes out of any laptop speakers.  They are also a good option for desktop computer users who don't have the space for a separate subwoofer.  At $169 they are not an inexpensive pair of speakers but they will reward you with their gorgeous styling and perfectly complement any laptop, especially one of those sleek new MacBooks.  Note that you can pick up a pair for $149 from retailers such as Apple and Crutchfield.  What would be nice to see included with the UCubes are soft cloth bags for the speakers and an auxiliary input.  I hear that a leather travel case will soon be available.  Give the UCubes a try and rid your world of lousy laptop speaker sound forever!  And stay tuned to CANADA HiFi to find out what other new products Ultralink will be launching under its UCube brand.
Ultralink Products Inc.
www.ufiproducts.com
905-479-2831
UCube Compact USB Digital Speakers
Price: $169 CAD