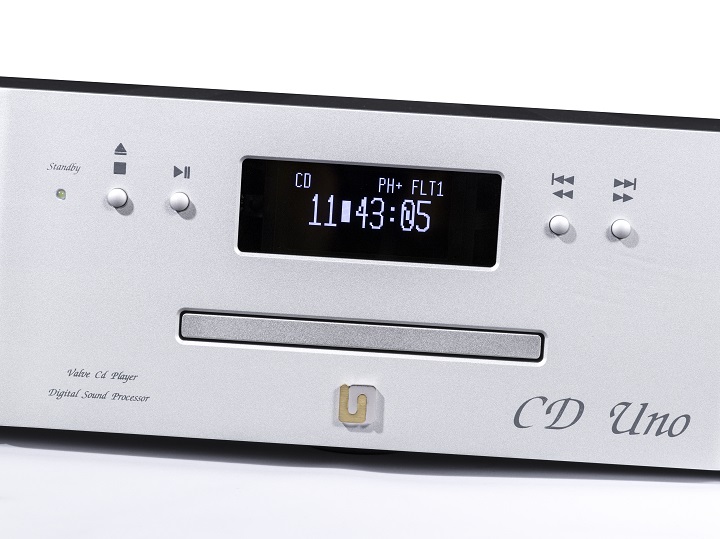 When I arrived at the "House of the Rising Sun" track, my jaw dropped in awe of the sense of scale and dynamics that the Unico 90 delivered. With the volume cranked, the opening vocals on this track dug deep into the low frequencies with a frightening might, sending Josie, my husky mutt, running right into her bed. An even greater scale was presented with classical recordings such as "Holst: The Planets" and the "TRON: Legacy" soundtrack. The dynamics were simply superb. This amp had headroom to spare and no trouble whatsoever driving the demanding Raidho C 1.1 speakers. If you're looking for even more power, check out this amp's bigger brother, the Unico 150 integrated amp. This amp also spent a couple of weeks at my house and I loved the massive scale and real world sonics it produced.
The Unico 90 offers a good tonal balance, with a deep, articulated bass performance and musical, natural mids which make vocals and instruments sound organic. The high frequencies present a healthy dose of definition, although they weren't quite as sparkly and textured as I'm used to from my Jeff Rowland Continuum S2 integrated amp. Recordings with three dimensional soundstages offered a far reaching width and a relative depth. With a great price divide between the Unico 90 and the Jeff Rowland these observations were not a surprise. What was a surprise is just how close the Unico 90 performance comes, to the Jeff Rowland, in all other respects.
When I switched over to the Gold Note Giglio turntable as the source, the music became even more alluring. Here, the Unico 90 presented a luscious midrange, with vocals and instruments flowing with an organic fluidity. Leonard Cohen's "Popular Problems", Radiohead "The Best of" and The Beatles "Anthology 1 and 2" were all presented with remarkable energy, making them a great pleasure to enjoy. I spent many hours listening to records, always enjoying the rich, palpable midrange, scale and fantastic dynamics.
More than happy with the performance of the Unico 90 integrated amp, I turned my attention to the Unico CD Due, which serves a dual function – digital to analog conversion and CD playback. Like most listeners, the majority of music I listen to these days is in the digital format, so a high quality DAC is absolutely indispensible to me. To test the DAC inside the CD Due, I connected my Sonos system as well as my Bryston BDP-1 digital player to its digital inputs.
With the CD Due in place, I was presented with considerable musical details and textures, allowing me to peer deep into recordings. The separation between the layers of sound on albums like City and Colour's "Little Hell" was superb. Recordings that are great for evaluating soundstage performance, such as Radiohead's "The Best of" and Sons of Anarchy soundtracks, showed that the CD Due is capable of painting a sonic landscape that stretched well beyond the side and back walls of my room. This resulted in a very engaging, three dimensional presentation that pulled me deep into the music. The width and depth of the soundstage, and separation between instruments and vocals matched the performance of my reference Bryston BDA-1 DAC. The CD Due also offered a nice, quiet background, much like my Bryston. While listening to "Son of a Preacher Man" I observed that the CD Due presented a smooth high frequency range, slightly rolled off at the top. This was particularly noticeable with guitars and cymbals, which showed a little less sparkle than my Bryston DAC. These characteristics also smoothed out some of the harder edges of the vocals on tracks like "House of the Rising Sun", which actually made this track sound a little more pleasing. This is in fact a quality that some listeners might prefer over a more analytical DAC like the Bryston.
As a CD player, the CD Due also performed outstandingly well. I spun quite a few discs during my tests, including Lana Del Rey's "Ultraviolence", Bruce Springsteen & the E Street Band's "Greatest Hits", The Rolling Stones' "Jump Back" and Cage the Elephant's "Melophobia". The CD Due was able to extract a great level of detail from every one of these albums. Thanks to its high-end DAC, I heard the same sonic characteristics as described above in the DAC performance section.
The Unison Research Unico 90 integrated amplifier and CD Due CD player/DAC are a fantastically musical pair of hifi components that make music a great joy to listen to. The Unico 90 delivers a detailed, fluid midrange, plenty of might and control in the low frequencies and a massive scale. The CD Due on the other hand extracts an excellent level of detail from digital files and CDs and presents a great big soundstage. Together they entertained me with a highly engaging listening experience with every recording that I listened to. If only Christopher Columbus had such fine tunes as he embarked on his expeditions, perhaps we would have sailed all the way to the moon. Give these components a listen at your local dealer and I'm sure they'll put a big grin on your face, as they did for me when I played them.
For more info, please visit www.tricellenterprises.com