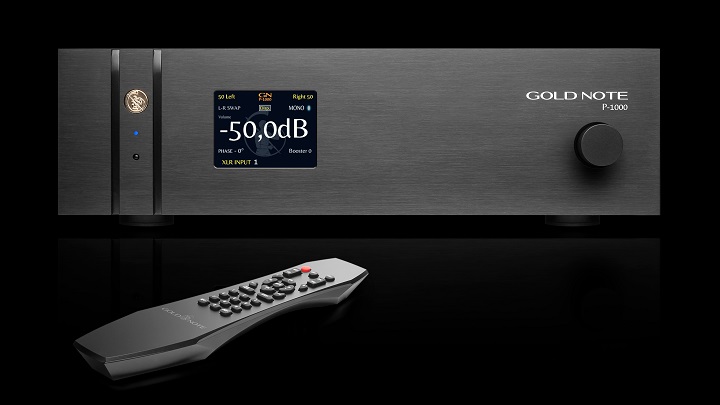 Gold Note, the high-end audio manufacturer based in Firenze, Italy has just revealed the P-1000, the company's first preamplifier that will be introduced this September at a price of $6,520 (or $7,250 with the digital input and DAC option).
The P-1000 is an innovative, ultra-balanced Class-A preamplifier powered by a new proprietary six gain stage design featuring a high precision ALPS volume control.  Having a triple linear transformer power supply, the P-1000 offers 10 independent stereo inputs: 5 fully balanced XLR, 5 RCA and even an optional digital input (optional).
The exclusive Gold Note ultra-balanced design developed with six single gain stages enables incredibly low distortion and extended linear bandwidth for true superior musicality.
The preamp features a complete series of settings to satisfy the most demanding systems: Mono/Stereo, Left/Right channel swap, Absolute Phase Swap (0° to 180°), Over-boost, and fine Balance tuning.
The Overboost function is designed to drive speakers that require robust power supplies providing even greater energy in the lower range of frequencies and can be turned off or set on to different modes to integrate seamlessly into a wide variety of systems.
The settings are stored in memory together with the volume level for every audio input to allow a better experience and for quick adjustments.
Gold Note is expected to demonstrate the brand new P-1000 Preamplifier at the 2017 TAVES Consumer Electronics Show in Toronto, Canada, this fall.
For more info, jump to www.goldnote.it/p1000