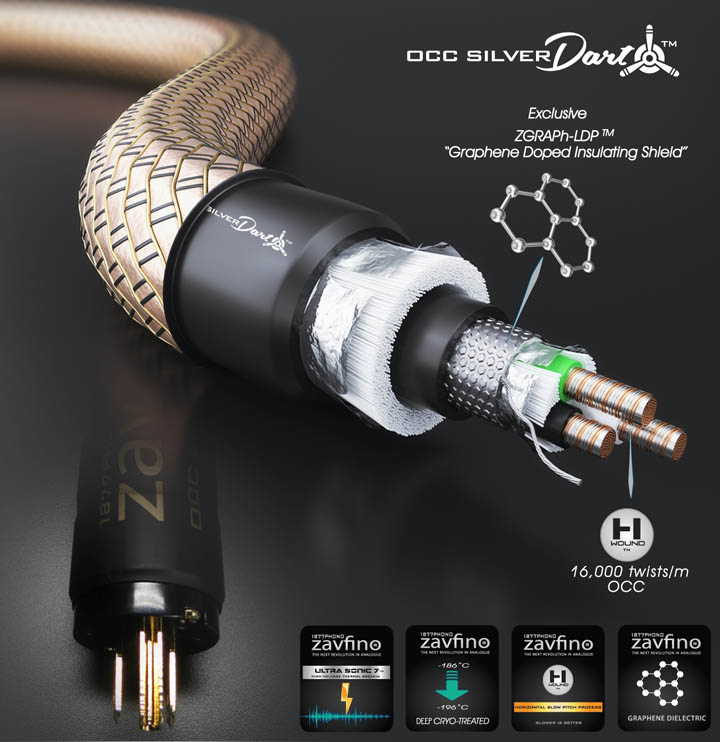 Instead of only using a copper braid or a Mylar wrap as a dielectric shield, Zavfino extrudes a 'graphene' layer over a Mylar shield/drain to insulate the Silver Dart from EMI and RFI. Graphene is an allotrope of carbon which, at the molecular level, forms a two dimensional hexagonal lattice in which one atom forms each vertex. It's the basic structural element of various other allotropes, including graphite and charcoal.
Noise is to audiophiles what toenail fungus is to shoe enthusiasts: a hell-spawned thing to be feared and loathed like the black plague. The Dart's graphene dielectric shield rejects EMI and RFI noise like an Amish tech-support rep rejects phone calls; it just ain't gettin' through.
Graphene is the strongest material ever tested. Its tensile strength is about 200 times greater than that of the strongest known steel. It is also the best conductor of electricity yet known. These physical qualities are what make it so valuable to audio applications.
Most cables using OCC metals take months to burn-in. Zavfino cryo-treats and pre-burns all of their conductors before the insulation is extruded over the conductors. They claim that their patented Ultra Sonic 7 process creates a unique break-in effect that sounds like the cables have had 40 hours of current run through them.
One thing is clear: Zavfino has invested more R&D into the Silver Dart than the US put into their space program in the 1980s. This power cord uses a half-dozen new technologies which, in theory, should improve its sound quality. So… how does it sound?
Released in 1981, U2's October has phenomenal sonics.
With songs like "Gloria", "I Fall Down", "Rejoice", "Tomorrow", "Stranger in a Strange Land", and "Is that All…?", producer Steve Lillywhite layered Bono's soaring vocals on top of the hauntingly introspective and atmospheric sounds heard on this album.
During the early 1980s, I listened to October on a nearly daily basis. I thought I knew this album to the core of my being. And yet, with one Silver Dart cord plugged into a 10 Amp power regenerator, I discovered all sorts of subtle sonic details which I simply hadn't heard before.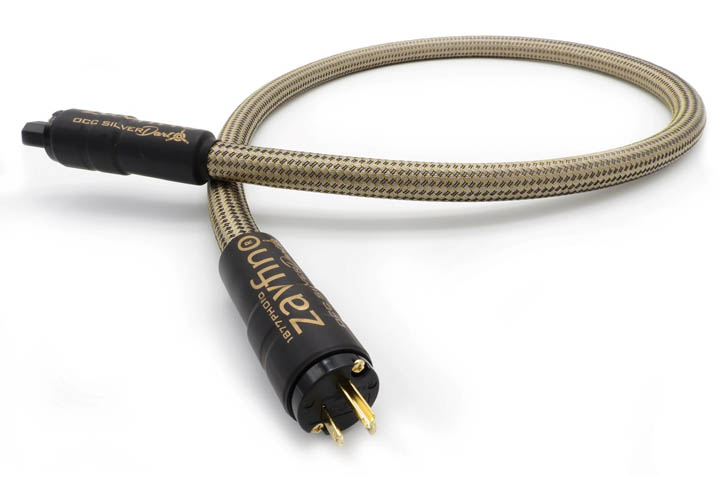 Examples…? Bono's pained vocals sounded more desperate and tortured than I remembered. The Edge's guitar lines echoed with a lonely and distinct isolation that haunted my mind for days. The moody bass and ringing percussive accents had richer harmonics, greater texture, and far more 'feel' to them.
No matter what component I plugged it into, the OCC Silver Dart brought an organic warmth, textured resolution, and incisive musical insight into October that raised the listening experience from merely hearing the music, to being thoroughly involved with the songs on an emotional level.
Released in 1980, Saxon's landmark Wheels of Steel is a new wave of British heavy metal album. If you like Motörhead or Maiden, you'll love this hard-charging music.
Showcasing roaring songs like "Motorcycle Man", "747 – Strangers in the Night", "Freeway Mad", "See the Light Shining", "Machine Gun", and the anthemic title track "Wheels of Steel", this album kicks like an injection of 100 CCs of nitrous-oxide.
With the Silver Dart, I immediately felt the swaggering command of Biff Byford's über-confident vocals. The percussive accents from cymbals were detailed without any high-band ringing or artifice. The tone and texture of the twin rhythm guitars was warm and natural sounding. Unlike a lot of posh power cords that make bass notes sound like the modified exhaust of a teenager's car, the Dart delivered superb timbral accuracy across the lower frequency registers.
The two main things I want to hear from cables are: one, incisive high-frequency resolution that doesn't induce ringing fatigue; and two, a palpable richness of texture, tone, and timbre that isn't slow or coloured. While listening to Wheels of Steel, it occurred to me that the OCC Silver Dart does both.
Sorry Suave (my dear editor), but I'm keeping the review samples. Why…? Unlike most OCC cables which take months to burn-in, the Silver Dart created stellar sound in 24 hours. I'm calling this the "5 minute jeans trick" of audio, because getting any OCC power cable to the heights of musical ecstasy after only a day or two—instead of a month or two—is a rare and wonderful thing.
In my audio systems, the Dart consistently created a much deeper emotional connection with the music I love. Even on discs I've been listening to for decades, this AC cable unveiled layers of sound which I honestly didn't know existed.
Yes… $1,200 USD is a fair bit of money for a single power cord. And yet, in my listening tests, the Silver Dart embarrassed a lot of mains cables that sport $2,500+ USD price tags. The only cords that cleanly beat Zavfino's monster were ones with conductors made entirely out of OCC Silver; most of which flaunt obscene asking prices north of $5K USD.
Beg, borrow, or steal—whatever it takes—get this cable into your system. With the OCC Silver Dart, Zavfino has unleashed a giant killer.
Zavfino 1877Phono
www.zavfino1877.com
Distributed in Canada by Audiyo Inc.
www.audiyo.com
905-881-9555
Zavfino OCC Silver Dart Power Cord
Price: $1,200 US / 2.0m