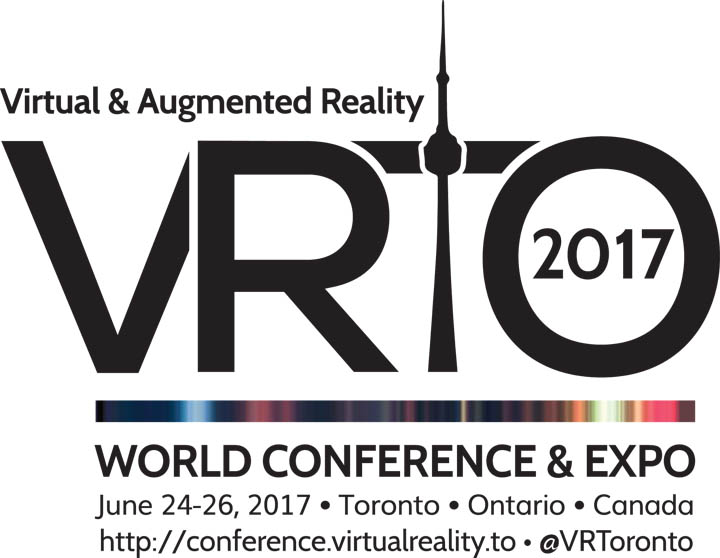 VRTO 2017 is set to announce a breakthrough in autism research, and features more than 65 international expert speakers, 40 exhibitors and 10 interactive rooms
VRTO (Virtual & Augmented Reality World Conference & Expo), Canada's largest virtual reality convention, focused on experiential/immersive technologies returns for the second annual edition at Ryerson University's Rogers Communication Centre in Toronto from June 24th-26th.
VRTO 2017 has offerings for all levels of virtual and augmented reality expertise. Two days of intensive training are available for developers and seasoned professionals looking to learn further advanced techniques. A one-day film & TV industry "onboarding" workshop takes place via VRTO's on-site TV studio for those looking to learn how to shoot and utilize VR/360° video and audio. While curated immersive content pavilions will feature the best interactive VR games, prototypes and experiences in virtual, augmented and mixed reality for attendees to enjoy during VRTO's full run.
Among several major announcements, VRTO sees a major breakthrough in autism research announced by keynote speaker, Canadian virtual reality pioneer Graham Smith. Smith — Chief Science Officer of Dutch educational tech company WebChair — will reveal the incredible results from the Ontario government backed WEBMOTI global research project. WEBMOTI, a telepresence system using VR technology, allows autistic students who often struggle with sensory overload in classrooms to attend classes remotely and fully control the sensory input they receive on their end.
VRTO 2017 takes place at Ryerson University's Rogers Communication Centre (80 Gould St, Toronto) Sunday, June 25th to Monday, June 26th from 10am-6pm daily; with a special media/VIP preview and reception taking place Saturday, June 24th from 1pm-6pm.
For 20% off tickets go to the TICKET PAGE and type in CODE: VRTOAFF2017
For more info about the show, hit up www.conference.virtualreality.to