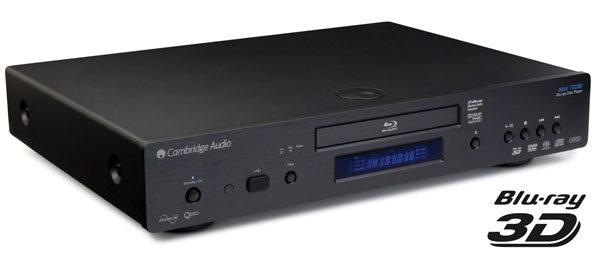 It's been over five years since the first Blu-ray players hit the market and while improved technology, features and functionality have emerged, the core purpose of Blu-ray has remained unchanged – to provide the highest-quality picture and sound available.
While DVDs are limited to 4.5 GB of storage per layer (to a maximum of 2 layers per side), Blu-ray discs support 25 GB of storage per layer (also to a maximum of 2 layers per side). This increased storage space allows Blu-ray discs to store 1080p (1920 by 1080 pixel) high definition video and uncompressed, lossless surround sound audio. They also offer new, interactive features which are detailed below and support playback of previous-generation DVDs while simultaneously enhancing their lower picture quality through up-conversion.

3D Blu-ray Playback

The newest feature of Blu-ray technology is the support for 3D playback. Many movies are being released in 3D and a 3D-capable Blu-ray player and HDTV allow them to be played back so they look just like they did in the theatre. While 3D hasn't caught on as fast as the Blu-ray format itself, most new Blu-ray players support the 3D format to ensure future compatibility. In the Aug/Sept 2011 issue, the various 3D technologies were explained in the "Three Approaches To 3D At Home" feature.  Since then, manufacturers have started collaborating to standardize and allow cross-brand compatibility of glasses, helping to reduce one of the hurdles to 3D adoption.
Blu-ray Player Features
Blu-ray players are still dropping in price and many are capable of other useful features that make them a crucial part of any home entertainment setup – even if you don't have an extensive Blu-ray library yet. Most players are Internet-capable through either a wired Ethernet jack or WiFi (wireless) connectivity – either built-in or through an optional WiFi USB dongle. This connectivity allows them to access streaming media sites such as Netflix Canada and Pandora Radio and lets them install widgets and applications for connectivity to sites such as Facebook and CNN. Some manufacturers such as Samsung and LG have created an online space for their Internet-capable devices and offer additional (typically free) downloads to further enhance functionality. To make using these Internet applications easier, the remotes have also been enhanced with some manufacturers now including a full QWERTY keyboard on the backside, allowing easier web browsing and even email (through webmail services).
Network connectivity also allows these players to connect to a home network through the use of uPNP (Universal Plug and Play) and DLNA (Digital Living Network Alliance) and allows access to media files through Windows Media Centre, iTunes and other media-sharing applications. This includes music, photos and video files. This functionality makes it easy to watch digital media on a user's HDTV without having to plug in a laptop or setup a separate home-theatre PC. However, when looking for file/media streaming functionality, users should ensure that the player supports the file formats they wish to stream. Some older Blu-ray players do not support MP4/MKV files, the preferred format for high-definition 720p/1080p content, as opposed to AVI which is used for standard-definition content (and previously available on "DivX" capable DVD players).
Some Blu-ray players also have USB ports for added connectivity, allowing users to plug in USB memory sticks or USB hard drives to view/playback the media stored within.
BonusView, BD-Live and Player Profiles
The other feature that distinguishes Blu-ray from DVD (that isn't improvement in resolution and audio quality) is the inclusion of BonusView and BD-Live features. BonusView allows discs to include a simultaneous, secondary picture-in-picture stream but is not interactive. This is typically used for director/actor commentary or other information, such as storyboards, to augment the viewing experience. All Blu-ray players introduced after November 2007 support BonusView and are referred to as "Profile 1.1"-capable Blu-ray players. Less than a year later, BD-Live (also referred to as "Profile 2.0"-capable) was released, which finally made Blu-ray interactive with features such as downloadable games, live interactive web forums/chats, and other interactive online content. This new level of interactivity required that the Blu-ray player be connected to the Internet, whereas Profile 1.1 players did not need Internet connectivity. If Internet connectivity is not available or a BD-Live disc is played in an older player, the interactive features are not available but the movie is unaffected. Many Profile 1.1 players are firmware upgradeable to Profile 2.0 if they have an existing Ethernet port for the required Internet connectivity. The Sony PlayStation 3 is turning out to be the most future-proof Blu-ray device, having upgraded from Profile 1.1 through Profile 2.0 and employed firmware updates to support 3D playback. For an explanation of the older profiles, please visit https://novo.press/index.php/Blu-raydvd-players/. All new Blu-ray players are Profile 2.0/BD-Live capable and if you are purchasing your first Blu-ray player, this is the minimum that should be considered.
Blu-ray Audio
On the audio front, Blu-ray players support a wide variety of formats, ensuring maximum compatibility with all the major audio codecs. The added capacity of Blu-ray discs also allows studios to record audio in one of two "lossless" formats: Dolby TrueHD and DTS-HD Master Audio. These formats mean that the audio being decoded is bit-for-bit, exactly the same as they were recorded with no loss or alteration occurring between the recording (encoding) and playback (decoding). New Blu-ray players have on-board decoding of these lossless audio formats, enabling older AV receivers that don't have support for the new lossless formats to receive an uncompressed, raw signal for playback. If your (newer) AV receiver does support these formats, the Blu-ray player can be setup to "bitstream" the encoded signal to the receiver for decoding. Whichever way you choose to use these lossless formats, whether the audio is decoded by the Blu-ray player or the receiver, the sound quality is not affected (since the codecs are lossless).
The lossless codecs produce a more accurate sound stage, clearer speech and significantly better audio details. This is especially noticeable when sounds move around the viewer from one surround speaker to another (for example ricocheting bullets). Numerous reviewers are swearing they'll never go back to lossy audio after comparing compressed, lossy audio to their lossless streams across a multitude of genres.
Blu-ray Player Connections and Video Up-conversion
To ensure that all this crystal clear picture and sound get to your AV receiver and HDTV with as little distortion as possible, the preferred connectivity method is HDMI, a single cable that handles both audio and video and carries the digital signal without the need for conversion. All Blu-ray players introduced after January 2011 output 1080p video only through the HDMI connection, despite being equipped with analogue connections such as S-video (limited to 480i) or component video (limited to 1080i). In 2014, all analogue connections will be dropped completely. If the distance required to connect your HDMI components is less than 25 feet, most generic HDMI cables will suffice. For longer cable runs you should consider a brand-name cable. Many cable manufacturers will try to convince you that in order to send a 3D signal to your TV or AV receiver you will need an HDMI 1.4 cable. However our experience has shown that many older HDMI cables will do the job just fine.
While Blu-ray discs offer the best picture and sound, that doesn't mean that you should rush out and upgrade your entire existing DVD library immediately – especially if you have high-quality mastered DVDs such as those from the Criterion collection. Most Blu-ray players will "up-convert" standard definition content to 1080p and while this won't make your DVDs look like their equivalent Blu-rays, it is a far better alternative to watching 480i content on your 1080p HDTV. The Blu-ray players typically achieve this up-conversion by first de-interlacing the DVD video (since HDTVs scan progressively) and then scaling the image up to the full 1080p HD resolution. During the scaling process, further image processing is performed to sharpen and enhance the image – so that it is not just a blown up version – and to remove errors and artifacts introduced in the scaling process (moire, jagged edges, etc). There are a handful of manufacturers that create the (up-converting) video chipsets used in Blu-ray players: Silicon Image, Sigma Designs, Marvell and Genesis. Look for players equipped with Silicon Image chipsets as they are typically the most favoured, performing the best up-conversion without moire effects and superior artifact elimination (such as jagged edges). Silicon Image chipsets are used by a variety of manufacturers from Denon to Oppo to Samsung. In fact Silicon Image is becoming the leading video chipset maker, having recently acquired one of its competitors, Anchor Bay, another leading video chipset maker, at the beginning of this year.
SACD and DVD-Audio Playback
Lastly, some Blu-ray players, usually referred to as universal Blu-ray players, will also playback other disc formats such as SACD and DVD-Audio, eliminating the need for multiple devices. Super Audio CDs were introduced in 1999 and feature a 2.8224 Mhz sampling rate (compared to a regular CD's 0.0441 Mhz) as well as a wider dynamic range of 120 dB (compared to 96 dB) and a frequency range of 20 Hz to 50 kHz (compared to 20 Hz to 20 kHz). In addition to 2-channel stereo playback, SACDs also support multi-channel playback. Practically all SACDs are dual-layer, containing a standard Audio CD layer readable by regular CD players as well as an SACD layer. As with most formats, SACD has a competitor, DVD-Audio. DVD-Audio also supports higher bitrates and sampling rates such as 48, 88.2, 96, 176.4 and 192 kHz at 16-, 20- and 24- bit depths. DVD-Audio also supports multiple channel configurations such as mono, stereo (+ subwoofer/.1), 3/3.1-channel, 4/4.1-channel, and 5.0/5.1 full surround, at the various bitrates.
In Conclusion
All of these features make Blu-ray an integral part of any home entertainment setup and with prices now below the $100 mark, upgrading to Blu-ray has never been easier. While most Blu-ray players now support Profile 2.0/BD-Live, the more expensive the player, the more functionality it will have. This includes features such as media streaming, Internet applications/widgets, on-board lossless audio decoding and other non-video related features. Until broadband Internet access and media streaming services get to a point (and price) where they become feasible, timely and effective to transmit 50GB of data, physical media such as Blu-ray will be around. And if you need another reason to upgrade, the complete Star Wars saga is now available on Blu-ray.