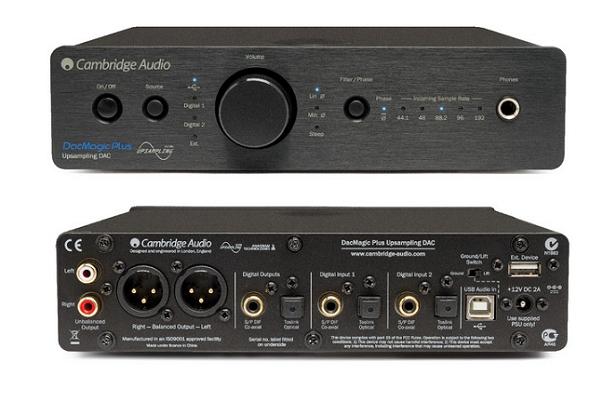 Cambridge Audio received a lot of attention when it introduced its first DacMagic product back in 2008. Now Cambridge Audio has just introduced a new and enhanced model to their DacMagic line-up, the DacMagic Plus.
The DacMagic Plus uses a new ATF2 upsampling algorithm that is claimed to increase performance by enhancing linearity at low levels, particularly with 24-bit sources. The DacMagic Plus has a new USB interface that supports 24-bit transfer over USB.
Cambridge Audio has also released the BT100 Audio Receiver, which allows digital music stored or streamed from iPhones, Android Smartphones or any Bluetooth device to be wirelessly connected to the DacMagic Plus using apt-X technology.
The DacMagic Plus can upsample, using a new Anagram Technologies ATF2 process in conjunction with an upgraded Analog Devices 32-bit DSP, to 384kHz. Internally, the twin Wolfson WM8740 DACs inside the DacMagic are implemented in dual differential mode, while the new 32-bit Analog Devices Digital Signal Processor (DSP) performs jitter reduction and digital filtering and upsamples to 24-bit/384kHz. The USB input operates natively at 24-bit/96kHz, or can be upgraded to 24/192 using a Cambridge Audio driver that's available free here and allows playback of the highest resolution audio files and supports both kernel streaming and ASIO modes with asynchonous transfer. Cambridge provides three selectable filters (linear/minimum/steep) to allow the listener to select the one that sounds best to their ears for each content source.
Features:
Twin Wolfson WM8740 24bit DACs used in dual differential configuration
New Anagram Technologies ATF2™ 24-bit/384kHz audio up-sampling / jitter reduction
Digital Preamp capability
24-bit/96kHz driverless USB Audio 1.0
24-bit/192kHz USB Audio 2.0 with ASIO or kernel streaming modes.
USB class 2 driver for Win
Asynchronous USB transfer
Selectable digital filters – linear phase, minimum phase and steep
Balanced XLR audio output and RCA phono output
Two 24 bit digital inputs (with optical or coaxial for each)
External input for BT100 Bluetooth receiver – for streaming from Bluetooth devices
The DacMagic Plus is currently available in Australia and the U.K (£350). North American product availability and pricing has not yet been announced.
Look for more details at: www.cambridgeaudio.com.