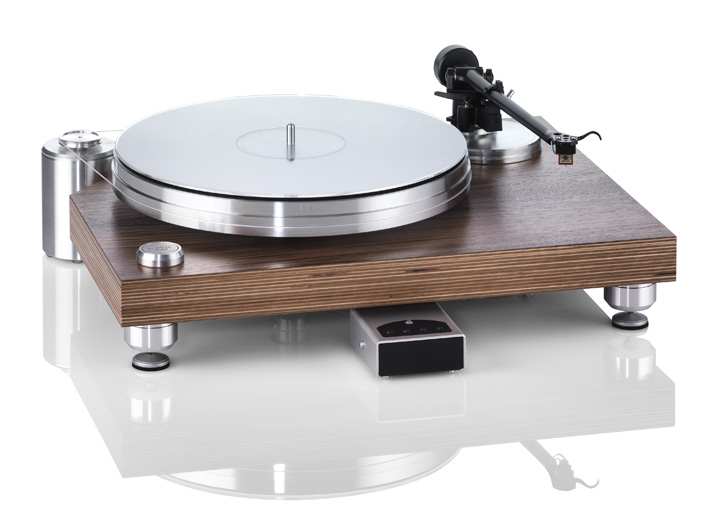 We live in an age where the price of entry to audiophile sound can choke a good-sized bull-moose. As wonderful as $500K level 2-channel systems can sound, none of it gets my adrenalin flowing. Why…? 'Cause I can't afford it.
What does kickstart my heart is when established audio companies with 6-figure components release sensibly priced gear where I can clearly see—and hear—that their cutting-edge technology has trickled down to more affordable products. When my editor at NOVO asked if I'd like to review a mid-level Acoustic Solid 'table, I was more excited than a lifer stuck in a penal colony when the latest sealed issue of High Society magazine is slid into his cell.
I first heard one of Acoustic Solid's $100K+ level TTs at the 2012 Munich Audio show. The sound of that rig was as jaw-dropping as the price tag attached to it.
The subject of this article, the Xtended-MPX + Rega WTB-370 tonearm costs $2,200 US; without the cartridge. My review TT featured a 40 mm thick MDF plinth that was finished in a gorgeous wood veneer. The aluminium platter is 35mm thick. It's machined from a single billet and "string driven" by an outboard MC/M1 micro-processor controlled synchronous motor. The 'table also includes a natural leather mat and a 5mm thick acrylic mat.
The WTB-370 tonearm was anodized black which, offset against the X-MPX's wood plinth color, looked stunning. Overall, the TT exuded old world craftsmanship, cutting-edge engineering, and a luxury aesthetic that would look right at home in any posh 2-channel system.
After trying an entry-level Gold Note Vasari Red M/M cartridge that was provided to me with the 'table and not liking the sound, for perspective, I climbed higher up the ladder and tested this 'table with three other cartridges.  These included a Benz-Micro Wood MO-0.9 M/C cartridge; a Dynavector XV-1s M/C cartridge; and a Sumiko Pearwood Celebration Mk#2 M/C cartridge. To my ears, the Sumiko sounded the best. One thing was audibly clear: the better the cartridge, the better the sound.
An incorrectly set-up 'table will compress the soundstage, choke its dynamics, and smother resolution and detail. Acoustic Solid provided 20 pages of comprehensive instructions for setting-up the X-MPX. A scale to dial-in cartridge tracking force and a high-quality spindle weight were both included in the box. To buy these two items separately would add at least $800 to the price.
Overall, initial set-up took about 45 minutes. Acoustic Solid must be commended for their instruction guide. Even though I've set-up hundreds of TTs, I found their directions extremely helpful. After burning the 'table in with the Vasari Red M/M cart for a week, all of my serious listening tests were done using the Sumiko Pearwood Mk#2 M/C cartridge.
The Xtended-MPX is a gorgeous TT. The looks of the 'table mesmerized me like a Ferrari Modena 360. I spent hours examining its fit and finish looking for manufacturing flaws. I didn't find any. Acoustic Solid built this TT like it mattered: with care… and pride.