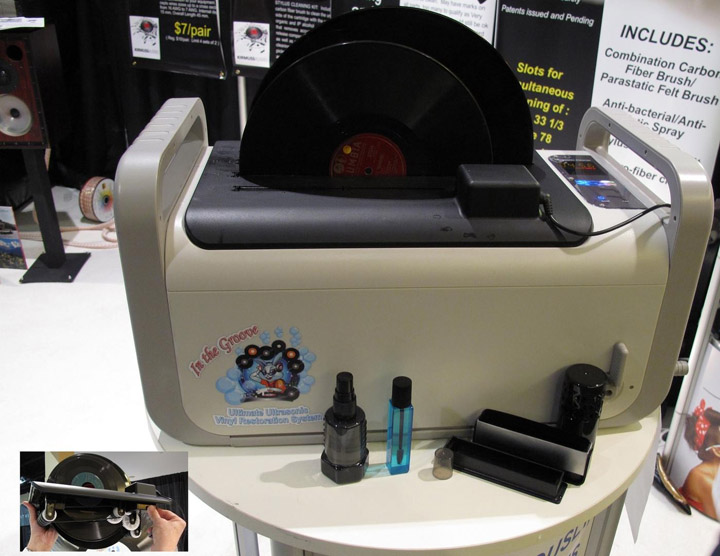 If you own a large record collection and add new titles to it regularly, this is one device you should definitely consider picking up.  The Kirmuss Audio Ultrasonic Record Cleaner allows you to clean both existing and freshly pressed records so that you can achieve the very best sound out of them.
Cleaning your existing records is a no-brainer! Dust particles and contaminants build up every time you take the records out of their sleeves and during playback.  As a result each time you play the same record, it will sound a little more dull, and play with more audible pops and crackles.
But why would you want to clean brand new records?  New vinyl releases agents from the pressing process that attract dust and other airborne contaminants at an alarming rate.  Cleaning new records prior to playback can eliminate this.
​The KirmussAudio Model KA-RC-1 revolutionizes the way we are able to clean records. A patented record suspension system assures that records of any speed and size see their grooves cleaned safely. There is no damage potential to the record by mechanical intrusion of skewers and the like.
Only distilled water with a maximum of 45 mL ( 1.5 oz) of ISA 71% solution constitutes the bath and then in the second cycle a surfactant neutral liquid agent is added.  Ultrasonics need a surfactant to aid in the cavitation of the water solution to better clean and remove contaminants.
The Kirmuss Audio Ultrasonic Record Cleaner retails for $850 US.
For more info, please check out www.kirmussaudio.com
Are you a dealer interested in carrying the Kirmuss Audio Ultrasonic Record Cleaner?  Please contact:
USA:
Phone: (303) 263 6353
E-mail: ckirmuss@frontier.net
Canada:
CANADIAN REGIONAL SALES REPRESENTATIVE:
​Jérôme Fragman
Cell: (416) 997-5589
Office/Bureau: (647) 729-3395
E-Mail: audiojerome@hotmail.com