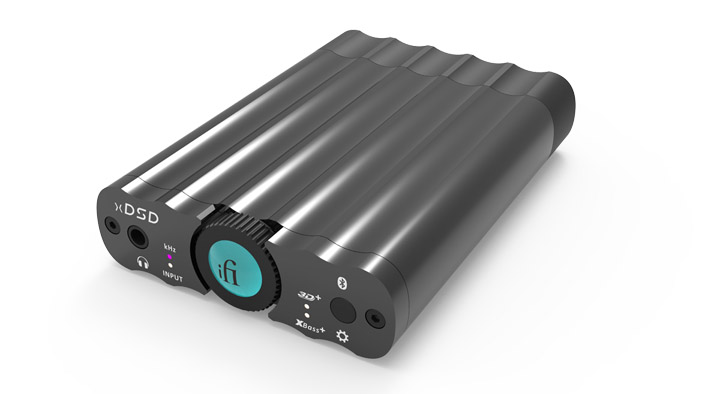 iFi audio raised the bar for portable, high performance audio systems back in 2014 when it introduced its original micro iDSD headphone amp, preamp, and DAC.  And the company has been hard at work developing new designs ever since.  At the end of last year, iFi launched the nano iDSD Black Label, with a host of new features including support for MQA (Master Quality Authenticated) audio. Now, iFi has excelled itself again with the launch of xDSD – the first in the company's next generation of portable DACs.
With a pure analogue volume control retaining full-resolution at all volume levels, the xDSD is a major sonic step up for all smartphones, digital audio players and computers. Its selectable 3D+ and XBass+ functions bring both sensitivity and power to the careful listener. The artist appears in the room with music and lyrics flowing all around.
The xDSD has pulled off the task of being ultra-portable and wireless while supporting high-resolution formats, including MQA, and delivering 500mW of power per channel. By means of aptX HD and AAC, it brings hi-res streaming to Bluetooth.
Highlits of the iFi xDSD Portable DAC include:
• Burr-Brown Hi-Res True Native DSD DAC chipset for discerning listeners
• Dual-mono headphone amplifier with 500mW of power per channel, which can unleash the full potential of both 32ohm and 600ohm headphones
• High-resolution audio up to PCM 768kHz and DSD512
• MQA playback
• Wireless Bluetooth (aptX and AAC) for CD-quality wireless sound
• S-Balanced compatible 3.5mm headphone output brings the benefits of the balanced connection to single-ended headphones
• Advanced Analogue Signal Process (ASP), 3D+ and XBass+ headphone optimisation circuits
• Pure analogue volume control retaining full-resolution at all volume levels
• Audiophile Digital Filter 'Measure/Listen' selectable
• Large 2200mAh Lithium-Polymer battery providing six-to-eight hours of playing time
For more info, please check out https://ifi-audio.com
Distributed in Canada by Motet Distribution  www.motetdistribution.com