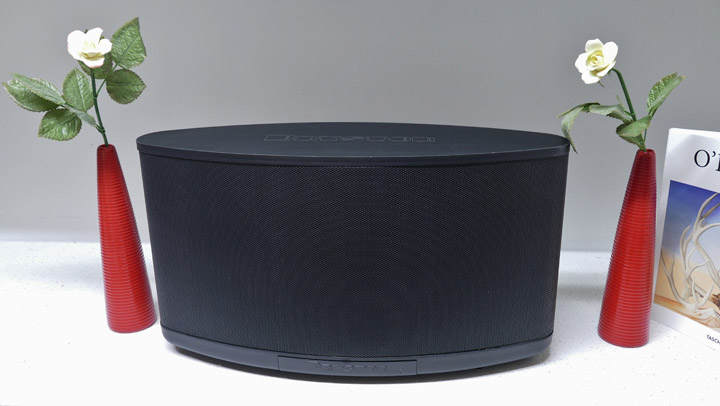 Bryston has been a revered name in the audiophile and professional community for over 35 years. From the onset their products have been considered upper echelon for their superb sound quality, top notch engineering, and bulletproof reliability. Many of their amplifiers have outlived their extraordinary 20 year warranty by wide margin and are still going strong in the harshest 24/7 environments. Over the years their range of offerings has continually expanded from their original amplifier lines into the realms of digital, analog turntables, and speakers to name a few. They have kept themselves fresh and relevant by both following and leading the changing needs of the marketplace.
The wireless BryFi BW-1 loudspeaker continues Bryston's successful collaborative effort with Axiom Audio, mining fresh territory in the current popular field of compact single box stereo loudspeakers. It aims to prove that state of the art technology and aesthetic sophistication can come as a single package. This sleek amplified loudspeaker is extremely décor friendly, breaking out of the conventional box mold by utilizing elegant curved surfaces with quality accents, and is available in a full assortment of wood finishes from their regular speaker line as well as a custom black or silver aluminum top with the Bryston logo embossed into it. Custom colours are also available on request. It looks and displays like an interior decorator's dream, but what can it do?
In our modern file based universe of digital music this ambitious little all-in-one entry can pretty much do it all. The BW-1 has WiFi connectivity, allowing you access to network music files, internet radio and streaming services plus accessibility to portable storage. In the absence of a WiFi network you can switch it to be a hot spot, creating your own WiFi network. It's also AirPlay and UPnP compatible for streaming. While WiFi offers ease of use and both superior range and sound quality, Bluetooth fans also get support with firmware currently in the works. Tucked behind the small front pop down Bryston panel, is an Ethernet port and two 3.5mm miniplug analog inputs, as well as 4 USB 2.0 inputs, power button, volume control for analog sources and 3 status LEDs. Essentially, if you've got music, there's a way to get it there. Want to break free from the confines of the room? Optional internal battery packs let you take the music anywhere you want to go. Yes, there's even a carry handle built into the back of the unit. Want multi room capability with more than one BW-1? That's here too. Need more bass? There's a miniplug subwoofer output on the rear to shake things up.
Functionality is one thing. Sound can often be a different matter, and certainly the standards applied to single box solutions generally don't pass muster with the ears of audiophile listeners. Well, that's not the case here. Bryston has entered the lifestyle game with serious aspirations that will surprise and satisfy the toughest critic. Underneath that stylish exterior there's a whole lot of sophisticated technology. The heart is Bryston's BDP-Pi digital player based on the Raspberry Pi platform which supports the playback of most digital file formats up to a native resolution of 192/24. For the computer knowledgeable audiophile that will earn a big thumbs up. For the computer challenged music lover it just means you've got one of the best little computer engines in existence dedicated to delivering music from point A to B, with the appropriate technological might to unravel the beauty of higher resolution files and let you hear them in all their glory. On the muscle end of the equation are two powerful Bryston 75 watt amplifiers driving a pair of 3 way speakers sourced from their acclaimed Mini A loudspeakers. They can impress with delicate finesse or play the party animal at loudness levels up to 115 db. How loud is that? A jet airplane engine on takeoff is only 5 db louder. The BryFi BW-1 has the looks and the technological refinement, but is it simple to operate?