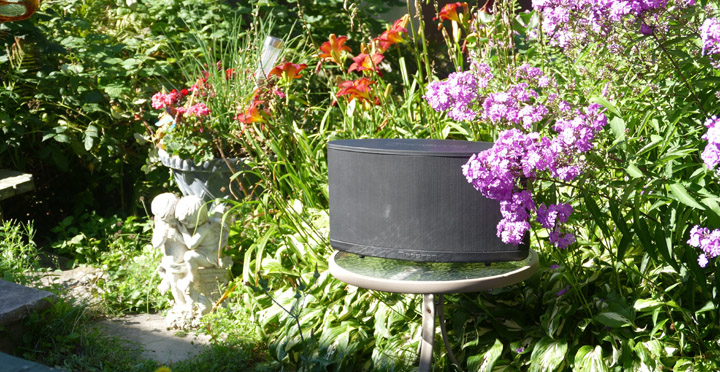 Set up is quick and easy for all popular platforms including iOS and Andriod devices, as well as PCs. Downloading the dedicated BryFi app gives you remote access from a smartphone or tablet, and any other compatible UPnP music program should work nicely. As with anything computer based, there are minimal operating systems requirements, but nothing unusual. Setup instructions are short "follow the bouncing ball" illustrated style for all formats. If you run into a snag there's always support available, or simply ask any 14 year old video gamer for help. It should be that easy. With that out of the way comes the big question. How did it sound?
When I fired up the BW-1 for the first time, I was quite surprised at the quality of the sound. I shouldn't have been. After all, it is a Bryston. While some people may assume from the svelte, elliptical styling and compact proportions that this would be merely a glorified table radio, the BW-1 quickly belied that assumption by flexing major musical muscle. I turned to my Wyred 4 Sound music server for high resolution file sources and Tidal streaming via a host of the available delivery methods to see how the BryFi would react. Whether hard wired, direct WiFi accessed, through network or AirPlay, all delivered music without a problem. In terms of audio quality, challenging the BW-1 with the musical gamut, from high resolution recordings like the classic audiophile chestnut La Folia de la Spagna, or bouncy big band jazz pieces from Reference Recordings, to uncompressed Tidal streaming fare like Tia Guo's heavy metal cello material for Wonder Woman, proved the little box quite capable of unleashing audiophile caliber detail with dynamic passion. Bass was powerful and convincing beyond its conservative 60 Hz spec (useable to 35 cycles in my room), even without subwoofer augmentation. Midrange was clean and expressive, giving vocals an uncluttered honesty, and high frequencies showed their Mini A heritage, playing articulate, nuanced, and without strain.
The little Bryston could play the part of the demure little background accessory when required, but it was capable of far more. The BryFi shone when taking on the role of a full fledged main audio system. When I was seated further back in the room, the BW-1 produced a wide stereo image, well delineated and with a decent caliber of depth information. How did the integrated single box solution compare against my regular, full range ribbon system, with it's phalanx of big box hardware? The answer was, disconcertingly well. The BW-1 proved so adept at playing the part of the serious audiophile component that visitors made the mistaken assumption they were listening to my massive, big rig Apogee system. I had to prove them wrong, but that assumption was a tremendous compliment to the little one box wonder, and a testament to the sheer excellence of the sound.
Bryston has a potential hit on its hands with their BryFi BW-1. It appeals to both the seasoned audiophile and the lifestyle conscious seeking out a wealth of technical sophistication backed with solid musical talent. The battery option even offers the added twist of a true portable high-end device that can kick out the jams in the back yard or the cottage. Established, hardcore audiophiles making a downsize move won't feel musically compromised, and urban dwellers eyeing the convenience and smaller footprint of a one box solution will find that the slightly higher price tag of the BW-1 buys legitimate upscale sound. The BryFi BW-1 is a high quality product that should provide tremendous fun and versatility, and expand Bryston's stellar musical heritage into the homes of a whole new audience.
Bryston
www.bryston.com
1-800-632-8217
Bryston BryFi BW-1 Wireless Amplified Loudspeaker
Price: $1495 US